Need ideas to keep your coat closet organized? Too busy to deal with the mess – not to mention the stress?!? Use these coat closet organization secrets to help get your busy family out the door on time.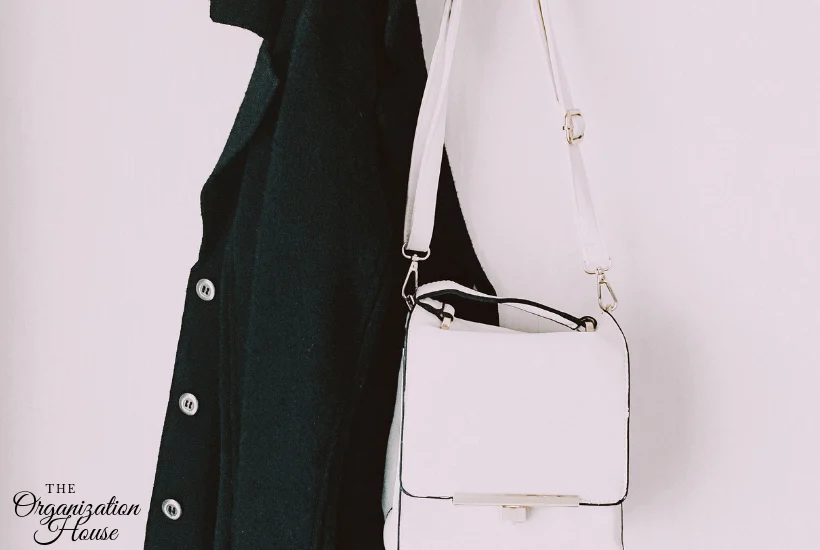 Coat Closet Organization Ideas
If you have ever stood in front of the mess and thought I need a bigger coat closet, these small coat closet organization ideas are for you.
As I've mentioned before, our old house had only three closets. Thankfully, one of them was a coat closet, but it was shaped weird, and the useable space was small. Organizing it took Herculean effort.
No one has time to deal with a messy coat closet, but no one has time to deal with complicated organization methods either. Finding the perfect balance is key.
Here are some of the ways that I used to organize my small coat closet and get the mess under control once and for all. I hope they help you too!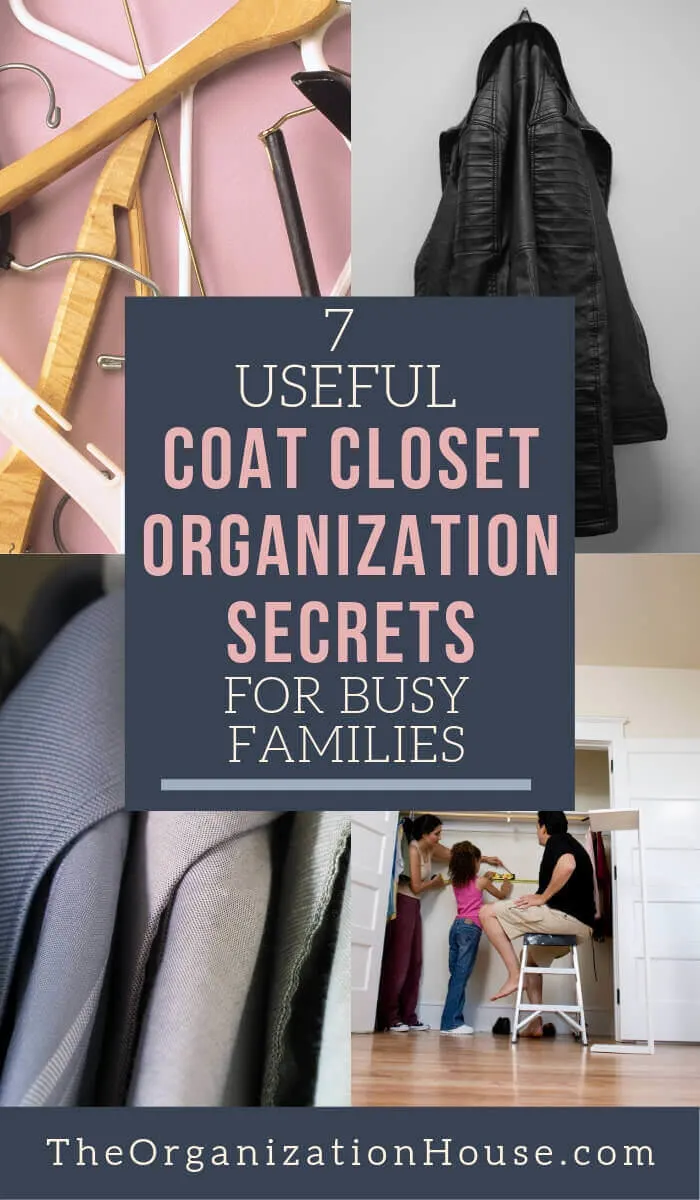 This article contains affiliate links to help you get organized!
How to Organize Your Coat Closet
When it comes to organizing your small coat closet, the most important thing to remember is that you absolutely must use all of the space you have available.
Many people only think of the usable space as the bar to hang the coats and space on the floor. They're missing out on a whole host of areas that can be used for closet organizing goodness!
When you start thinking of all the space available, it becomes easier to think of small coat closet organization ideas.
Small Coat Closet Organization Ideas
1. Use Wire Baskets
Use the space on the doors to hang wire baskets. These baskets can work for hats, gloves, scarves and other small items. You can store purses or bags in them too.
When my kids were little, I made sure that there were baskets at their level so they could independently get their own gloves and hats. It saved time and helped us get out of the house faster.
2. Add Coat Hooks on the Door
Use the space not taken up by wire baskets to hang even more things! Using a coat hook, you can find space to hang purses or bags, scarves or baseball caps.
Depending on how much space you have and how strong your door is, you could even hang hooks for the kids to hang their backpacks or sports equipment. Just make sure your door is stable enough to hold the weight!
3. Build a Shelf
When trying to create more space in the closet, try making a small shelf towards the bottom. No carpentry skills are required!
You'll need L-shaped brackets that can screw into the wall. Make sure you screw them into a stud so that they don't end up pulling off your drywall if they fall!
Place a board on top of the brackets and use the shelf to store more baskets or to have an additional place to put shoes. Create a few of these shelves to give you even more room.
4. Get a Hanging Shoe Organizer
Shoe organizers are not just for shoes! If you have your shoes neatly arranged at the bottom of the closet on shelves, you can use a shoe organizer to store small things like hats, gloves, and scarves.
Pro-Tip: Label each pocket with a family member's name so that everyone has a specific spot for their accessories!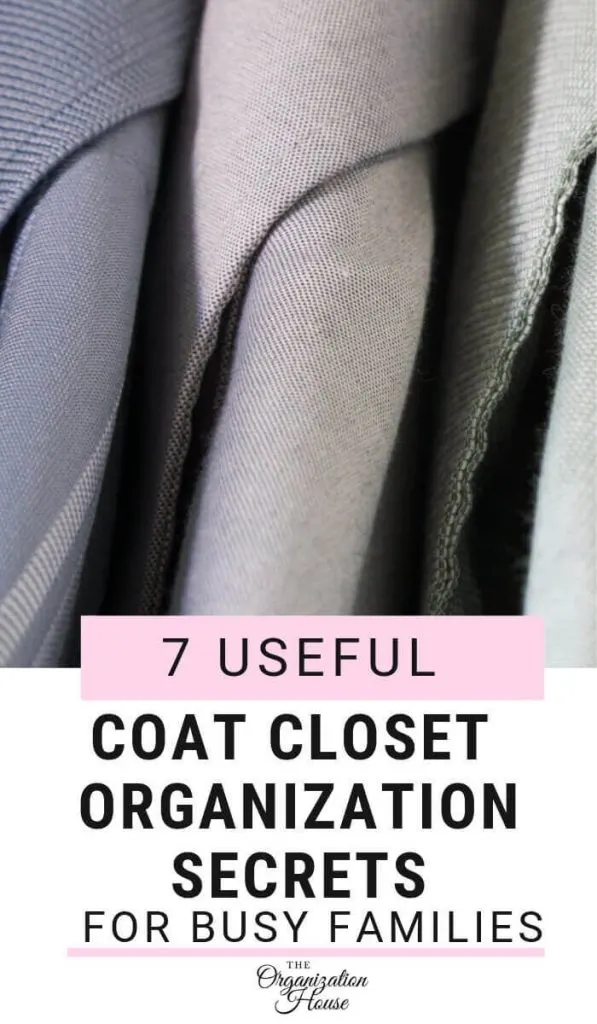 5. Use That Side Wall Space
Typically, there is space between the coats and the door. In this space, on the wall, add Command hooks that are easy to install and remove. They're perfect for hanging umbrellas or for storing extension cords!
6. Add Another Hanging Rack
Just because the closet has one hanging rack doesn't mean you can't put up another! This creates twice as much hanging space.
Most closets are tall enough to have two hanging racks and still have shelf space on the bottom. The lower rack is perfect for children's coats and sweaters because it's at their height!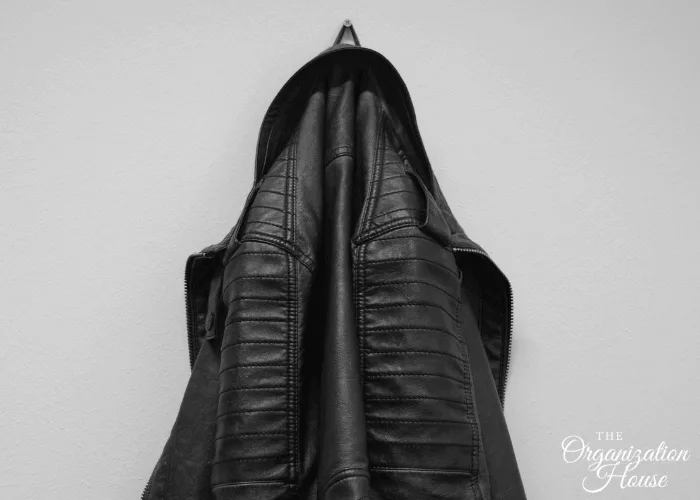 7. Double Up the Hangers
If you have more clothes and coats to hang but not enough space, you can also use one hanger hanging from another. This little secret has made a huge difference in how we keep all five family members' coats organized.
You can use the bottom of children hangers that you get when you buy a matching outfit, or use a soda can tab to thread a second hanger through. Using a soda can tab is easy – just put one hanger through one hole and a second through the other. This method works best with thin wire hangers.
Coat Closet Organization Ideas for the Win
Using these small coat hanger organization ideas can create a space that is neat, functional and worry-free. The best part? Your family will be able to find everything they need and get out the door quickly in the mornings!