As any crafter knows, an organized craft room equals a happy crafter. Keeping track of what you have already and making sure your space works for you can make life and saving money so much easier. Learn how to organize a craft room so that it works effectively for you and gives you the space you need and want.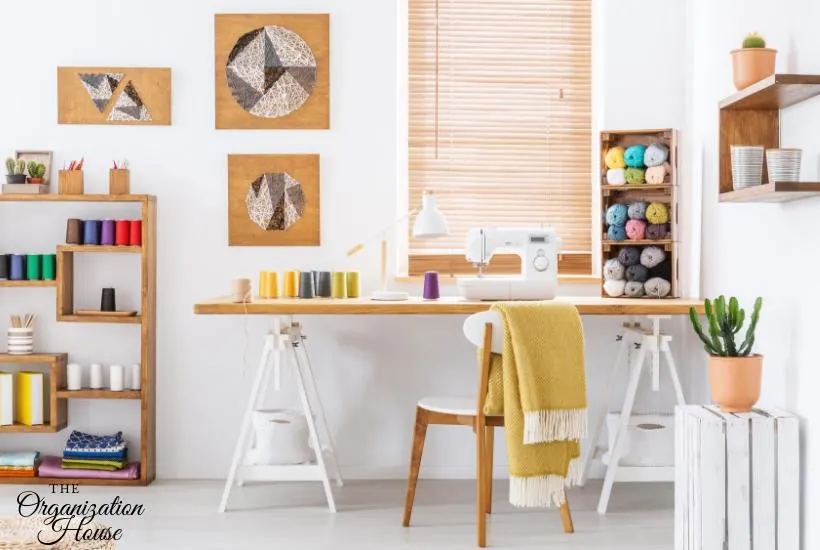 Organizing a Craft Room
If you're like most crafters, you love your hobby, but find it challenging to organize your stash. As the owner of That Kids Craft Site, trust me, I know a lot about organizing craft supplies – or, some days, how not to organize craft supplies!
If you don't organize your craft supplies, it can soon be so overwhelming that you don't even enjoy doing projects. However, if you're like most right-brained creative people, organizational skills don't come as easily as they do to left-brainers. Darn it.
The key to setting up a craft room is having a place for everything, so you're able to find what you need. First, you need to find a central location for all your projects and supplies.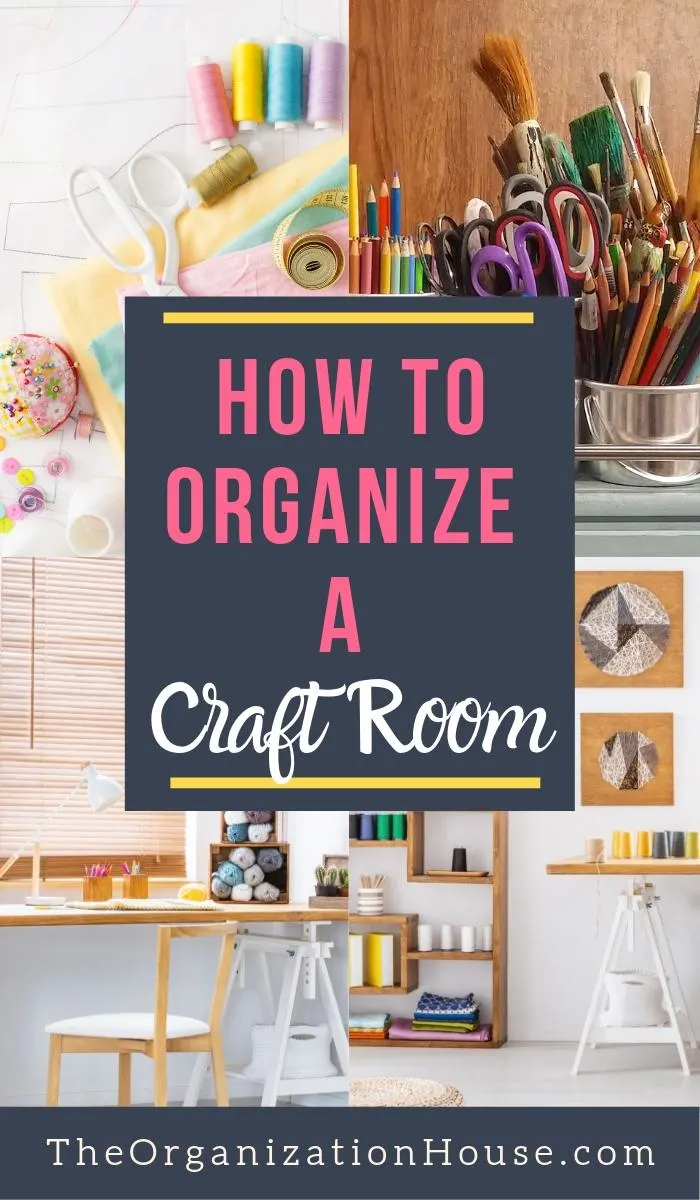 This article contains affiliate links to products that will help you get organized.
Finding a Spot for Your Craft Supplies
Designate a Space
Not only does having an area specifically for your crafting supplies help you organize your materials and tools, but it also gives you a relaxing spot to enjoy your hobby. What's more, you can feel free to be messy without infringing on anyone else in the family!
Where Can I Set Up a Craft Space?
Designating a space sounds great, but where?! Check out these options for where to set up your craft room in your house. Hopefully, they'll give you some ideas!
Set Up Your Craft Space in a Spare Bedroom
If you're an empty nester, you're probably fortunate enough to have an extra bedroom for crafts.
An old dresser is perfect for storage, especially if you're a cross-stitcher looking for drawers for your floss and supplies. It's easy to sort your DMC floss by numbers into drawers.
You Might Also Like: How to Organize a Closet on a Budget
Dressers are great for all sorts of supplies and, when you add some small dividers, the drawers are super easy to organize!
When your grown kids or other out-of-town company visits, you can always temporarily store your floss in a large container.
Make Your Dining Room a Craft Room
If you have a dining room that's rarely used, why not convert it into a craft area? This is particularly useful if your dining room has a door that you can shut. When unexpected company calls, you can always convert it back into a dining room if need be.
Now that you have your craft room or space designated, what next?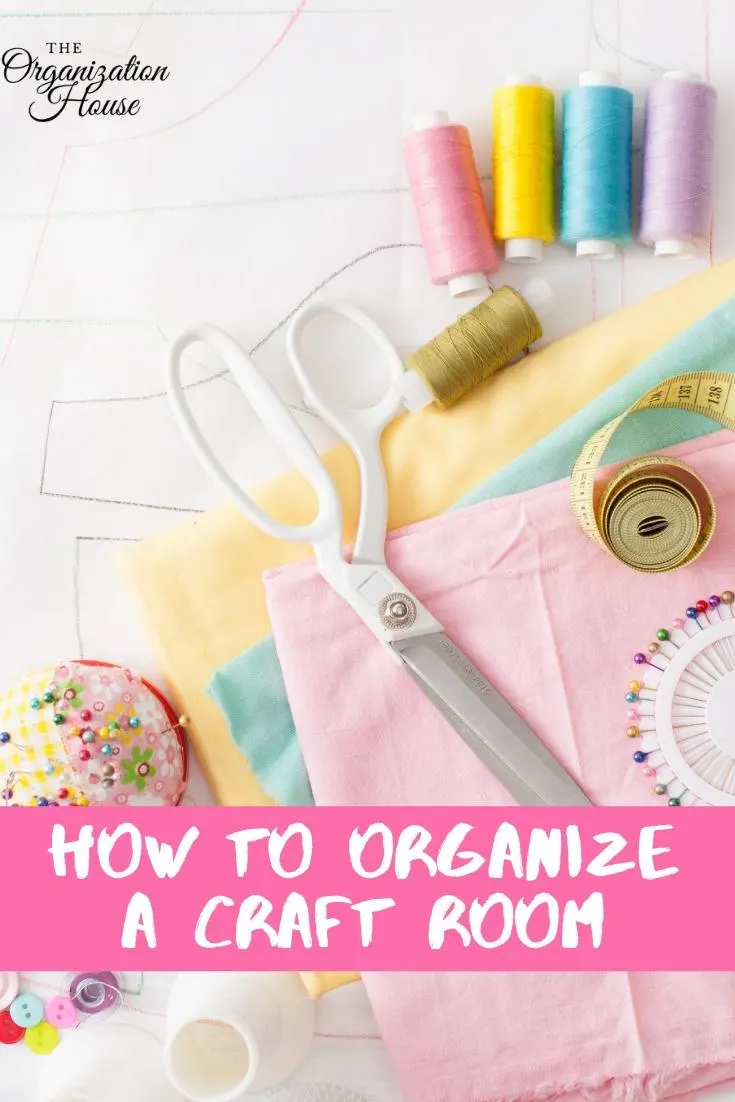 Organize Your Craft Room by Dividing It Into Zones
When it comes to organizing your craft area, zones are your new best friend. Zones help you learn how to organize your craft room in a way that works with the flow of the space and the way you work.
For example, if you do several types of needlework crafts, divide them into different zones. Place a sewing machine on a desk or portable table in a sewing area, another area can be organized for cross stitching while another is set up for quilting, etc.
The trick with working in zones is to have the correct organizers for each area. Organizers that are appropriately sized both for the space and the materials they need to hols are key.
Storage Containers for Organizing Your Craft Room
Clear Containers
Clear contains are ideal for storing fabrics, small craft supplies, and seasonal items. The fact that you can see what's in them at a glance makes them ideal for storing things in your craft room. Use large containers for bulkier materials and smaller containers for small items.
Shoe Organizer Racks
You may not associate shoe organizer racks with craft room organization, but they work well for sorting yarn and fabrics. Skeins of yarn fit on them perfectly!
Bookcases
Use inexpensive bookcases to store baskets, which can hold supplies such as yarn, fabric, paint, and more. Any extra shelves are great for storing craft books.
Accordion File Folders
Use an accordion file folder to organize your sewing or cross stitch patterns, scrapbooking or construction paper, and more! Organize according to the theme, color, season, or design.
I love to store our construction paper in accordion files sorted by color as it makes it so much easier to find the right color at the right time.
How to Organize Your Craft Room? Declutter!
Finally, learn to throw out what you don't use. Decluttering your craft room is probably the hardest part of any room organization task.
Just as you have to clean out your refrigerator, you also have to declutter your crafting supplies. Give the excess away to friends, donate it to a local teacher for her classroom, or put it on a yard sale site for a small profit.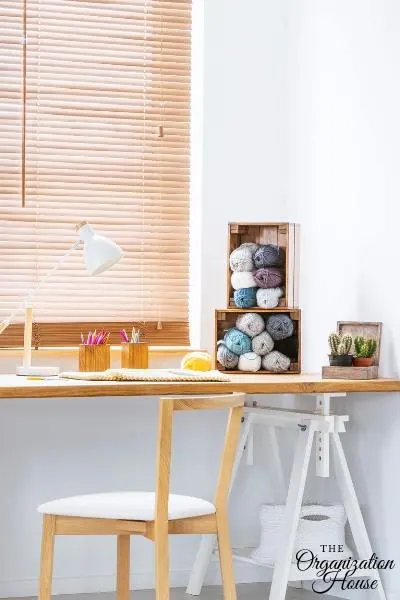 If you have unfinished projects stored in your space, take a long look at what you actually have. As hard as it may be to toss them out, if you know you're never going to finish the project, you have to throw it out or give it away. It's necessary if you want a tidy and organized craft room.
The best part though is that once you've thrown away those old projects, you'll have plenty of space to start new ones!