Want to learn how to organize shoes? You're not alone! There are many different types of shoe organizers that have different purposes. Get the information to choose the right shoe organizer to maximize your space.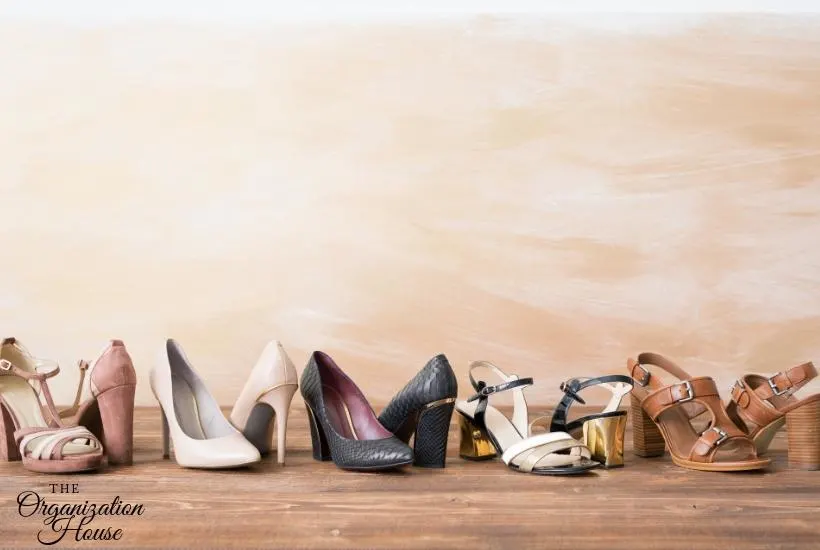 How to Organize Shoes in a Closet
Today's shoe organizers range from free-standing shoe racks and shoe cubbies to over-the-door shoe organizers and hanging closet shoe bags. Each of these organizes and stores shoes, but they all solve the shoe storage problem differently.
The space you have, how you want to use that space, and how you want to store your shoes will determine the best shoe organizer for you.
You Might Also Like: How to Organize Shoes in a Small Closet
Here are positives and drawbacks of the different types of shoe organizers (find shoe storage solutions) to help you figure out how to organize your shoes in the best way possible.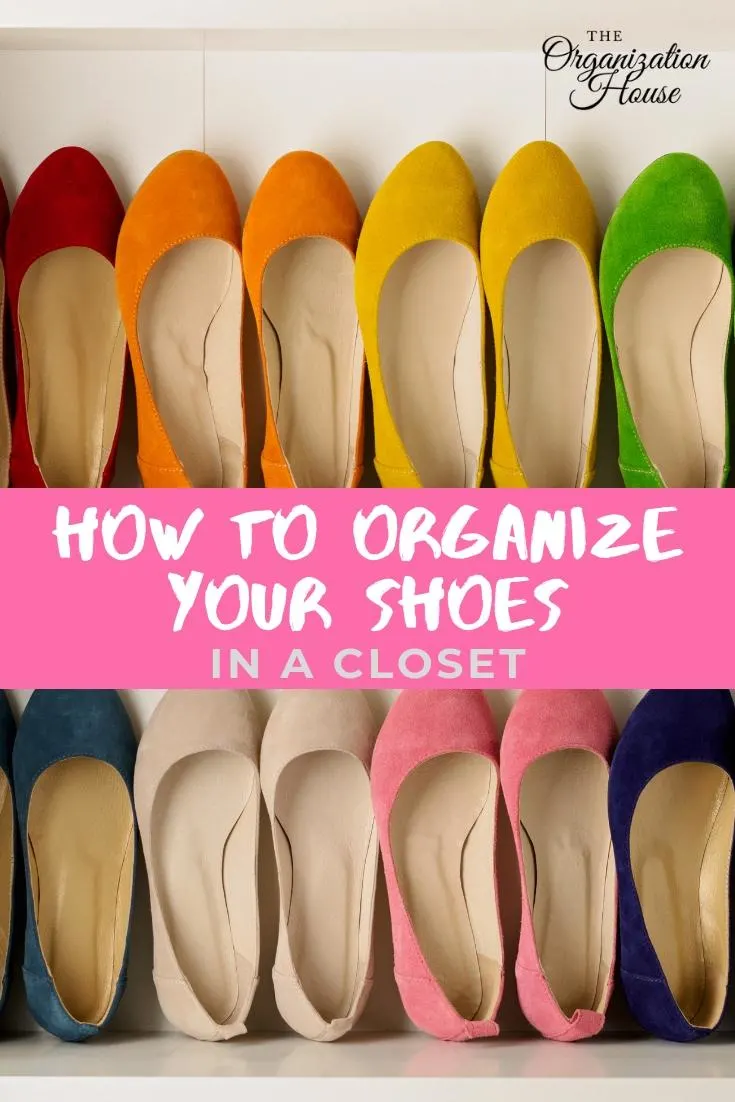 This article contains affiliate links to help you get organized!
How to Organize Your Shoes
Shoe Cubby Solutions
Positives: Shoe cubbies provide the ability to store and protect shoes at the same time. The size of the holes and the condensed configuration maximizes space. Some of these shoe cubby solutions are stackable, and some are available in different looks and styles to cater to different tastes.
Drawbacks: A lot of available shoe cubbies have slots that are too small for most shoes. Sandals and flat shoes can definitely fit in these holes, but sports shoes and men's shoes won't. High heel shoes will usually fit, especially with creativity when inserting them.
There are, however, some shoe cubbies that use larger and wider slots. These are the most expensive of the shoe organizer choices.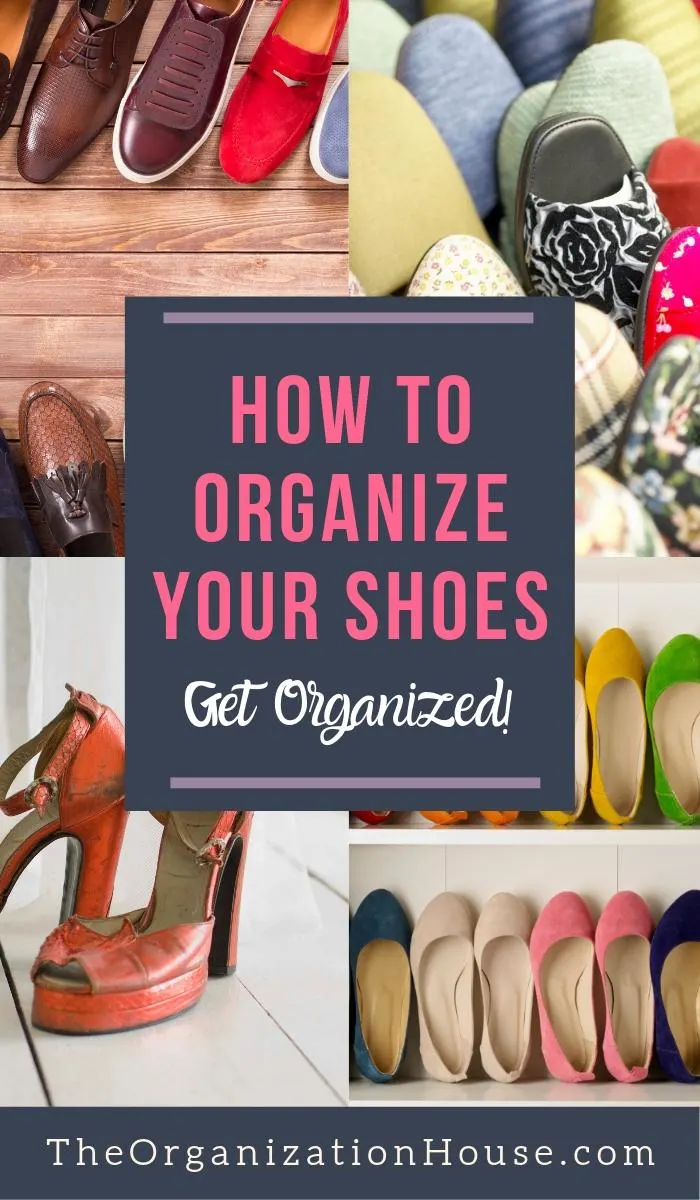 Free-Standing Shoe Racks
Positives: Shoe racks maximize floor space. When floor space is overflowing with shoes, a shoe rack adds additional tiers of storage. Free-standing shoe racks come in different styles and types. Three of the most common are:
expanding shoe racks that offer two rows that extend to almost four feet
tall revolving shoe racks
flat low profile shoe racks that can be used in low areas.
Drawbacks: Even though these shoe racks do an excellent job of maximizing floor space, they do not offer protection or help with minimizing clutter. Shoes on these racks are left exposed to dust and dirt from neighboring shoes.
Also, since there are no dividers or compartments on most of these shoe racks, shoes can become cluttered, if not organized periodically.
Over Door Shoe Organizers
Positives: Over the door shoe racks are great alternatives for people that lack floor space or shelf space. They also make it easy to access your most frequently used shoes.
Some of these also offer protection from dust, and all of these give each shoe their own compartment, to minimize the chance of creating clutter.
Note: These are also great to store other accessories besides shoes.
Drawbacks: Having to look at shoes on the back of a door can sometimes be bothersome. Also, some of the lower quality over the door shoe racks can flop and bang on the door when the door is opened or closed.
You Might Also Like: Awesome Closet Organizer Ideas to Easily Do This Weekend
Hanging Closet Shoe Organizers
Positives: Like shoe cubbies, hanging shoe organizers provide compartments and protection to store shoes. They attach to a closet rod, usually with a Velcro loop, to utilize vertical space to maximize storage. Different styles, colors, and materials are available.
Drawbacks: Also, like the shoe cubby solutions, closet shoe organizers may have compartments that are too small, but products with larger slots are available. One other potential problem is the loss of hanging space. It can be a trade-off of hanging space versus shoe storage space.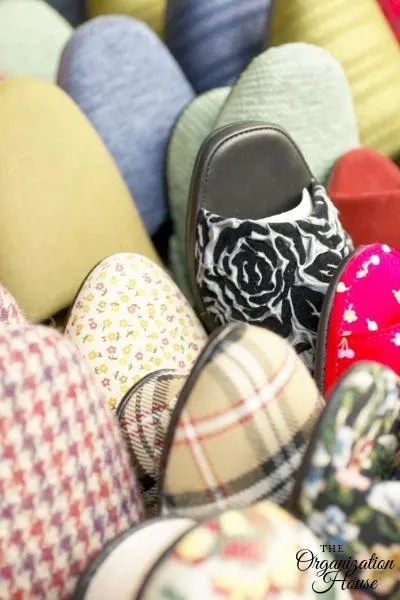 How to Organize Shoes in a Small Closet
The hardest part of organizing is starting. Now that you know how to organize shoes in different types of containers, pick the one or ones that will work best for your space. You'll be amazed how much better your closet will look and feel once your shoes are organized!