Stash your wrapping paper and gift bags with a few of these great storage ideas!
Are you looking for the perfect solution to store all sorts of gift wrap and bags? Well, look no further, because we have found some amazing ideas on how to keep them nice and neat until they're ready to be used again.
Giving all those pretty papers and beautiful bags a happy home is simple with a few of these amazing storage options for all of your gifting supplies.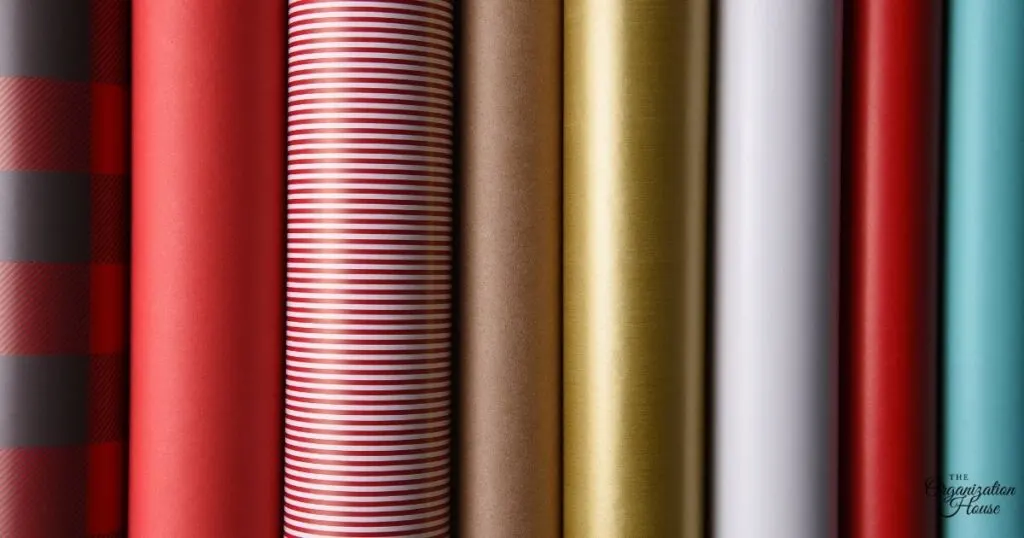 Take a look at some of these storage solutions you might want to take advantage of!
This article contains affiliate links to products that will help you get organized.
Wrapping Paper and Gift Bag Storage
Under the Bed
One of the most perfect places to store wrapping paper and gift bags is under the bed. Keeping all of your gifting supplies together and out of the way is a wonderful storage solution.
Gift Wrap Organizers
There are a number of containers and bins made specifically for storing your wrapping essentials. From clear plastic to colorful fabrics, selecting the perfect box to keep your wrapping paper and gift bags organized couldn't be easier.
Slim Storage Bins
While having the option of a storage solution made specifically for wrapping products is nice, we must say that we found them to be a tad pricier than the generic counterparts. Using regular under-the-bed storage bins will work just as well and save you a smidge in the end. They will slide right under the bed without a hitch, and keep your gift wrapping items together and tucked away.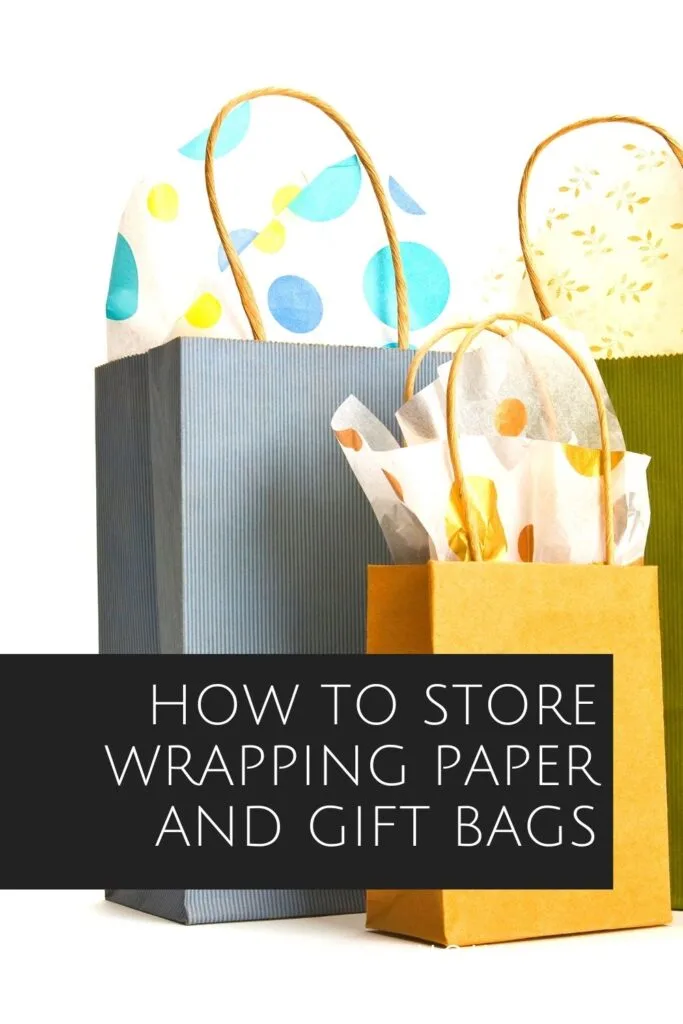 Over the Door
If you're limited on space, take advantage of the area behind your doors. Whether it be a closet door or craft room door, it's a genius place to keep wrapping paper and gift bags stored until they're ready to be used.
Shoe Organizer
Turn a shoe organizer into an amazing wrapping paper and gift bag storage solution. Leave the top row on the shoe organizer intact for items like tape and scissors, ribbon and bows, and even small gift bags. Then, leaving the bottom row of pockets as is, open up some of the middle pockets by cutting out the bottoms. All you need to do now, is shimmy your paper rolls right in there! Easy peasy!
Door Rack
Hang a basket or bin rack over the door for awesome wrapping supply storage. Door rack organizers can be plastic, metal, mesh, and more to suit your style. They are a great option for storing all of your gifting essentials in one area while still keeping them out of the way.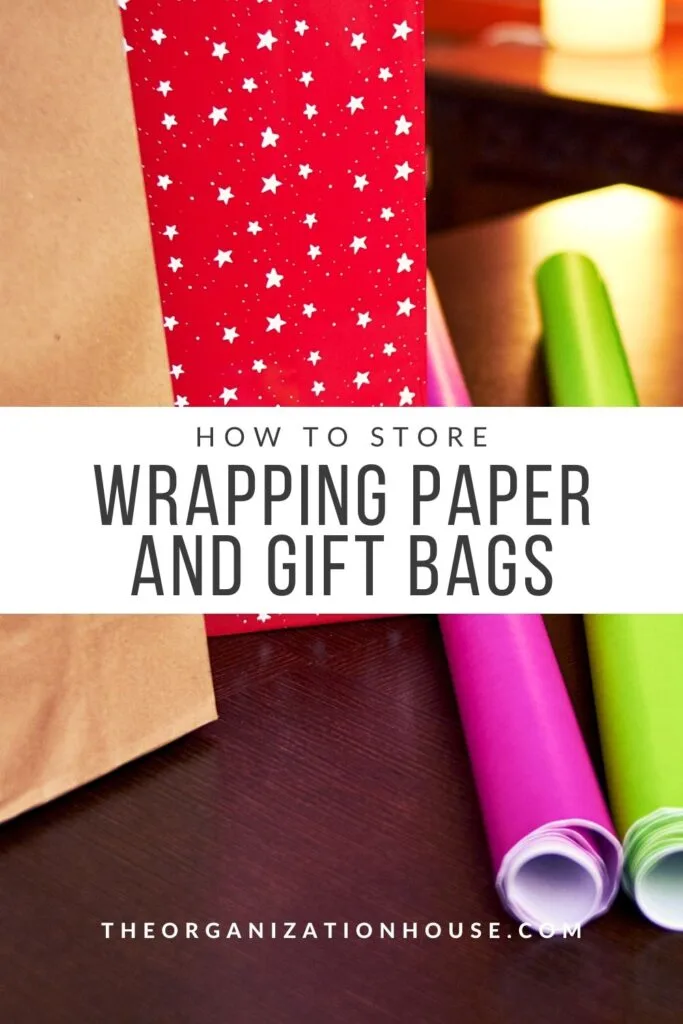 In the Closet
Use up that extra space in the closet for hiding your wrapping paper and gift bags. Hang them up and tuck them back for a storing option that is out of sight.
Garment Bag
Put all your wrapping bits and pieces in a garment bag for quick and easy storage. Stuff your rolls in there, throw in the gift bags and hang it up until you need it! Wallah! Wrapping paper and gift bags are organized and hidden. Perfect!
Hangers
You wouldn't think it, but hangers are an excellent way to store wrapping paper and gift bags. Using hangers with clips can keep paper rolls from unraveling when secured on the end. They also work great for holding multiple gift bags while keeping them flat at the same time.
Out and About
Sometimes it is easier to just keep things out in the open than it is to find a hiding spot for them. Stop fighting it, and store your wrapping essentials out in plain sight!
Laundry Bin or Umbrella Holder
Re-purpose a pretty fabric laundry bin or an umbrella holder into a pretty place to store all of your wrapping paper and gift bags. Display it in the corner of a room and enjoy the view!
Decorative Basket
Keep wrapping paper and gift bags in decorative baskets that complement your decor. Tall baskets are great for paper rolls, while shorter baskets can keep gift bags, ribbons, and bows organized in one spot.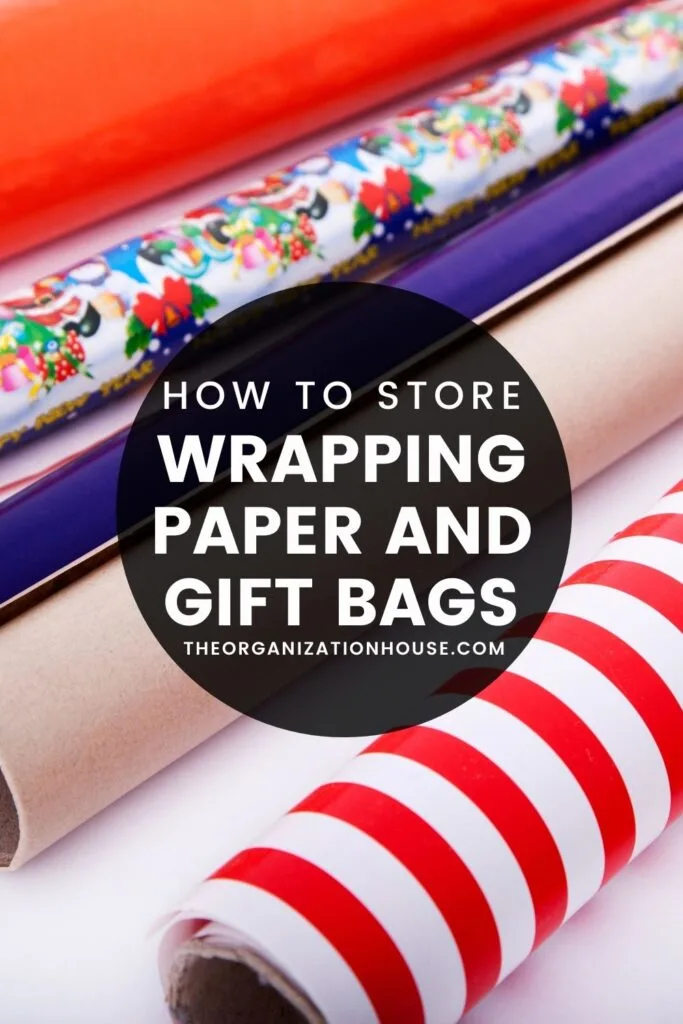 Storing Wrapping Paper and Gift Bags
When trying to figure out how to store your wrapping paper and gift bags, you can see here that there are a number of ways to get it done! From containers made specifically for wrapping essentials to a few DIY holders, there is something for everyone no matter what your style or your budget. So, let's get organized!
You May Also Like…