Need some easy at home date night ideas for when you're stuck in the house? Don't worry, we have you covered with 25 awesome ideas you can do on the cheap.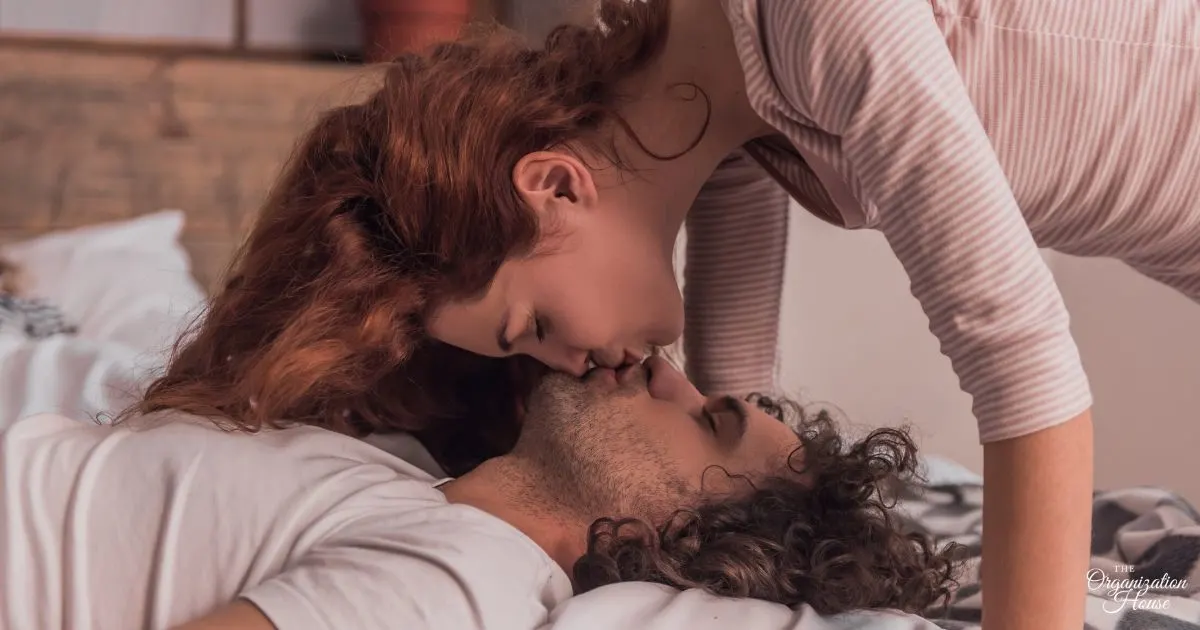 Stay at Home Date Night Ideas
Whether the weather has got you stuck at home or you're quarantined with nowhere to go, date nights can still happen. The key? Get creative (or read the list below!) and think outside the box for ways to bring laughter and love into your evening.
The 25 date night ideas below are some of our favorite ways to make the most of staying at home. Enjoy!
Cheap Date Night Ideas at Home
1. Make Dinner Together
You have to eat, so why not turn ordinary meal prep into part of your date night? Homemade pizza is always a hit or whip up your favorite dish together.
2. Workout Together
Lift some weights, take turns on the treadmill, have a jumping jacks competition, or see who can hold a plank the longest. Get moving and release those endorphins together.
3. Couples Yoga
If you're into yoga, try a couples yoga video for some extra stretchy fun. This partner yoga routine looks like fun – without too much danger. Also, it's totally okay to laugh while doing this.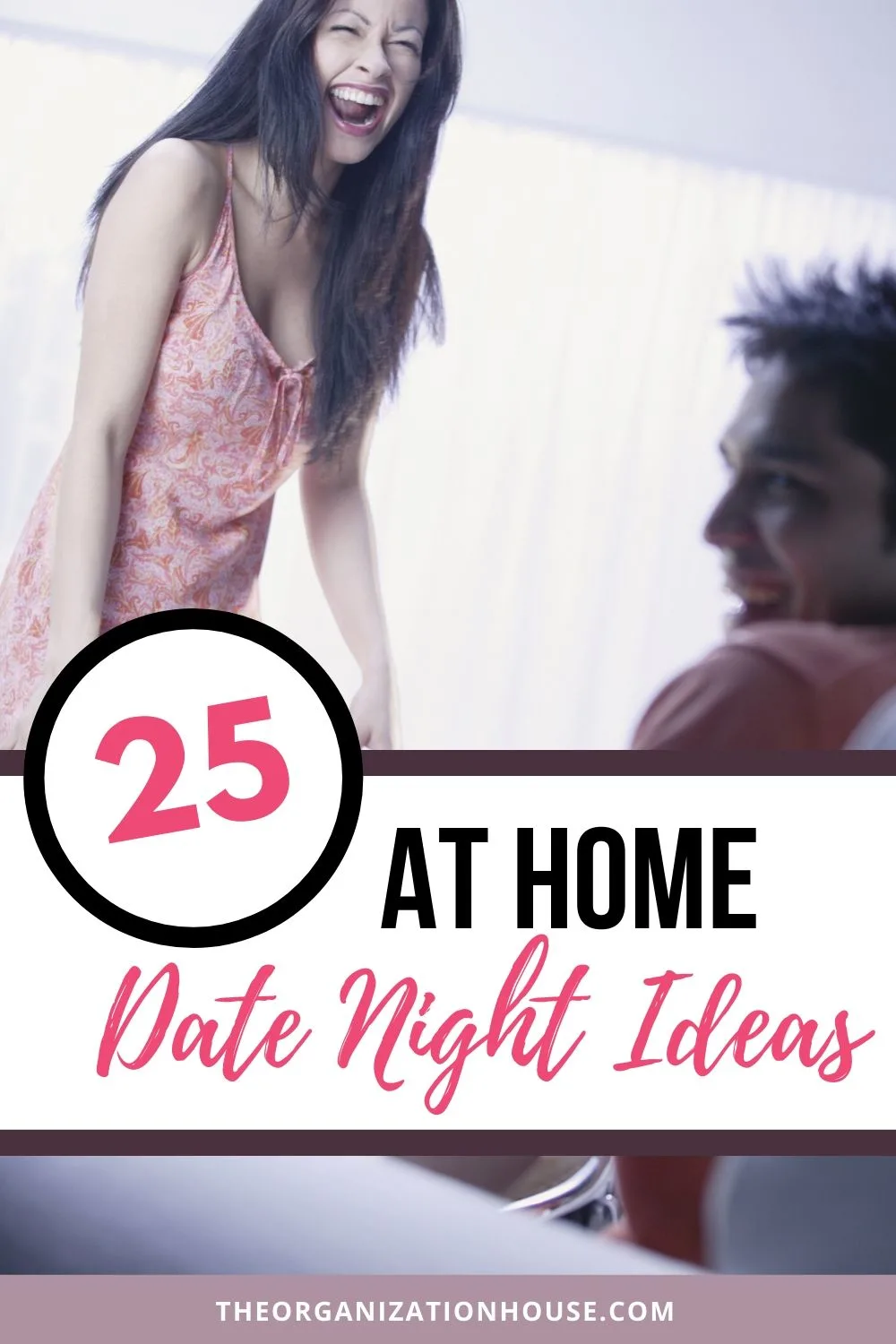 4. Travel the World
Travel the world – virtually, of course! Pull up Google Maps or Google Earth and take a "trip" to somewhere you've always wanted to go.
5. Visit a Museum
You may not be able to leave the house but you can take a virtual trip to a museum. For a limited time, the Winchester Mystery House is hosting a free virtual tour that's definitely worth checking out!
6. Old Fashioned Movie Night
Don't discount the fun of an old fashioned movie night! Pick a favorite movie, pop some popcorn, and snuggle close for a night of movie watching fun.
7. Solve a Puzzle
There's something special about sitting across from one another and solving a puzzle. The teamwork, the time to talk, and the thrill of completion make puzzles a great, cheap date night option.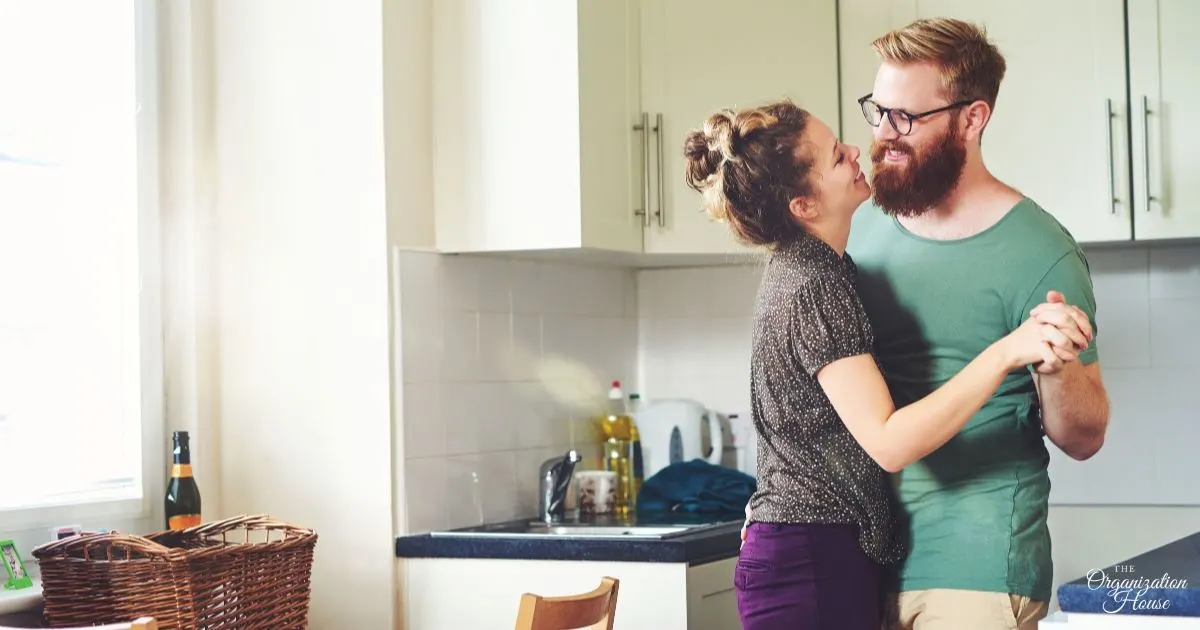 Fun at Home Date Ideas
8. Learn a Dance
When my husband suggested we learn how to country swing dance the other night, I honestly thought he'd lost it after being quarantined for a few weeks. Turns out, it was the most fun we'd had on a date night in a long time. We searched YouTube, found some easy explainer videos and got dancing. Not only did it make us laugh, but we burned some calories too! Here are the videos we watched and recommend (after trying a lot of not so good videos!):
9. Play a Video Game
Break out the old Wii and play Mario Kart or Wii Sports! Or, if you don't have a gaming system at home, download the Mario Kart app on your phones. They just released multi-player so you can play with someone who is close by! If you think racing on your phone can't be a competitive sport, you haven't tried this one yet.
10. Break Out a Deck of Cards
An old fashioned deck of cards can make for a fun date night. Cut up some cheese, put out some crackers and chips, cut up an apple and make some homemade fruit dip, and have your very own cards night. From poker to WAR, there's always a game to try. And, if you want to learn how to play a new card game, look on YouTube for directions!
11. Have a Nerf Gun Battle
If you have Nerf guns hanging out around the house use them for a date night battle.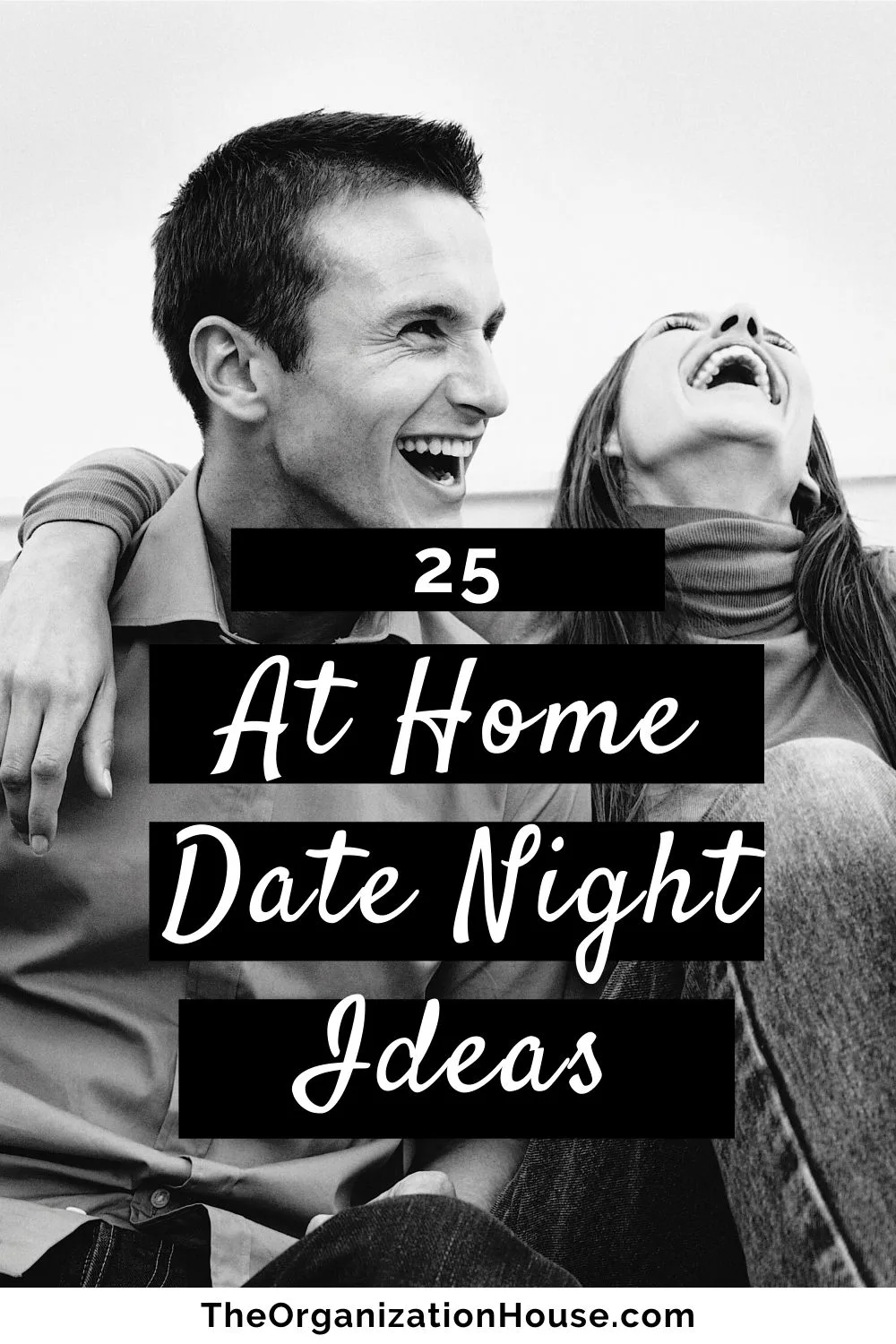 12. Try Something New
Being stuck inside and quarantined gives you something that we always say we don't have enough of – time. Use the time to try something new that you both have wanted to learn how to do. It could be anything!
13. Escape Room Challenges
Escape the Crate is one of our favorite escape room challenge boxes. We got it as a subscription for Christmas from my brother and sister-in-law and it's something we look forward to solving every month. Add it to your rotation of fun date night ideas!
14. Make Cocktails
Put on some swanky clothes and join each other in the kitchen for some cocktail making fun. My friend, Colleen, from Souffle Bombay makes the most amazing cocktails and puts the recipes up on her site. They're definitely worth checking out!
15. Guess That Food
If you're feeling adventurous, play Guess That Food. The idea is that one person is blindfolded and has to guess what the other person is feeding them. Obviously this idea requires some trust and a whole lot of courage.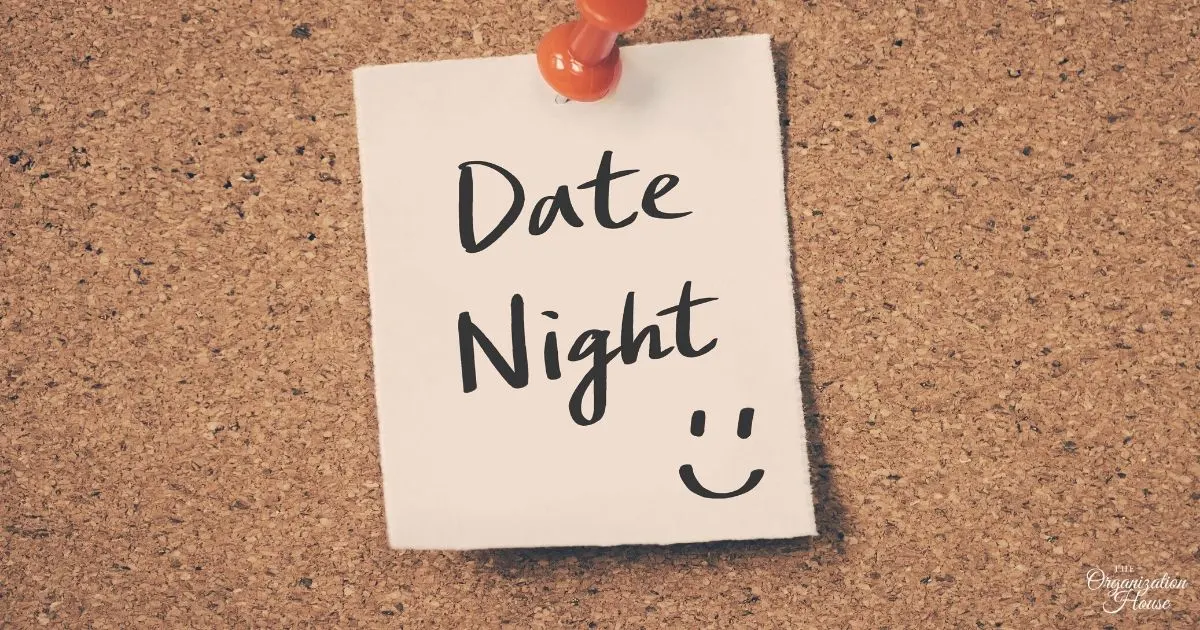 Romantic Date Night Ideas at Home
16. Have a Fancy (Homemade) Dinner
A candlelit dinner for two is just what this date night ordered. Pick an easy to prep but fancy-looking meal for supper, set the table with the good china, candles, and even a tablecloth. Put some soft background music on and have an evening of wining and dining – at home!
17. Slow Dance
While country swing dancing may be a fun date night idea, slow dancing is definitely more on the romantic side. Don't be afraid to dress up in your fancy clothes, put on your heels, and dance together under the stars on the back patio.
18. Take a Bubblebath (or Shower)
Take a bath or shower – together of course. That's about the explanation that suggestion needs. *wink, wink, nudge, nudge*
19. Did Someone Say Massage?
Dig out the bottle of massage oil or lotion and take turns giving each other a massage. It could be a back massage, a foot massage, a whole body massage… have fun!
20. Break Out the Fondue
Remember that fondue pot that Aunt Clara got you for your wedding? Dig that out and put it to use. Melt some chocolate or cheese and dip your favorite foods in it for some yummy fondue goodness.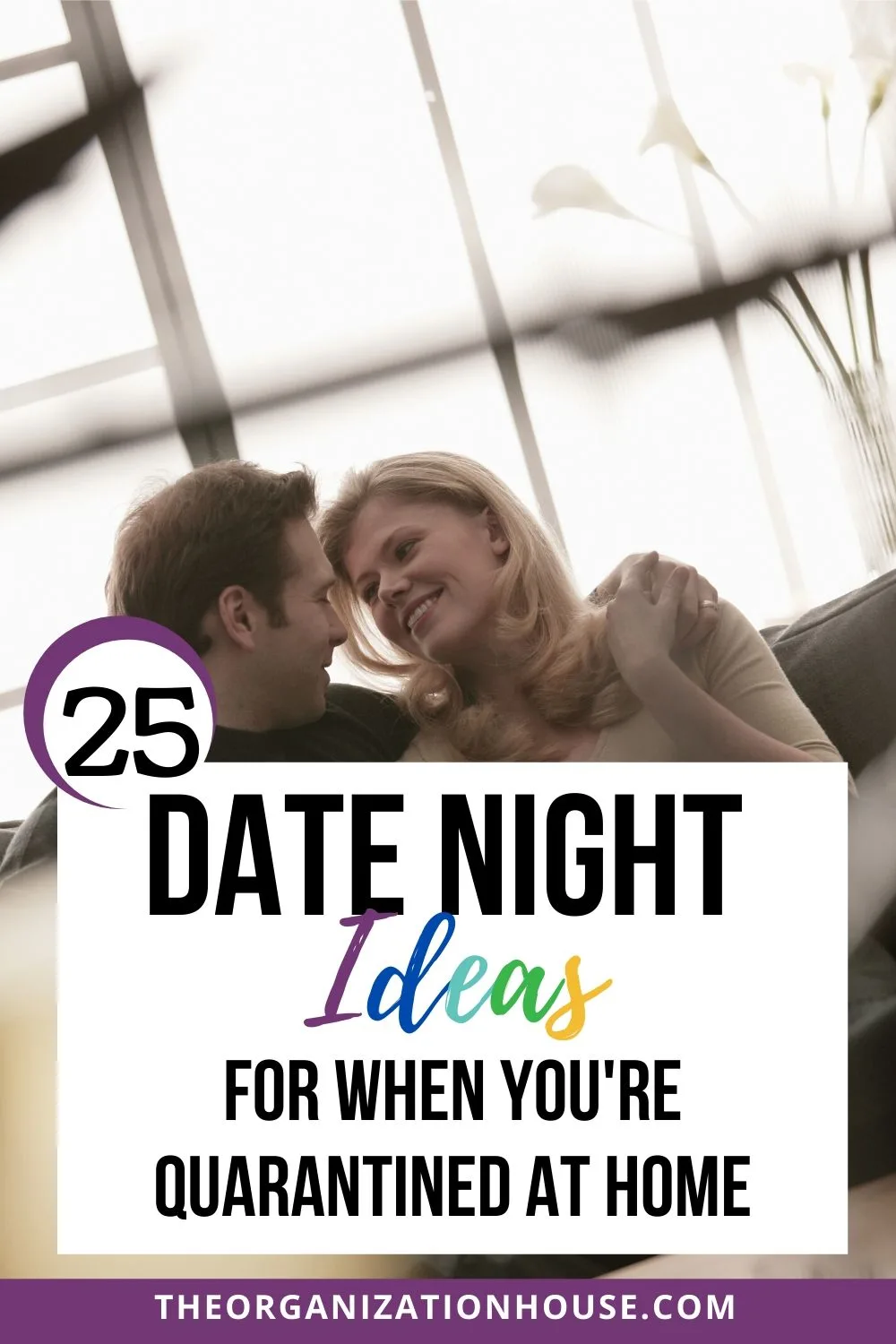 21. Wine & Memories
A good bottle of wine (or a cheap one!), lowered lighting, candles on the tv stand, maybe even a fire in the fireplace (or one on the tv!), and your wedding photo album make for a romantic night of wine and memories.
22. Foot Rubs
If you don't mind touching your spouse's feet, trade foot rubs! It doesn't sound all that romantic, but at the end of the day – whether you're quarantined or not – it sure does feel good to be pampered and cared for.
23. Play Pods
If you have seen the show Love is Blind on Netflix, you'll understand this one. If you haven't seen it, consider binge-watching it first. Set up your very own "pods" and settle in for a long night of conversation, secret sharing, and laughing.
24. Plan a Vacation
You may not be able to leave the house just yet, but plan where you'd like to go when you can. Look up sights to see, transportation options, the swankiest hotels, and more. Cut pictures out of the location and put them on a poster board to make your dream vacation vision board!
25. Play Never Have I Ever
Your spouse may not care if you've never eaten oysters, but you can create a more intimate version of this game for some really romantic vibes. To play, you take turns asking each other questions about things they have done. "Have you ever gone horseback riding?" etc. Obviously, your version can be a bit more romantic and personal.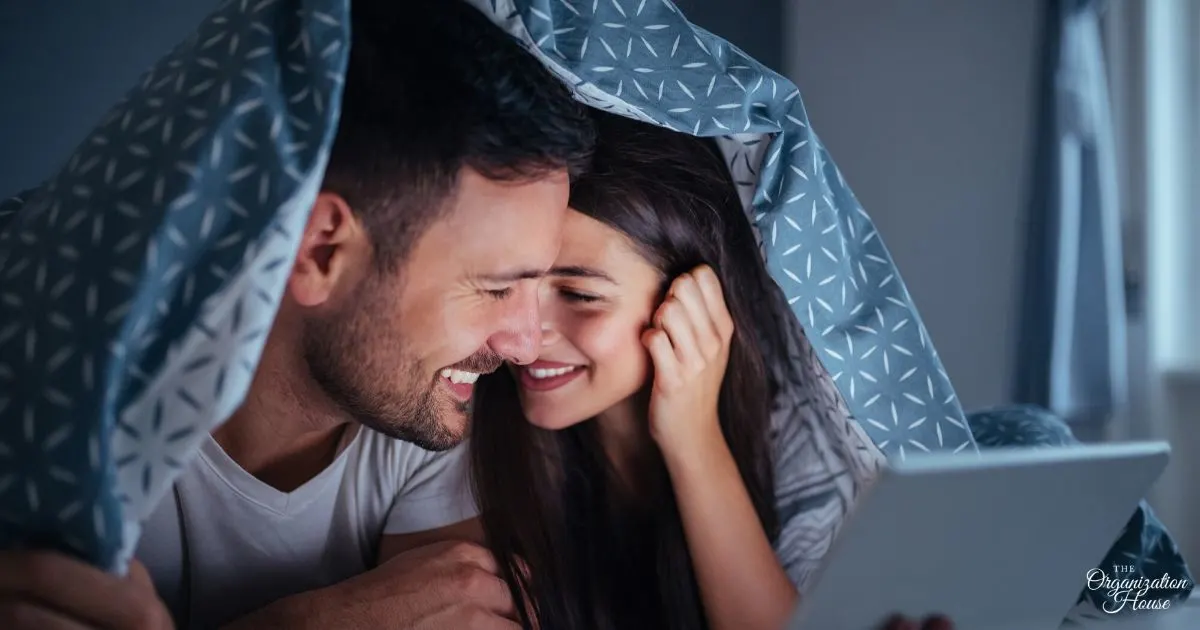 At Home Date Night Ideas
Date night at home doesn't have to be a drag. Sure, you may want to get outside, but there is so much you can do to build and strengthen your marriage within the four walls of your home.
Remember to laugh freely, not take yourself too seriously, and have fun.
Let your mind think about something happy and positive for a few hours instead of worrying about being quarantined.
You can do this! Have a great date night!