Car organization ideas are this summer's must-have road trip prep activity! Make sure everything is in its place before you leave the driveway.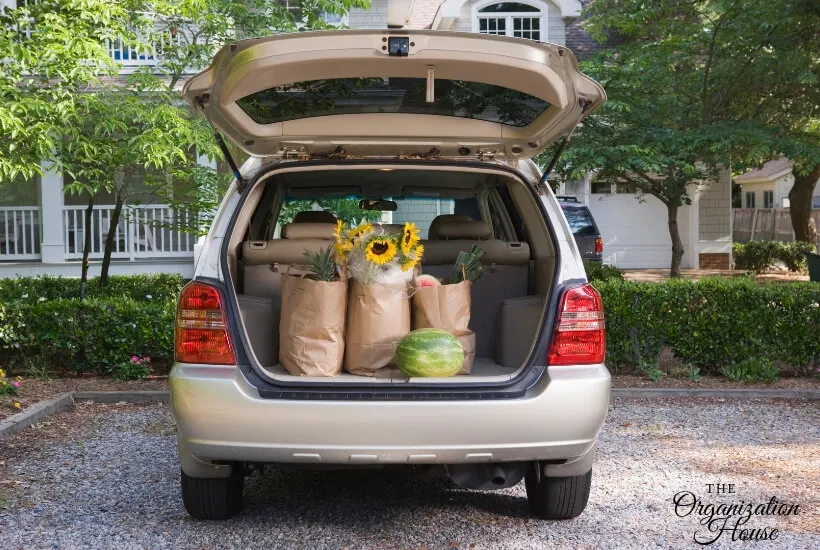 Car Organization Ideas for Families
Whether you're heading on a road trip or just running around town, your car can quickly become a mess. With three little ones, I always felt like it was a losing battle to keep our minivan organized. And don't even get me started on the crumbs and stickers!
This article contains affiliate links to products that help you stay organized!
Where do kids even find stickers to put on the windows anyway?! It's like there's an evil sticker fairy whose main job is to lower your car's resale value and increase stock in Goo Gone.
Keeping your car organized and knowing just where to find the items you and your children need while you're on the road is super important. It helps cut down on distracted driving and just makes the trip more pleasant for everyone.
Here are a few simple car organization ideas that will help you keep your eyes on the road, the kids entertained, and the car a clutter-free zone. (I know, it sounds too good to be true, but they work – I promise!)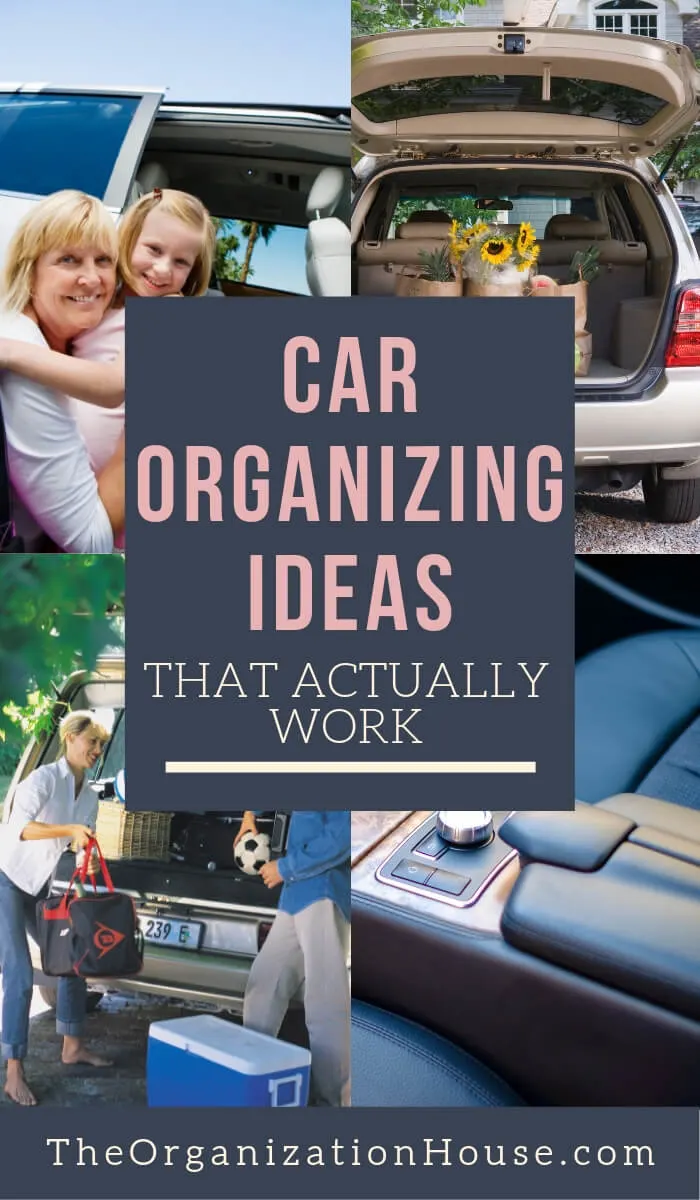 Car Organization Ideas That Work
There are a lot of options for seat back storage on the marker. They typically have pockets, cupholders, and even a place to display a tablet or iPad so kids can stream a movie or their favorite cartoon.
A more economical, but less sturdy, option is the shoe organizers you find at the Dollar Store. They have pockets for storing small items, sippy cups, wipes, and more. Just keep in mind that you may have to replace them when you get back home.
Keep the front seat area organized for you and your passenger with a slide-in console. Some minivans and SUVs don't have built-ins, so a slide-in is a good option for storage and extra cup holders. There are many different sizes and styles, so just make sure the one you get will fit your vehicle.
Give the kids their own space to store toys and drinks while watching their favorite shows and coloring, drawing, playing games, or even doing homework. Travel lap trays have come a long way over the years and today's models have a lot of great features!
Use the Windows
Shower caddies with suction cups are great organizers that make it easy for kids to reach their toys and snacks. There are a variety of different size caddies available, so consider the items that you'd like to store before purchasing one.
A word of caution: If you have power sliding doors, remove the shower caddies before you attempt to open the doors! Otherwise, they can get stuck and damage your car or break your door.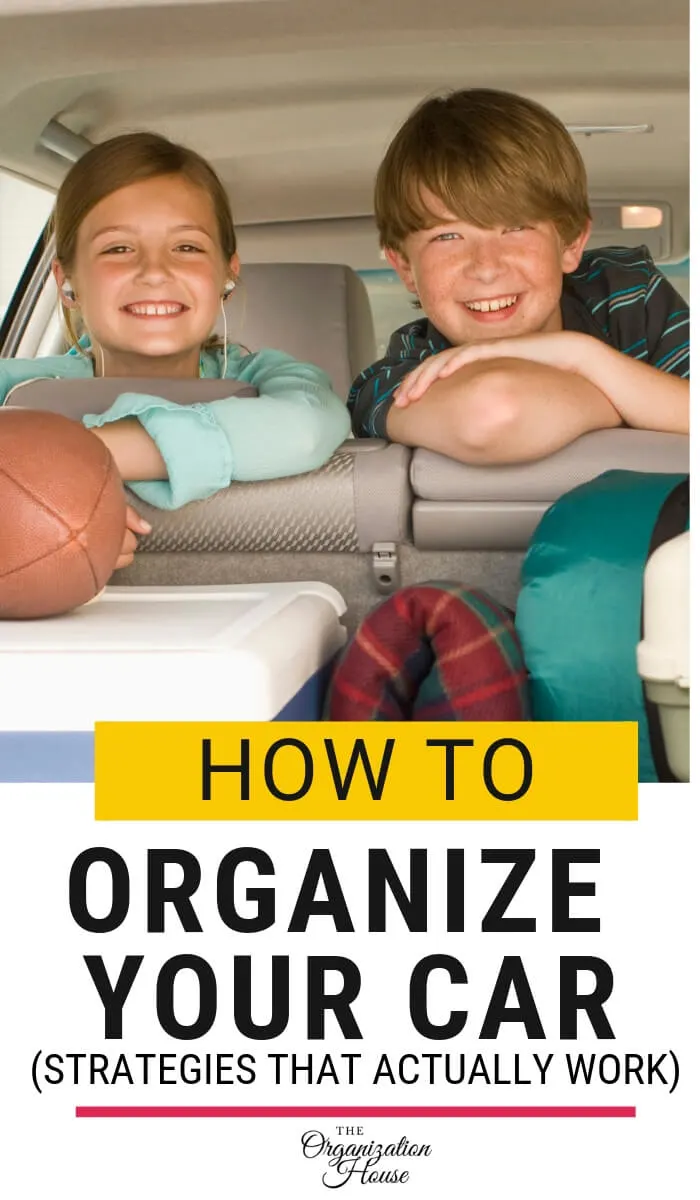 Trash cans that can be hung from seat backs are a great choice to help keep garbage from cluttering up the floor. In a pinch, you can use a reusable plastic bag, but aesthetically, a hanging trash bag is much more attractive!
Smaller, under-the-bed organizers are great for keeping just-in-case items (i.e. – change of clothes, extra diapers, and wipes, first aid kits) in a handy, but out of the way place. These can go under the seat or be used in the trunk.
We keep a small container with some basic tools, a first aid kit, an emergency blanket, an extra phone charger, a snack, and a bottle of water in the back of our SUV for emergency occasions.
Trunk organizers will help keep loose items from rolling around the trunk and being damaged or injuring someone in a crash. Choose a model that has handles to make it easy to remove when you need extra trunk space. You can also use soft-sided bins that you get at the Dollar Store as well.
Minivan backseat organizers can be a huge help when it comes to keeping things organized in the rear of your vehicle. Easily free up floor space in the trunk for groceries while keeping the necessities at hand!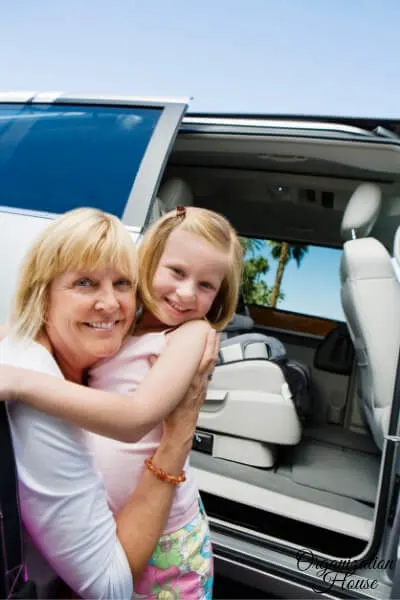 Car Organization Ideas
The trick to organizing your car is to use the appropriate size containers for each of the spaces you have available. When looking at any car organization solition, make sure it can be secured to protect your family. You don't want that first aid bin to become a projectile in the event of a crash!
Get creative with your containers and enjoy that road trip in a clean, organized vehicle!