Straighten out your accessories with these fun tips for organizing a jewelry box!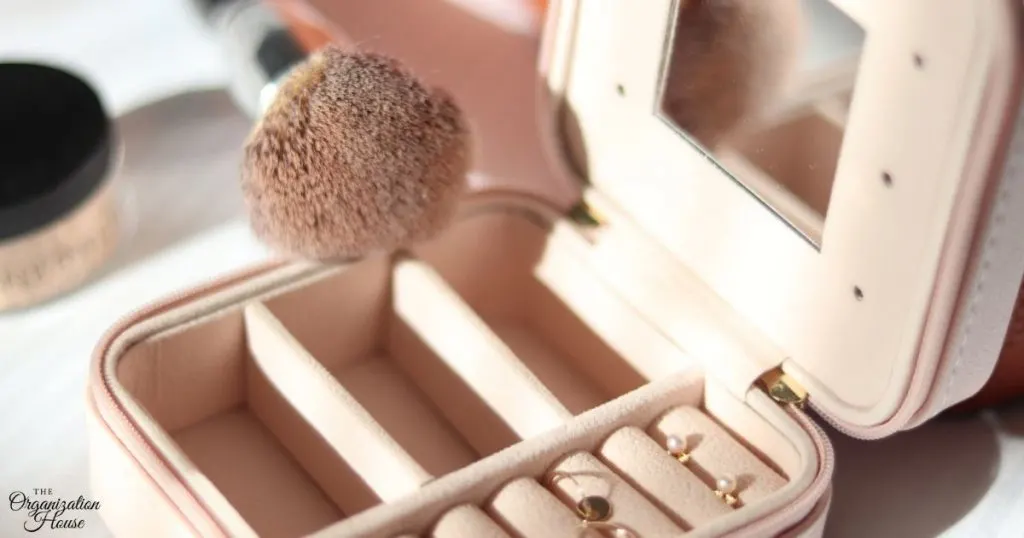 Wearing jewelry is a fun way to accessorize any outfit. From the casual workday to the formal affair, having a few personalized pieces to adorn yourself with can really complete your style.
Between earrings, bracelets, necklaces, and more for every occasion, it's no wonder that all those accessories can sometimes end up being a jumbled mess. Luckily, we have found that keeping all of your jewelry together and in order can be quite simple!
Let's get organize your jewelry box today!
Jewelry Box Organization
Gather Jewelry
Let's clear out your jewelry box and also gather up any loose jewelry that may be lying around. This will help you to see all of the accessories that you have and give you a chance to go through and determine what you would like to keep, donate, or toss.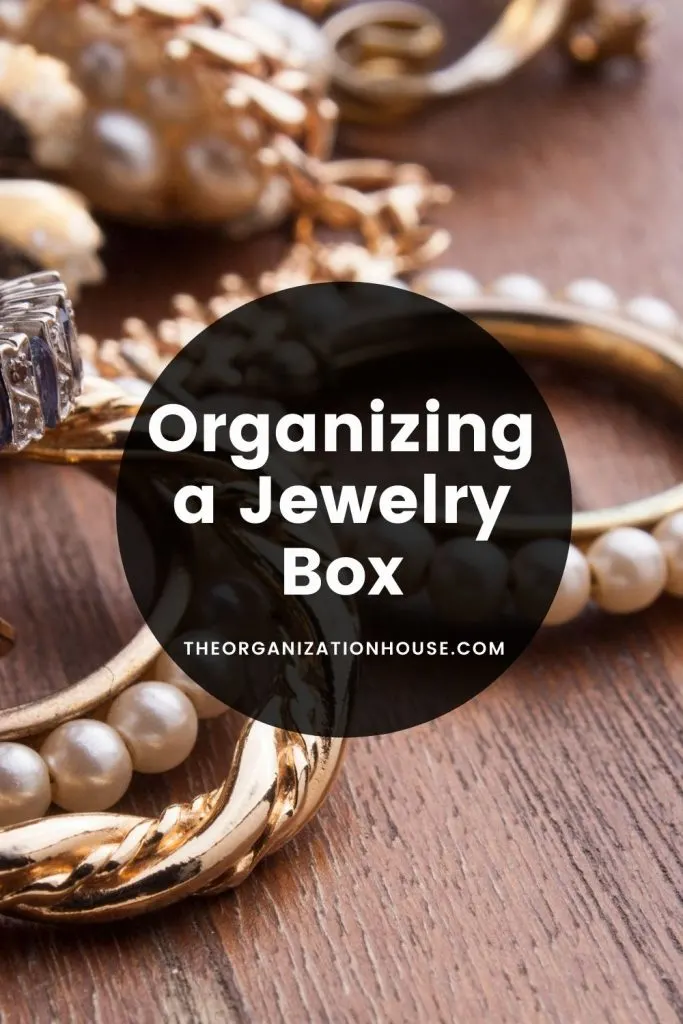 Untangle Jewelry
Longer jewels can sometimes get a bit tangled when not stored correctly. Go ahead and take the time to untangle each piece carefully. Doing this now, will help you sort them easily, later.
After you're done untangling, fix any broken accessories, donate gently used items that you no longer wear, and get rid of pieces that can't be fixed. This will make the next steps for organizing your jewelry box much easier.
Sort Jewelry
Sort all of your accessories into groups. How to classify your jewelry is totally up to you. You can put all of the same items together, such as rings, necklaces, earrings, and so on.
You can group them by occasion, like daytime accessories, evening wear pieces, and fun fashion jewelry. Or you can even sort items by color or metal type. The choice is yours!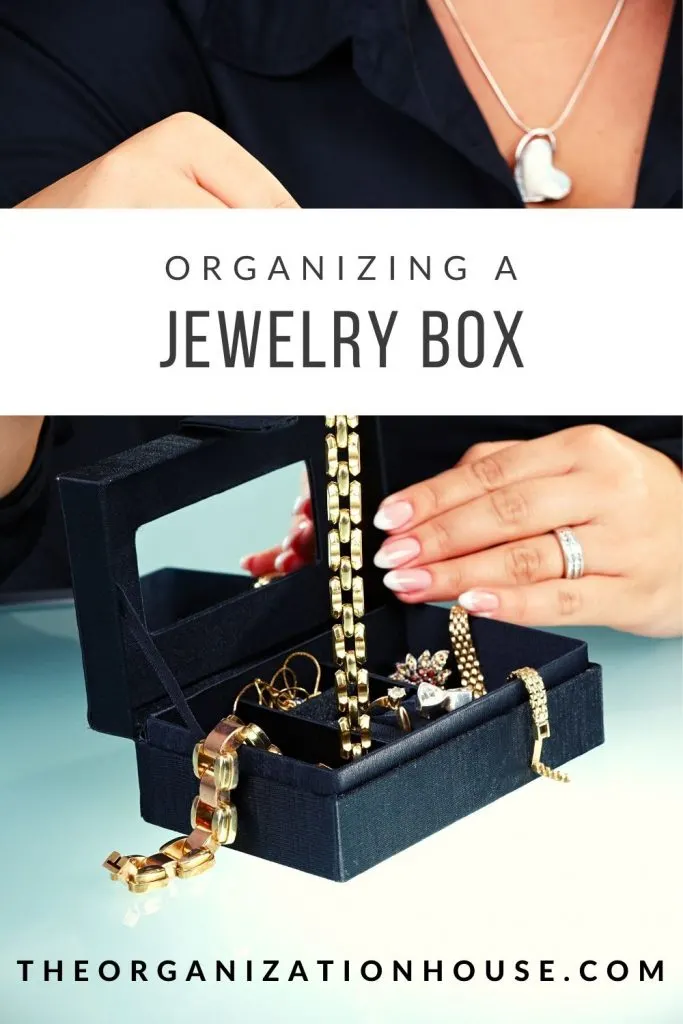 Organize Jewelry
Now you can start to put all of your jewelry back, organizing each group as you go. Your jewelry box may already have separate compartments, slots, and drawers for different pieces.
Place each group of items in its own area to keep them organized. If you need more compartments, consider making your own dividers from cardboard or purchasing pre-made inserts that will fit into your specific jewelry box.
Go a step further with organization and use a piece of ribbon or fabric to store earrings neatly together, a binder clip to keep rings in order, and tissue paper to wrap individual necklaces.
Display Jewelry
Consider thinking outside the box, and display your favorite jewelry on your dresser, nightstand, or wall. Place your everyday pieces in a pretty dish or tray, dangle them from a jewelry tree, or hang them on wall hooks.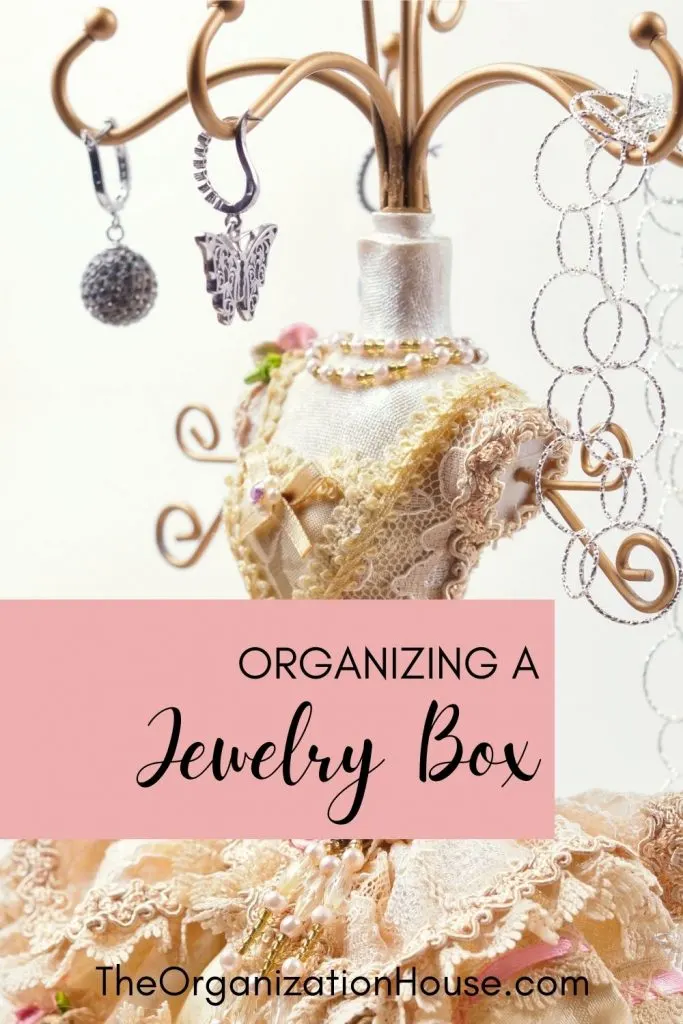 Maintain Jewelry
Go through your jewelry box at least once a month to maintain it. Make sure your pieces are in the appropriate compartments and untangle any jewels that may have gotten knotted together again over time.
How to Organize a Jewelry Box
Having a place to store all of the accessories that you love can be done in a few simple steps. By organizing your jewelry box, your favorite pieces will be tangle-free, in order, and ready to wear!. So, go ahead and get your jewelry box organized today!
You May Also Like…