Looking for a way to organize your camper kitchen? Well, look no further! These incredible campervan kitchen ideas are just what you need!
Little living is the new big trend! Whether you want to downsize for good into a sweet tiny home or just go on a weeklong camping adventure in your awesome RV, you will want to make sure you can fit everything you need into your small space.
With the kitchen being an important area in any RV, we want to share with you some amazing camper kitchen ideas that will get your space in order! Limited space? No problem! These awesome tips will help you take advantage of every nook and cranny in your campervan kitchen.
Let's get started!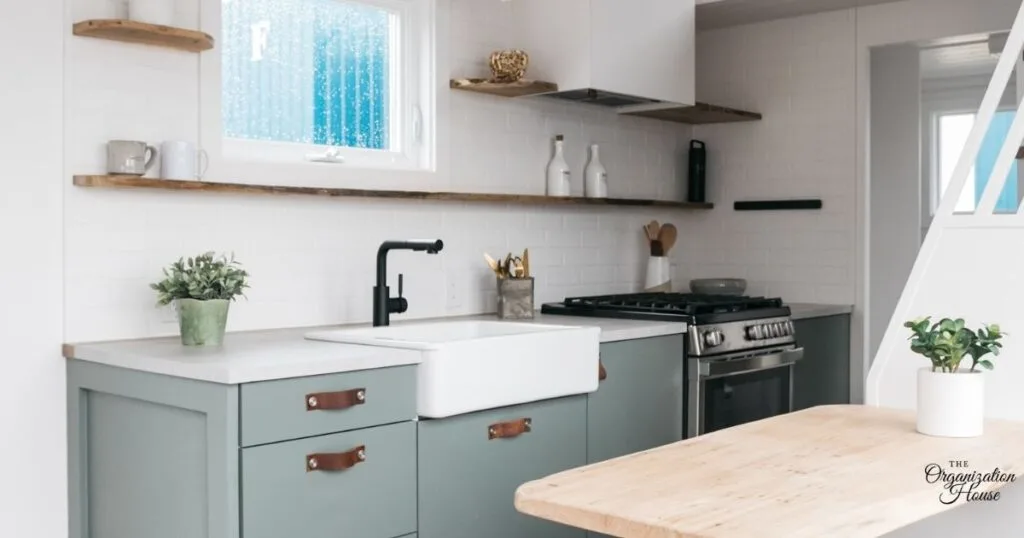 Storage Ideas for a Campervan Kitchen
Maximize Countertop Areas
While you may not want to clutter up your countertops, using the counter surface area can be done in a neat and orderly fashion. Check out some cool counter top caddies that can work wonders in an RV kitchen. Caddies are great for storing silverware and other kitchen utensils. They also provide the perfect place for condiments and spices. Other super space savers excellent for countertops are tiered organizers. Try three tiered corner shelves or even a double tier shelf for behind the sink.
Take Advantage of Wall Space
Vertical storage and organization are essential to keeping your camper kitchen in order. If you can attach it to the wall, do it and use it! Wall mounted baskets and bins can store just about anything from fruits and produce to oven mitts and towels. Vertical spaces such as the end of a cabinet or side of the fridge can also be taken advantage of. Items such as over the door racks, file organizers, magnetic strips and more are ideal vertical space savers!
Fill Up the Cabinets
Not sure how to organize your camper kitchen cabinets? Don't sweat it! Take advantage of items that can be expanded. Look for accessories such as nesting pots and pans or stackable canisters and trays. These are great for cabinet storage! Check out collapsible and foldable items, as well. Collapsible colanders and foldable teakettles are made to fit easily in a small RV kitchen cabinet. There are even sink racks that will roll right up and tuck away nicely when not in use.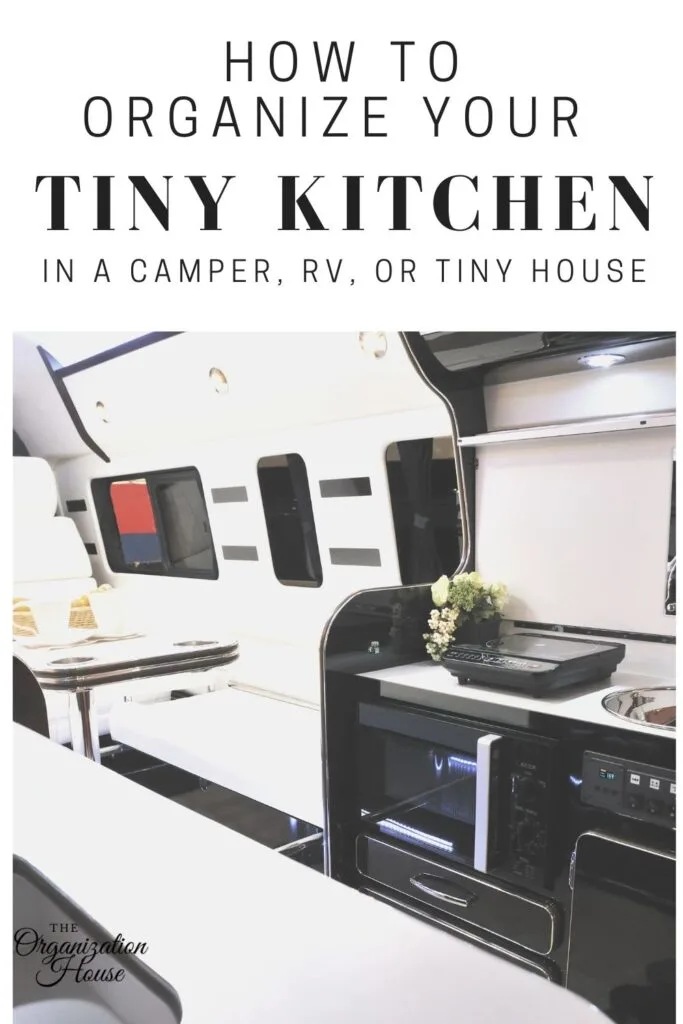 Don't Forget Under the Cabinet
Perfectly usable space is right under your nose (or under the cabinet)! Use hooks to hang a variety of items. Mugs, pots, utensils and more are kitchen necessities that you can hang under the cabinet. You can even add under the cabinet drawers for cutlery or attach a paper plate dispenser to the bottom of a cabinet. Fruit and veggie hammocks are another great way to maximize the area under a cabinet.
Leave No Space Empty
See a space? Fill it up! When the camper oven isn't in use, you can use it as storage for something like your baking pans or pizza stone. Have you thought about the camper microwave? Keep bread, chips and other snacks inside when you're not using it. What about the space between the fridge and the wall? Do you think that it can't be used? Think again! Slide something skinny back there, like a cutting board or foldable sink tub.

Organize Your RV Kitchen
These incredible ideas about how to organize a camper kitchen have hopefully inspired you to get your small space in order! With a so many campervan kitchen accessories available, it will be easy to take advantage of every single square inch of your RV kitchen!
You May Also Like…