So you want to know how to organize a dorm room? You're in luck! Here are six dorm room organization ideas that will set you up for a fabulous year!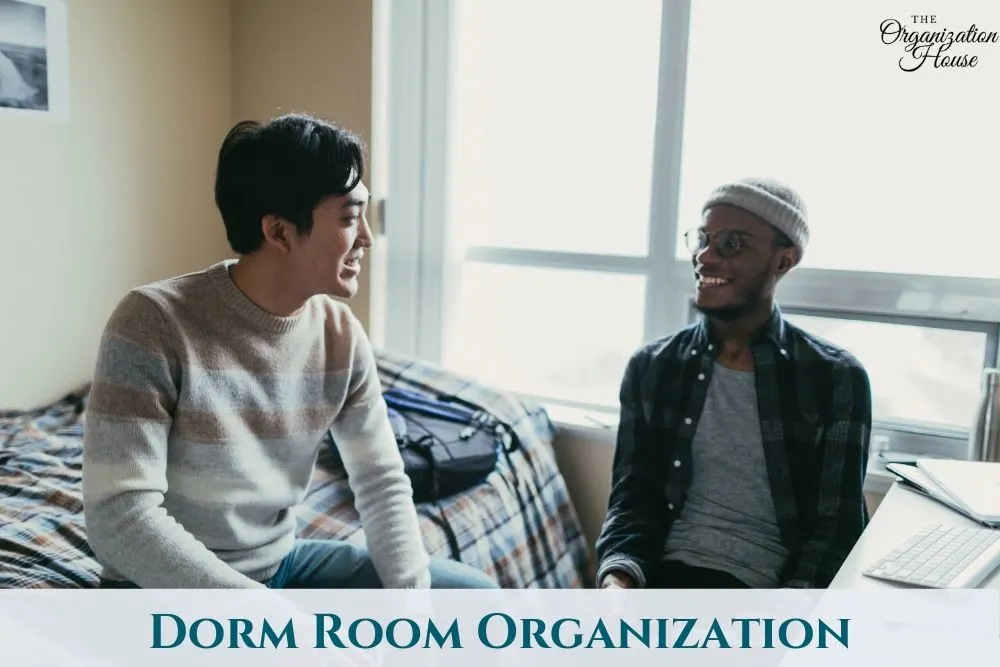 Dorm Room Organization Ideas
Moving into your college dorm room is such an exciting time. You have a space that is all your own (well, sort of!) and newfound independence to decide just how to use it.
However, there are a couple of hurdles you'll need to overcome to keep your dorm room organized…mainly space and a roomie.
Let's face it, dorm rooms are notoriously small. To say that your space is tiny doesn't really begin to describe it's size. If you ever thought about tiny house living, your dorm room is going to be perfect practice for it.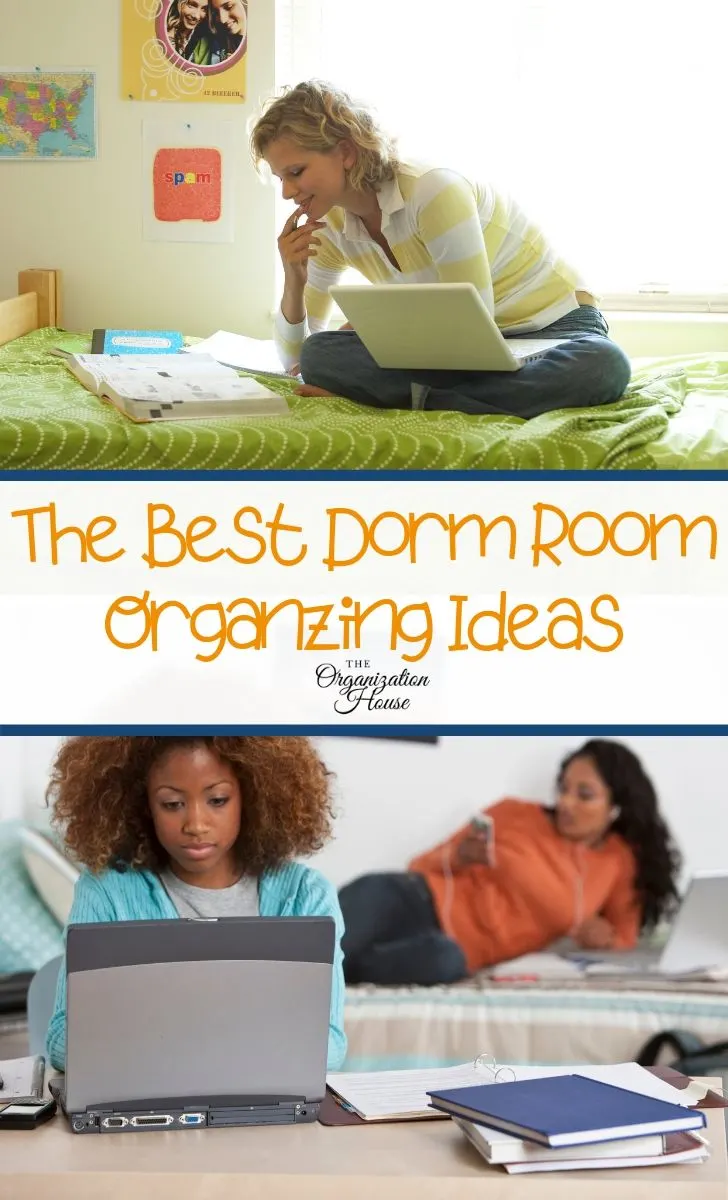 This article contains affiliate links to products that will help you get organized.
Add to it that you'll be sharing the space with a roommate and your available storage is instantly cut in half.
Here are some tips for how to organize a dorm room and make the most of your space in a way that helps to keep the peace with your roomie.
Dorm Room Organization Tip #1: Plan Your Wardrobe Carefully
Closet and drawer space will be at a premium in your room. As you're packing your clothes for the semester or year, think seasonally and about your trips back home on break.
Only take what you'll need for the current season and rotate out with the next season's clothing when you head home for the holidays or a long weekend.
If you're going to school out of state consider having clothes shipped to you if you need them.
You Might Also Like: How to Organize Shoes in a Tiny Closet
Dorm Room Organization Tip #2: Think Vertically
Though the floor space might not allow you to add additional storage furniture, shelving can often be added to create more room to place your things.
This will free up existing drawers and floor space for other things that cannot be placed into bins or stacked on a shelving unit.
Check with your RA or RD first to make sure that you can hang things on the wall, as many older dorms have cinderblock walls that can't be drilled into!
Dorm Room Organization Tip #3: Use the Space Under Your Bed
Under-bed bins and drawers can be a huge help in organizing your dorm room!
Storage solutions for underneath beds can give you a perfect place to store clothing, books, and other items. It keeps them organized and off the floor!
If your bed has traditional legs, you might also be able to get bed risers that will raise the bed to create even more space.
Dorm Room Organization Tip #4: Get Creative with Wall Space
Walls, doors, and even the sides of a wardrobe or shelving unit can be used for storage. Command hooks can give you extra room for coats and outerwear without damaging the paint or wall. They're easy to remove once the school year is over and can be re-used every year.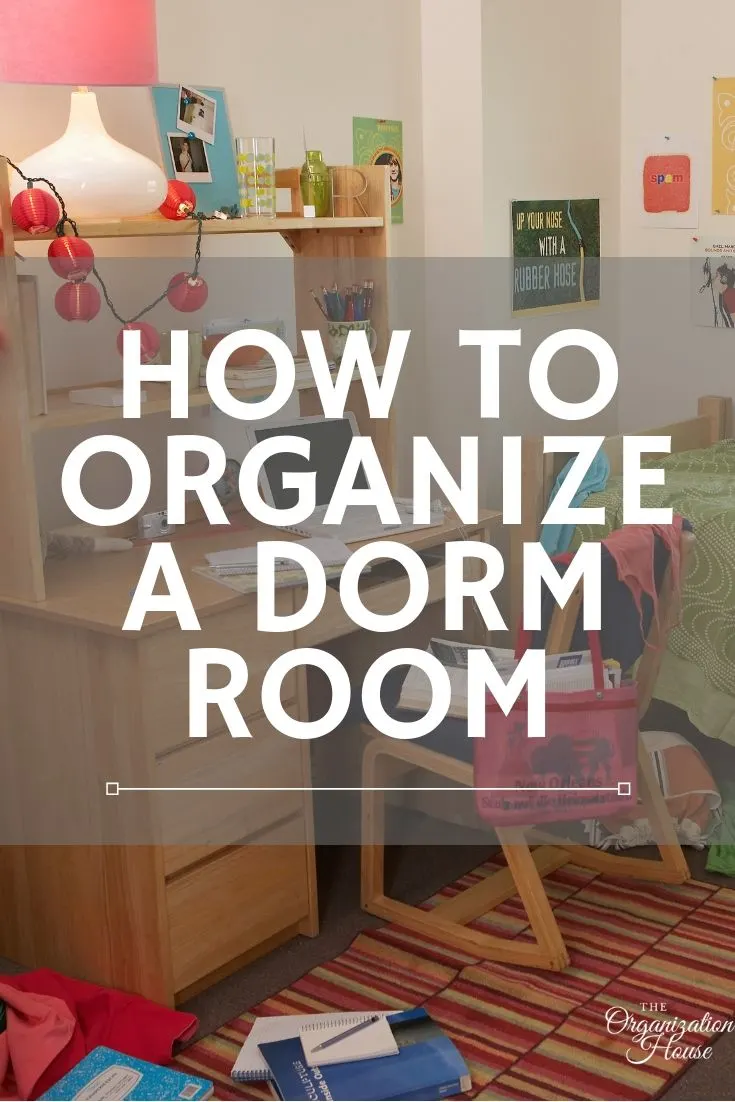 For organizing your jewelry in a dorm room, consider stringing wire and adding small hooks to a picture frame. It can be a great place to hang necklaces and bracelets.
A shoe organizer over the back of the door is a great place to store toiletries and other items. They'll be easy to quickly grab as you head out the door to the bathroom.
You Might Also Like: How to Organize Your Room for Back to School
Use your imagination – there are lots more great ways to use wall space to your advantage!
Dorm Room Organization Tip #5: Use Containers and Organizers to Designate Spaces
Rolling carts, stacking containers, and desk organizers can help you to create the feeling of a full home in your small space.
A fridge or microwave cart with drawers and shelves can help organize the "kitchen" area.
Bins and shoeboxes stacked together near the TV create a "living room."
Desk space can double as a "bathroom" area when you swap out the school supplies for your makeup and toiletries. (I recommend having organizers like these – one for studying supplies and one for your makeup and toiletries.)
Dorm Room Organization Tip #6: Collaborate with Your Roomie
If possible, talk to your roommate before the semester starts about what items you can share to help conserve space.
For instance, one of you can bring a microwave, while the other provides the fridge. This idea extends to other appliances, TVs and video game systems, lighting, and window treatments as well.
You Might Also Like: 5 Must-Have Empowering Beliefs If You Want to Succeed
Sharing the responsibilities can be a great way to work on your relationship and help you feel closer and more comfortable with each other and in your space.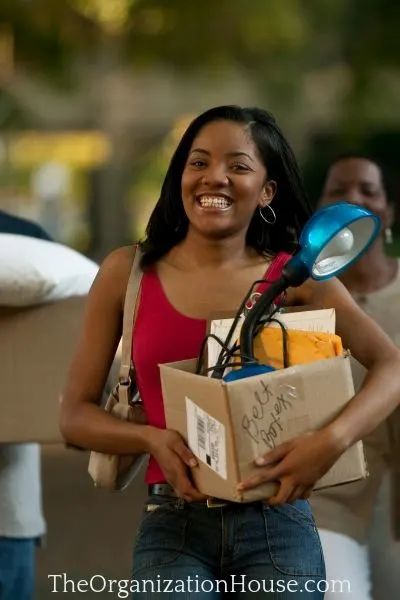 10 of the Best Dorm Room Organizers
Here are 10 of our favorite dorm room organizers. They're practical, inexpensive, and provide lots of much-needed storage!
Dorm Life
Remember, the best tip for living in a dorm room is to have great communication with your roommate. The easier your relationship is, the more comfortable you will be whenever you're in the room together.
When you're working together, your room will naturally stay more organized – unless you're both super messy! Ha!
Have a great year!