An RV or camper is your home away from home, but unlike your sticks-and-bricks, your camper has limited space. Make the most of your tight quarters with these clever camper storage ideas.
---
Whether you need camper storage ideas, RV storage ideas, or camper-trailer storage hacks, these handy solutions will get your home on wheels organized in no time.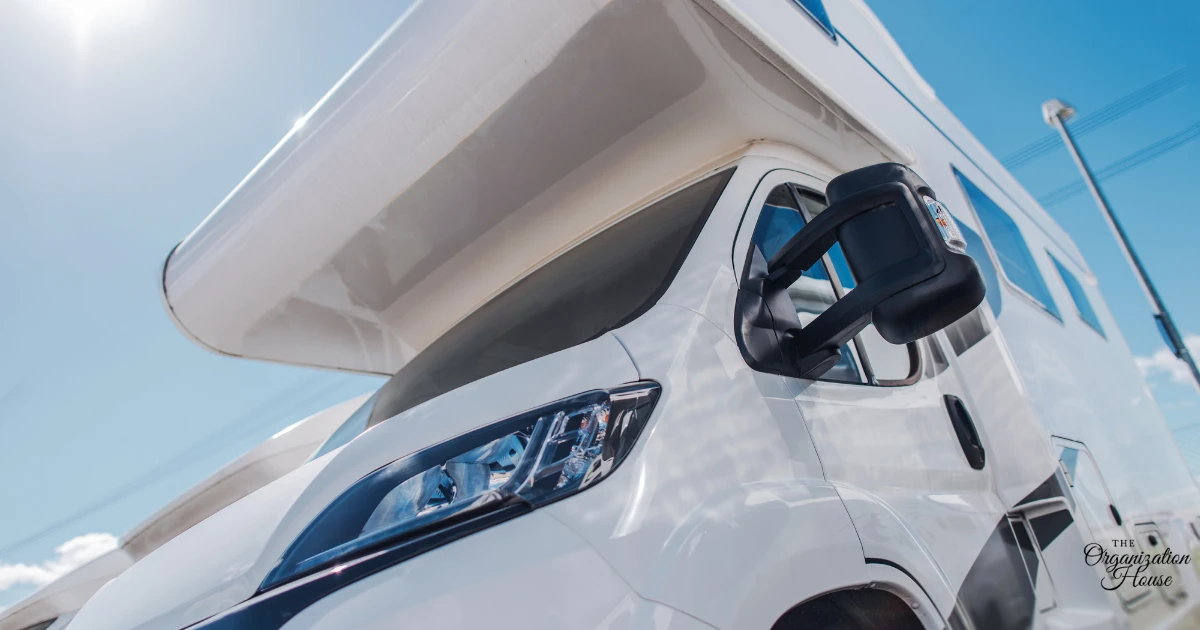 This article contains affiliate links to products that will help you get organized.
RV, Pop-Up Camper, and Camper Trailer Storage
If you take to the open road in an RV or tow a camper, you need to make the most of the storage you do have with these storage-enhancing solutions!
Clothes storage containers or storage cubes.
Don't just stack your clothes and linens in a cupboard; you will lose a lot of space that way. Put your clothes and linens in these mesh bins within the cupboard Or use some storage cubes–just turn them on their sides so you can easily access the contents.
Hanging shoe shelves.
This closet-friendly hanging shelf is handy for more than just shoes. Roll your towels and place them in the cubbies.
Under the shelf baskets.
These baskets double your shelf's storage capacity by utilizing the space underneath.
Spice racks.
These racks are for more than spices. You can use them in the bathroom or bedside for toiletry storage as well.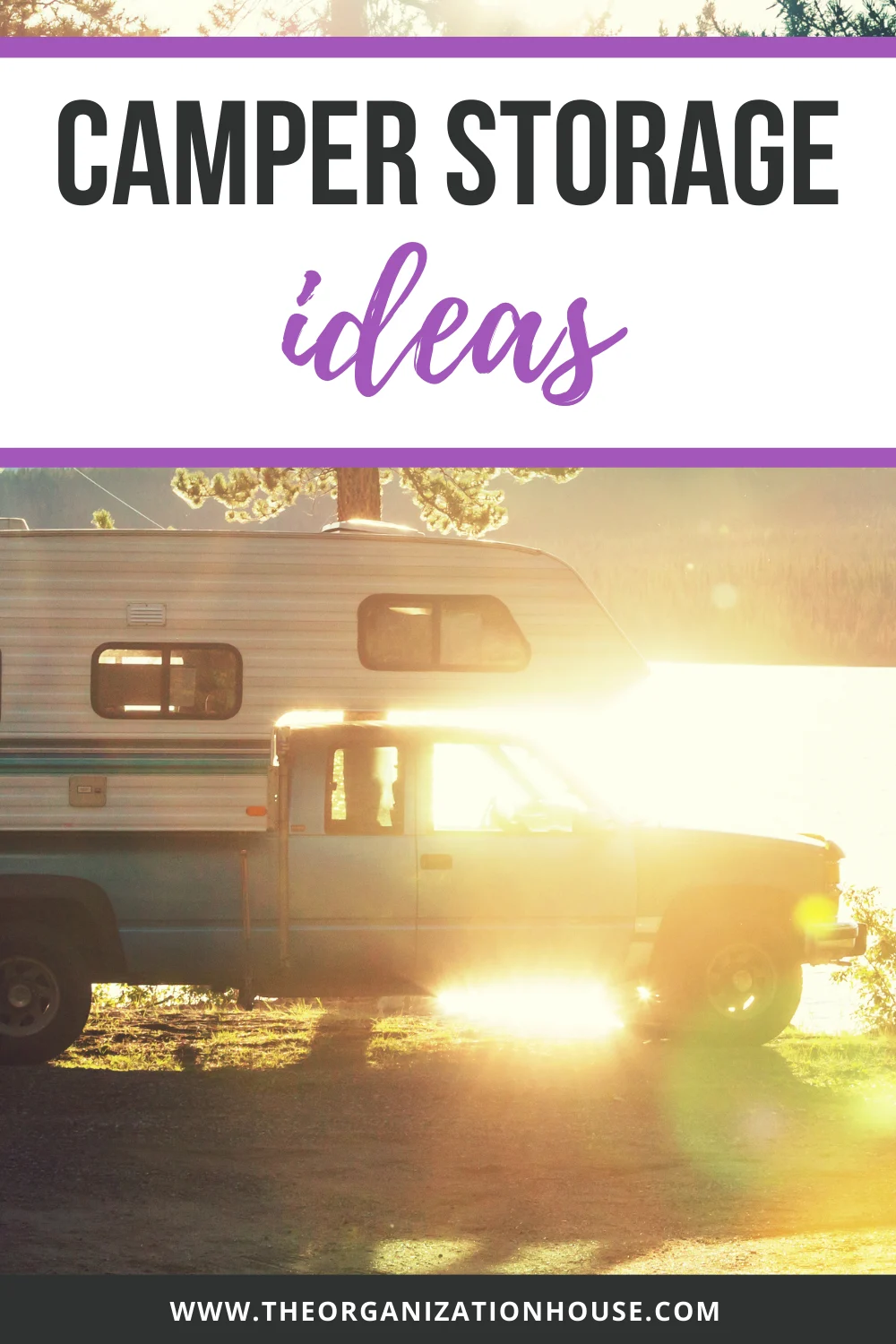 Collapsible laundry basket.
A laundry basket is a must-have (it can tote everything from clothes to grilling supplies), but it takes up too much space. Not anymore! Try this collapsible laundry basket and pack it flat when you aren't using it.
Command hooks.
Oh Command hooks, how I love thee, let me count the ways…From hanging necklaces, keys, purses, umbrellas, kitchen utensils, towels, and twinkle lights, these guys do it all.
Command holders.
I'm gushing about Command, I know, but these broom and mop grippers keep these tall workhorses secure and out of the way. They even make one for spray bottles.
Dish cradles.
These plastic cradles hold your dishes vertically and save a lot of space.
Paper plate dispenser.
This dispenser mounts under a cabinet so these go-to items are always at hand.
Over the door trash can.
Get your trash can out of the corner and under a cabinet instead.
Magnetic strips for knives or spices.
These wall mounted strips are perfect for holding your knives or metal spice containers.
Square canisters.
Don't get stuck playing Tetris with the boxes and canisters your dry goods come in. Transfer them to stackable canisters.
Bedside organizer.
You don't need to clutter a bedside table when all your bedtime belongings tuck into a caddy beside your bed.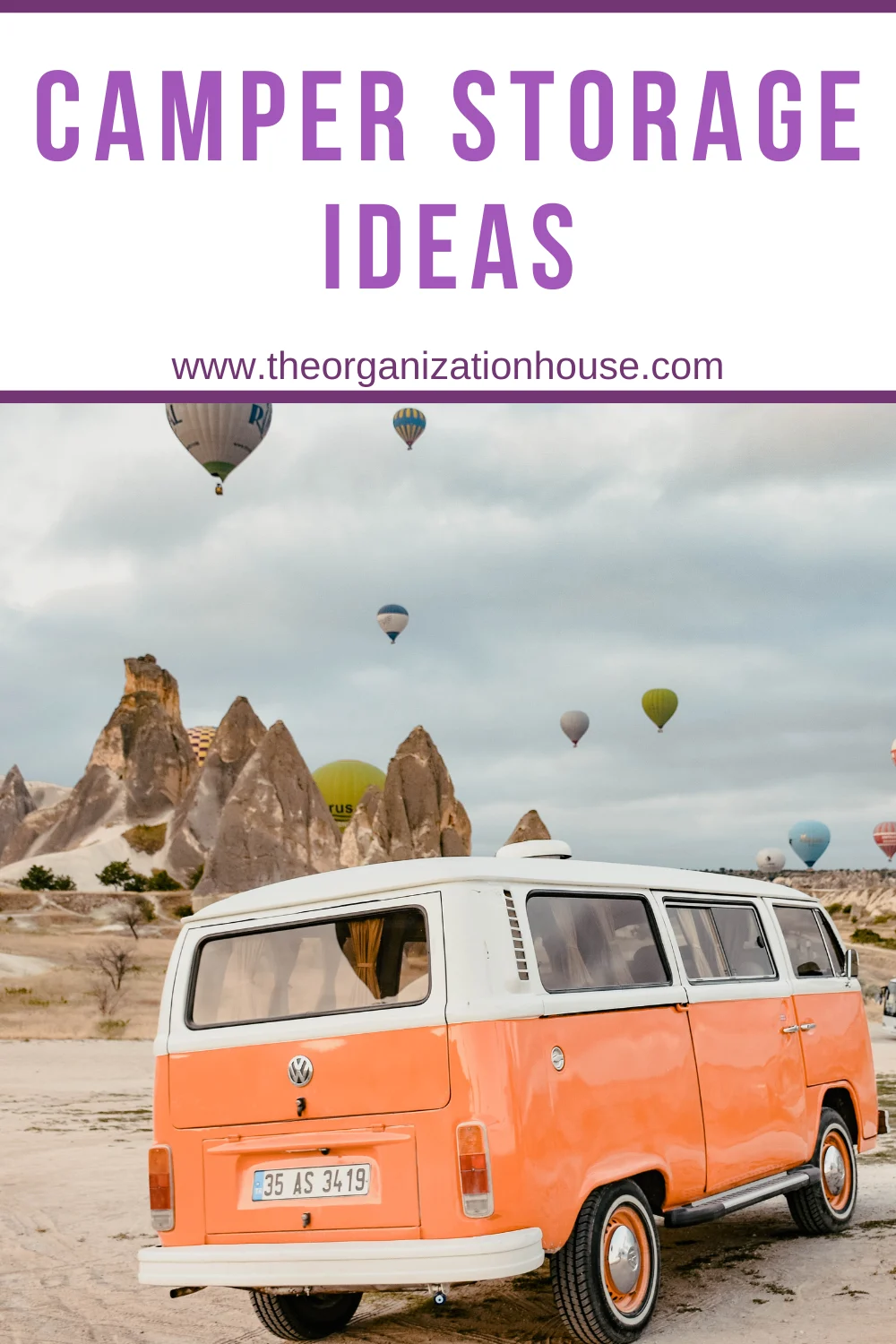 RV Storage Ideas for the Exterior
The basement drawer and exterior of your RV/camper provide you with lots more space to store. Make the most of it with these storage ideas.
Storage coolers.
No need to jam the fridge; a heavy-duty cooler can keep food cold for 24 hours (and stores in the RV basement).
Clip your gear to the wall.
If you need to store fishing poles, get a horizontal or ceiling wall mount. For tiny items, secure mesh bags to the wall.
Hose bag.
Put your RV hose in a breathable bag. Better yet, hang the hose to the wall of the basement with a Command hook.
Tackle box.
This is not just for fishermen. A tackle box is a great home for first aid supplies, craft supplies, Legos…you name it. If it's tiny, a tacklebox is a perfect home.
Under the bed storage containers.
You don't need specialized RV storage containers, use the long and flat under-the-bed clear plastic storage bins.
Be inspired by these RV, trailer, and pop up camper storage ideas, and approach your tiny road home with a fresh eye. Make use of vertical space, hang what you can, and invest in cubbies and bins. Give your home-on-wheels an organizational makeover!