Struggling to keep all of your art supplies in order? Don't worry! We have your back! Discover how to organize all of your art supplies right here!
---
Are you looking for a way to store all of your art supplies in an organized and inspiring way? Well, look no further because we've put together some great ideas on how to get those art materials in order and stored properly.
From pens and paints to canvas and paper, we have found a few perfect places to keep all the kinds of pieces that help you to be creative.
Let's get started and organize all of those amazing art supplies!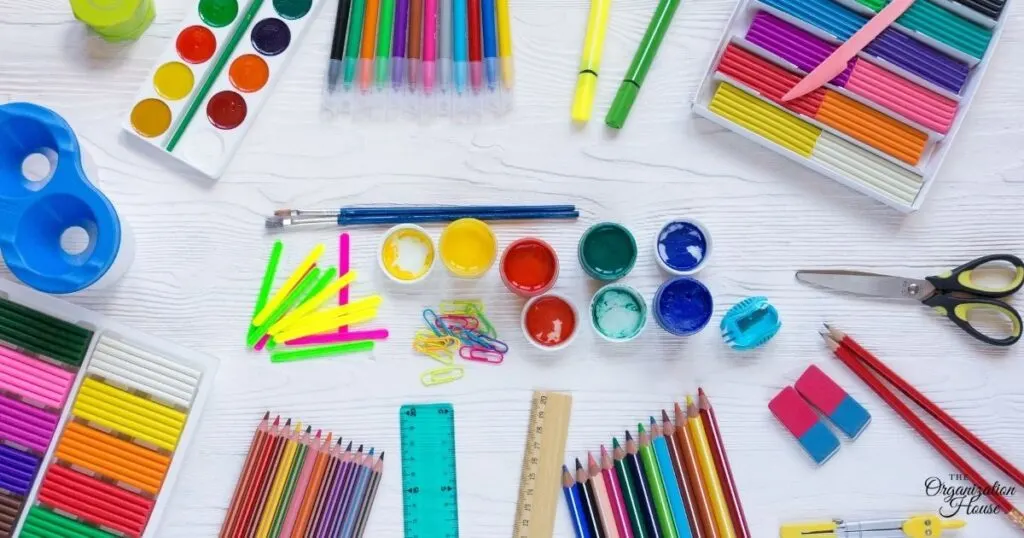 This article contains affiliate links to products that will help you get organized.
Art Supply Organization
Rolling Cart
A good rolling cart is ideal for art supplies that are used often. It can store a variety of mediums, canvas, and other materials in one place that would otherwise be scattered around.
Rolling carts are also a great option for small spaces and places without shelving. Having a mobile craft cart is perfect when you want to move your materials to where you feel most inspired to create.
Small Containers
Make use of small storage containers by using them to organize instruments for writing, drawing, and painting. Pens, beads, markers, glitter, paint brushes, and more can be neatly separated and grouped together for easy selection in small containers.
No need to get real fancy! Repurposed tin cans and used glass jars are wonderful for keeping many types of art supplies visible and accessible.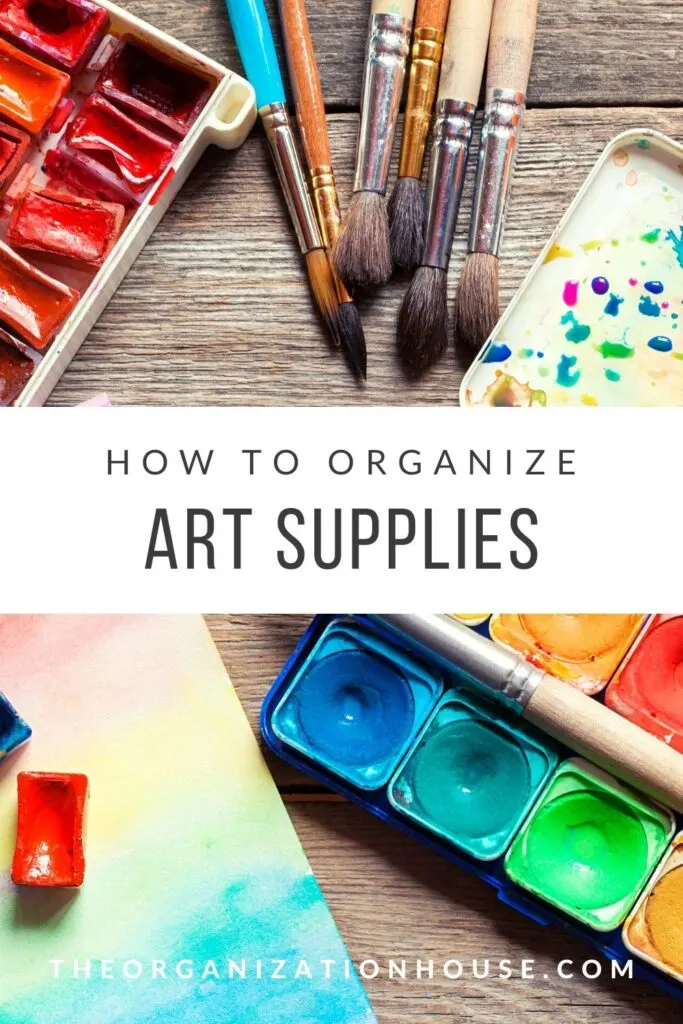 Stackable Bins
Everything that isn't used regularly can go into stackable bins and be saved for later. Stackable bins can fit neatly under a desk, in the top of a closet, or even tucked away beneath the stairs.
Taking advantage of stackable bins of all sizes can keep all of your art supplies organized, together, and available for when you're ready to create.
Pegboard Storage
Another wonderful way to organize art supplies is with the help of a pegboard. Pegboards are great because you can arrange them according to your needs. It also takes advantage of vertical space that sometimes tends to get overlooked. Win, win!
Add pegboard accessories! Hooks, baskets, rods, and clips to make a board that can store all of your materials together but separately.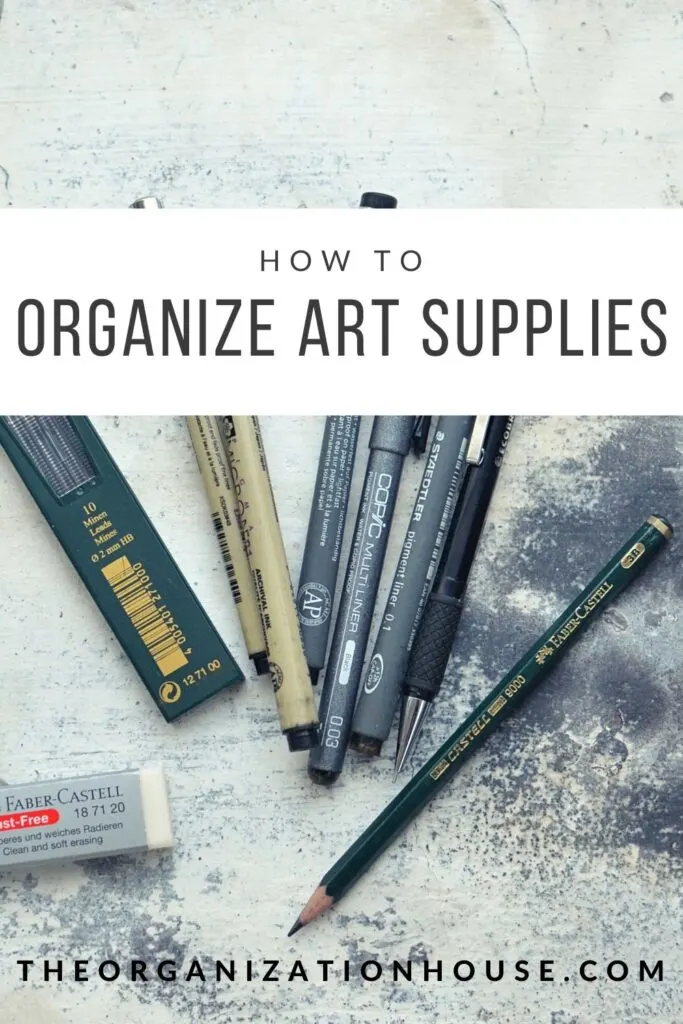 Over the Door Organizers
Consider over the door organizers for art supply organization. A shoe organizer or a metal basket hanging storage unit can keep all types of art materials neatly arranged for creative projects. Fill pockets and bins with ribbon, yarn, spray paint, thread, and more!
Display Ribbon
Hanging a display ribbon is a unique way to exhibit your works of art, as well as, some of your works in progress. With the help of a few clothespins or clips, you can hang up your masterpieces to keep your creative pieces out of the way and organized.
Inspire yourself and others by showing off art you have completed or projects you are working on.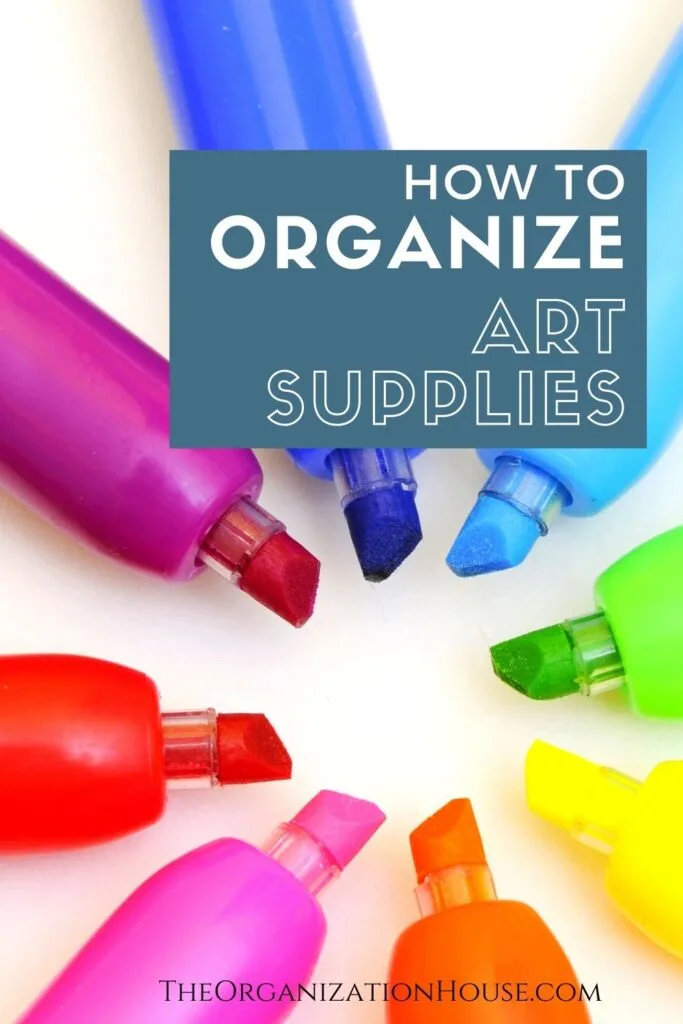 Organizing Supplies for Art Projects
Art supply organization is key to creativity. In fact, coordinating your art space can actually encourage imagination and inspire new inventions. With all of your tools, mediums, and art supplies available within reach, you can spend less time looking for things and more time creating.
You May Also Like…