Get your closets and dressers organized with these practical and efficient clothes organization ideas!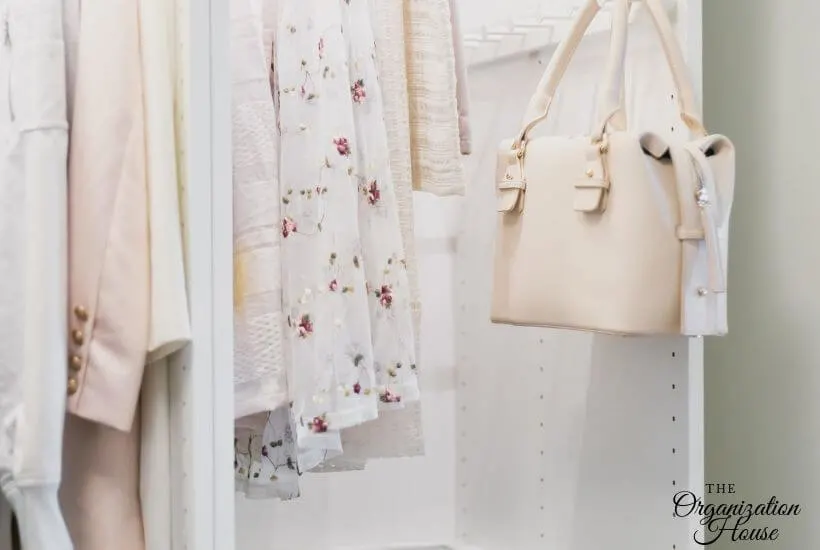 Finding Clothes Organization Ideas That Work for You
If you're like most people, you have more clothing than your dresser and closet can handle. Since most of us don't have Hollywood style clothing closets, finding great clothes organization ideas can help us to maximize our space and find creative ways to organize and store our wardrobe.
Purge all of those outgrown clothing pieces, then try some of our favorite clothes organization ideas to find new and unique ways to get your closet organized for the next season.
You Might Also Like: Organizing a Closet on a Budget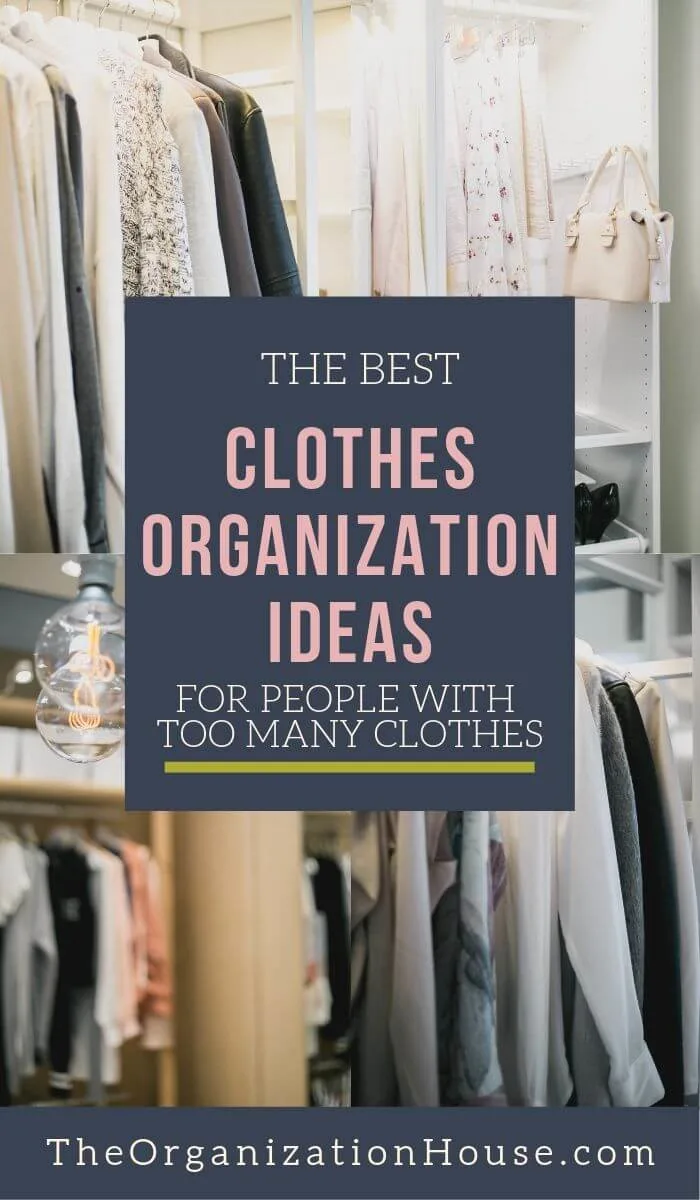 This article contains affiliate links to help you get better organized!
Easy Clothes Organization Ideas
Clear Sided Organizers
As you're storing away your seasonal clothing, clear sided organizers can come in handy to help you locate items in your bins or boxes. If you're searching for a specific item, you won't have to dig through multiple boxes to find what you need when you can see into each box and review the contents.
Colored Hangers
Use different colors of hangers for spring/summer clothing and fall/winter clothing, if you live in an area that has all four seasons. It is so much easier when it's time to switch your outfits over to just grab all of the hangers of one color and be done!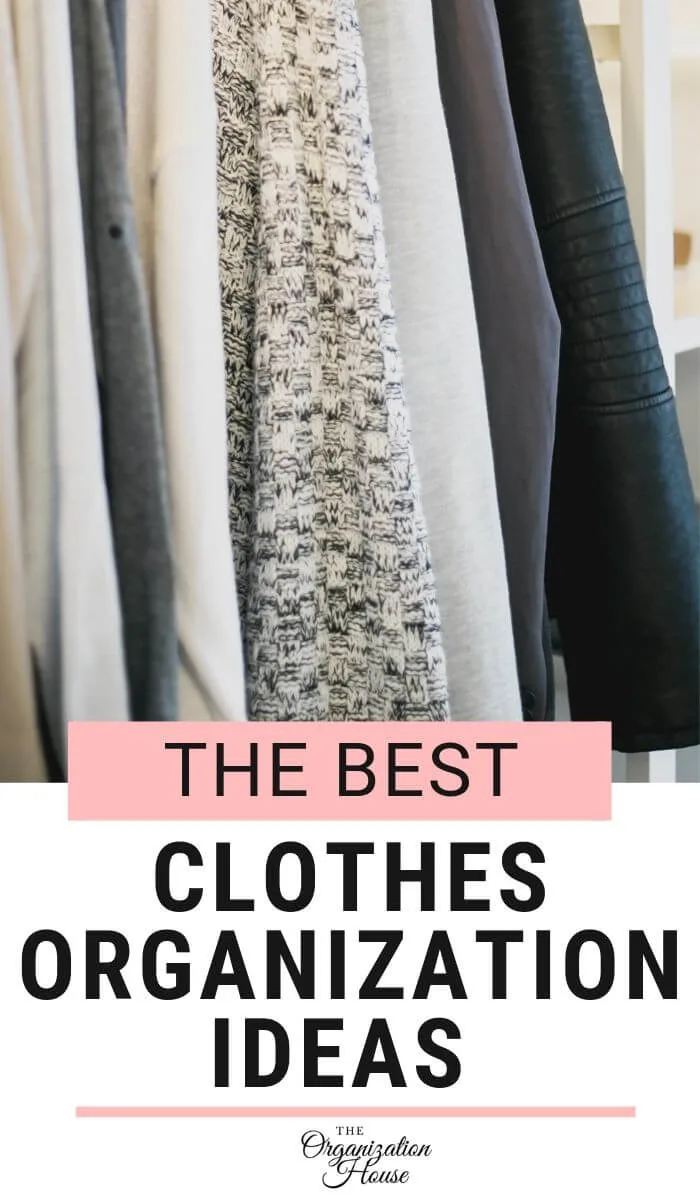 Get Unique with Accessory Storage
Use hooks for scarves, long necklaces and similar Items or find other original ways to sort and organize these items which are best served using that storage method in a way that they're fully displayed. Accordion racks can be used for scarves, purses, ties, and other long items.
You Might Also Like: Organizing Shoes in a Small Closet
Set Up Items in Full Outfits
Not only does this idea help you to keep your clothing organized, but it also will save tons of time when it's time to get ready in the morning. Assemble your outfits, hang together or stack in a set of hanging shelves which is labeled with the days of the week and you're ready to go!
Packing Cubes
Packing cubes will become your best friend as you are packing for your next getaway or business trip. Make the most of your packing space, protect your clothes, and know just where each item is in your suitcase thanks to packing cubes.
Hanger Extenders
Use hanger extenders to maximize the hanging space in your closet. There are lots of different versions of these available that can easily give you up to three or four times the space in your closet. The one caveat to using this is to be sure that you are not overloading your closet bar or things could end in disaster.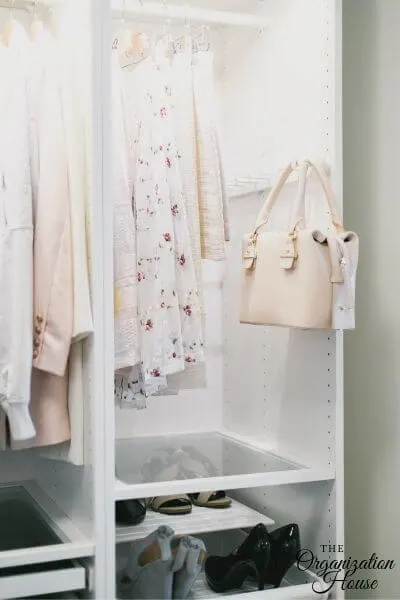 Organizing Systems
If you can afford, invest in a good closet organizing system that will give you the shelving, drawer, and hanging space that you need to store all of your clothing options neatly and safely. There are so many different options when it comes to these systems at a variety of different price ranges. No matter what type of closet you have or what your needs might be in regards to storage, you are sure to find a closet system that fits your budget perfectly.
You Might Also Like: Custom Closet Organizers – Are They Worth the Expense?
Organizing Your Clothes
Organizing your clothes can decrease stress, make your wardrobe last longer, and give you greater variety in outfit choices. No matter which clothes organization ideas work best for you and your space, organizing can change your life. Don't be afraid to purge what doesn't serve you any longer and pare down your wardrobe to the pieces of clothes that fit well and make you feel amazing!