As a mom of three, I know that organizing kids' bedrooms can be a super tedious job. The best way to get it done? Organize kids bedrooms like a pro with these super simple tips.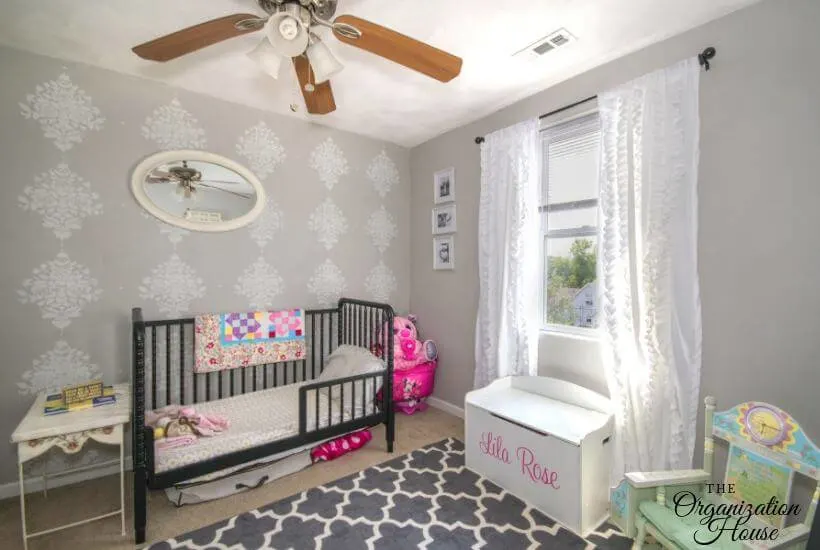 Organize Kids Bedrooms Cheat Sheet
Get the kids involved.
Choose the right furniture.
Storage, storage, storage.
Get clothes under control.
Organize Kids Bedrooms Like a Pro
Let's face it, the moment a room is cleaned up, the mess and clutter will start piling up again – no matter which room you're trying to organize! For kids' bedrooms, that's amplified even more.
Thankfully, even a little re-organization may help. After much trial and error – and a lot of bedroom cleaning! – here are some practical and easy to implement tips to help organize kids bedrooms like a pro.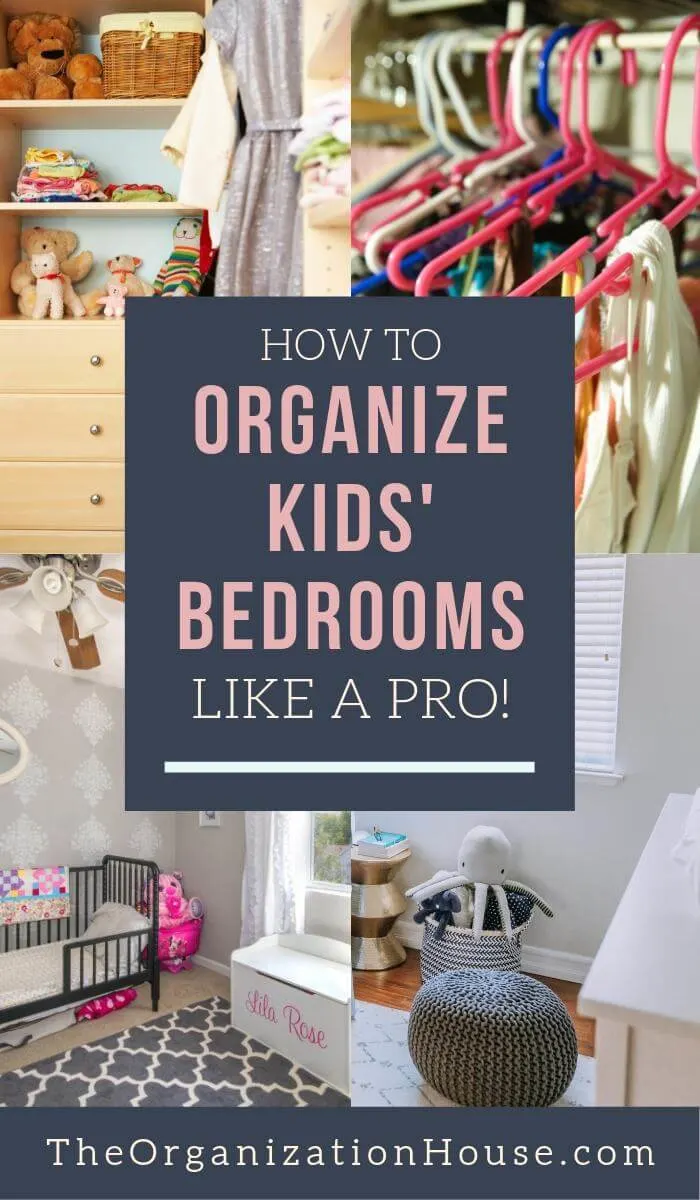 This article contains affiliate links to help you get organized!
Tips to Organize Kids Bedrooms
Get the Kids Involved!
If you're a mom, you know that setting up and redesigning a kid's bedroom is one thing, but keeping it clean and organized at all times is something totally different! More often than not, all of the hard work of organizing goes down the drain after an afternoon of playing in the bedroom. It's almost inevitable.
The best and easiest solution to this problem is to get your child involved from the very beginning. After all, your child will be the one who has to "live" in the bedroom and keep it clean.
Some questions to ask your child include:
What do you want the room to look like?
What type of theme do you want?
What color would you like your room to be?
What would make it easiest for you to keep it clean and organized?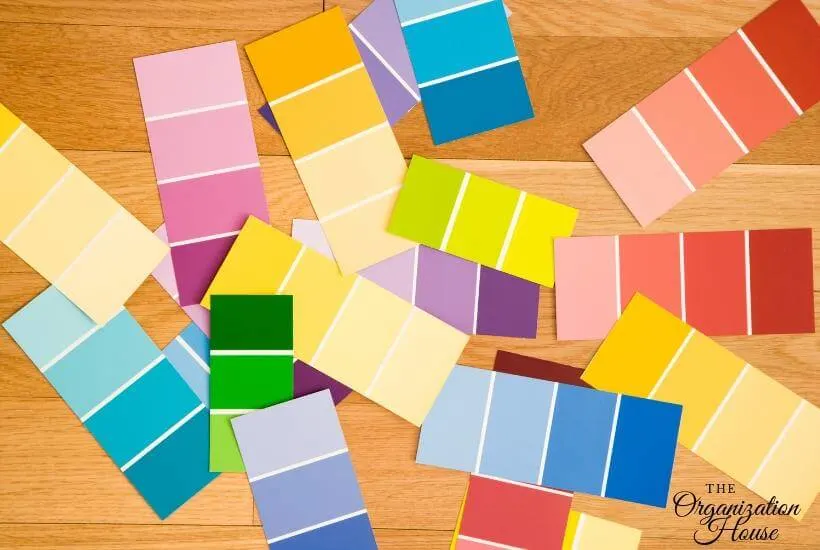 If your child has a say in how the bedroom is set up and looks, the more invested she'll be in keeping it clean and organized.
Pick the Right Bedroom Furniture
Growing up, I had a set of bedroom furniture that served me throughout my childhood. My parents must have been geniuses because they got it right the first time. Me? Well, let's just say that picking the right bedroom furniture for my kids hasn't been that easy!
Let's face it, children outgrow everything fairly quickly, including bedroom furniture. While small toddler beds with cute cartoon designs are appealing to a young child, chances are he's going to be way too embarrassed (not to mention too big!) to sleep in it a couple of years!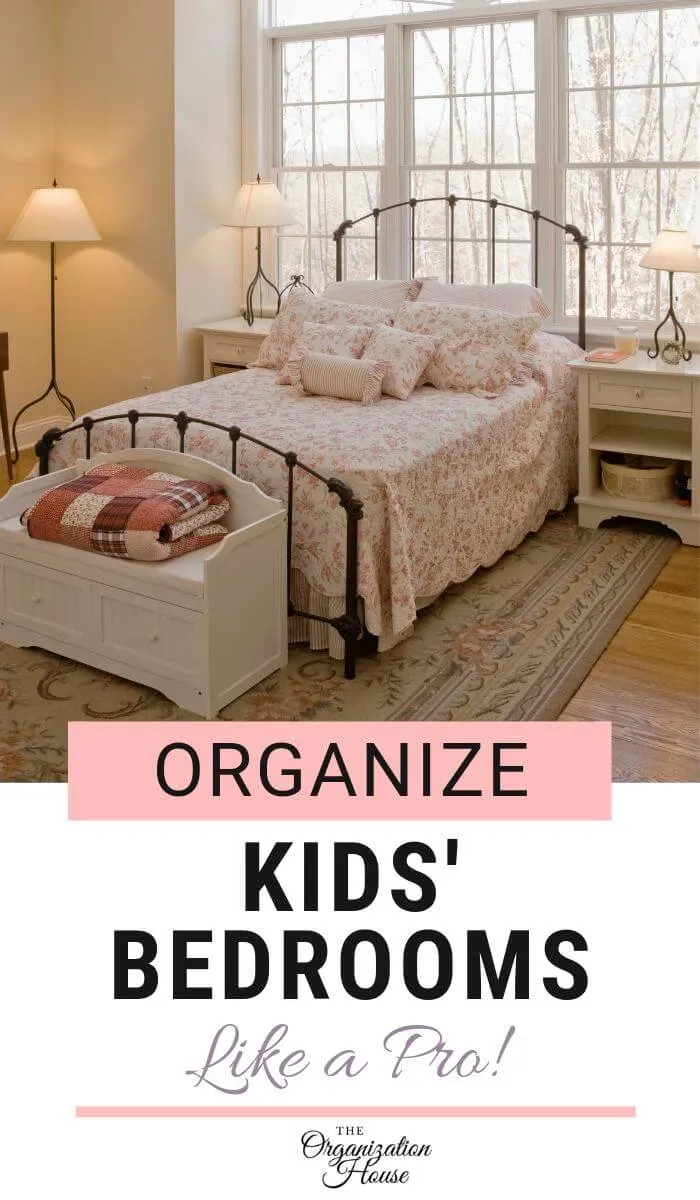 So be practical.
Choose a bed with a timeless and classic design that is appropriate for all stages of childhood. Be sure to always save space for new furniture as your child grows, because chances are they'll need a computer desk and possibly another dresser. The key is that if all of the furniture has a classic look, it's easy to mix and match them through the years.
Have A LOT of Storage Solutions That Work for Kids
Storage solutions are king when it comes to organizing kids bedrooms! Not only do you have to organize children's clothes, but their toys and stuffed animals need a place to call home as well. And doesn't it seem like toys and stuffed animals never seem to have the perfect spot?
You May Also Like: How to Organize Toys on a Budget
The hard truth is that the less organized your kid's bedroom is, the more of a mess it will be. Think about it…if a child is trying to find one specific toy, the more likely he is to dump everything out of the toy box to locate it. And once he finds the toy, he'll happily leave the other toys in a messy pile!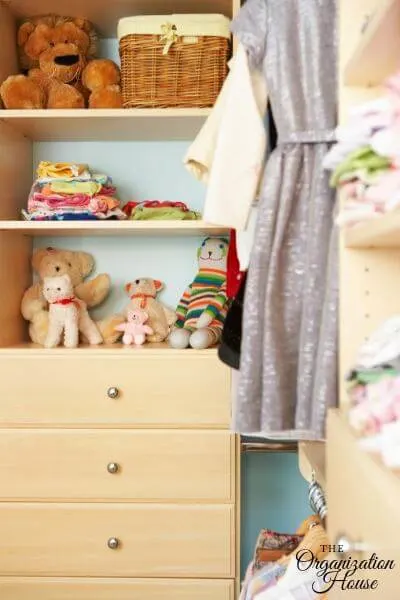 The solution is to organize toys into smaller groups and use many different smaller containers. Forget about the big toy box – it's like the catchall for clutter!
My best tip is to use clear plastic containers of varying sizes with lids. Lids are key! Label each container clearly (pick up free bin labels in our Resource Library – just request the password here!).
If your child can't read yet, stick pictures or icons on the containers to indicate what items should go where. Train a child to always return a toy to where it should be after he uses it and, eventually, he will!
Organize Children's Clothes
Kids outgrow clothing faster than you can blink. What fit last year is, most likely, way too small for this year. The struggle is real, mama!
Instead of worrying about adding more storage solutions, try to adapt the existing closet and drawers to make it easier for children to reach their clothes. I found that adding a second rod at a much lower height to hang children's clothes works amazingly! Here's the one that I've used with my own children's bedrooms when they were younger. The best part? It's less than $15!
You May Also Like: How to Organize a Closet on a Budget
If your child has a dresser, put clothes that he wears most frequently in the lower drawers so that he can easily get to them. The upper drawers are perfect for other less commonly used items.
ALWAYS, ALWAYS, ALWAYS make sure sure that your child's dresser is securely mounted to a stud in the wall. No matter how big or how small the dresser is, if it falls on him it can severely injure or kill him! Don't take the chance – even for one night!
Hooks for coats or robes can also be added, but they should also be mounted at the child's eye level. A small hanging hat rack is perfect for storing dress-up clothes!
You May Also Like: The Best Clothes Organization Ideas
You CAN Organize a Kids Bedroom Like a Pro!
Organizing kids' bedrooms does take some thinking and planning, but it's entirely doable! Remember, plan with your child, get the right furniture, use plenty of storage solutions, and organize clothing in a way that makes it easier for a child to reach it.
Be sure to check out these tips for organizing toys on a budget to help you get toy clutter under control. And, after you've spent the day helping your child get his bedroom organized, head out to date night with your significant other! You deserve a break!