Get your house in order with these 5 minute cleaning tasks.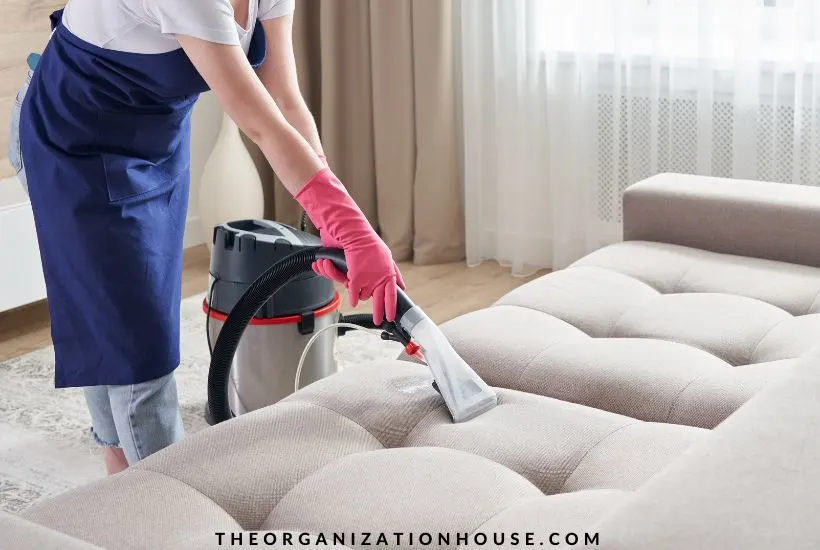 Life gets busy and because of that, things tend to get pushed aside or put on the back burner. More often than not, house cleaning is one of those things.
When we think about keeping a tidy house, the amount of time it takes to accomplish a clean space can often feel overwhelming. With the little free time we have in our day-to-day life, why would we want to spend it cleaning? Well, most of us don't!
It may come as a surprise, but if you break down house cleaning into quick 5-minute tasks, you can get your home tidy in what seems like no time at all.
Think about the extra minutes you have just waiting on things while at home. What? You say that doesn't happen? Well, we beg to differ. What about the few minutes you have while you're waiting for that water to boil? Or how about the time spent waiting for a series of commercials to pass before your favorite show comes back on? What about the minutes you spend waiting for the tub to fill up for bath time? If you take all of these 'extra' minutes and use them to do a quick and easy task, before you know it, you'll have a clean house.
Simplify house cleaning with this list of tasks that take 5 minutes or less!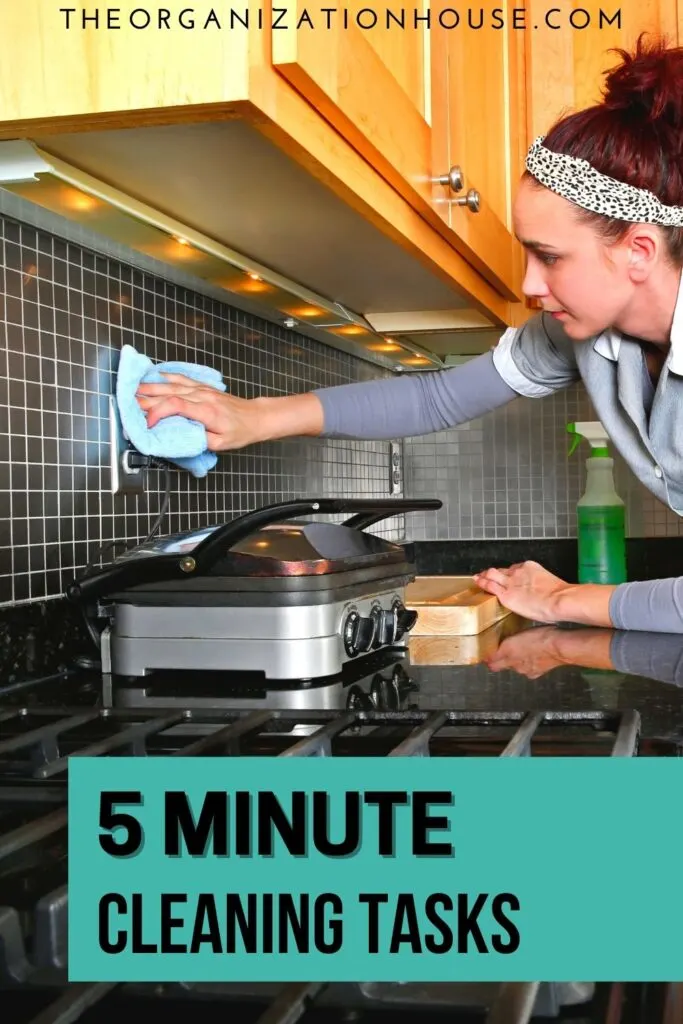 Quick Cleaning Tips
In the Kitchen
Here are 5 – 5 minute cleaning tasks to do while you're waiting for that water to boil…
Wipe the counters
Load (or empty) the dishwasher
Wipe down the microwave
Trash the old food in the fridge
Take out the garbage
In the Bathroom
Waiting for the tub to fill? Try doing one of these five simple chores…
Clean the toilet
Wipe down the sink
Sweep/mop the floor
Fold a pile of laundry
Clean out the medicine cabinet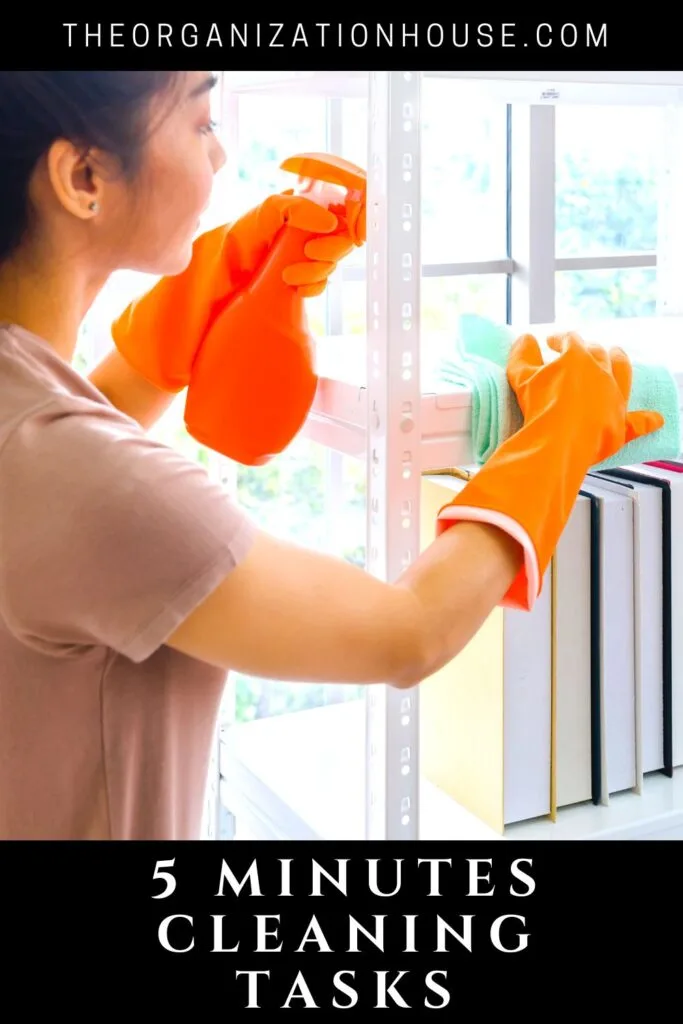 In the Bedroom
Try your hand at a 5 minute cleaning task while you're waiting for your turn in the bathroom.
Make the bed
Dust the nightstands/dressers
Hang up clothes in the closet
Change the sheets
Clean the window(s)
In the Office
On hold during a call? Put it on speakerphone and make use of that time with a 5 minute chore while you wait…
Organize your desk
Sort/file paperwork
Change that lightbulb
Trash all the junk mail
Delete unimportant emails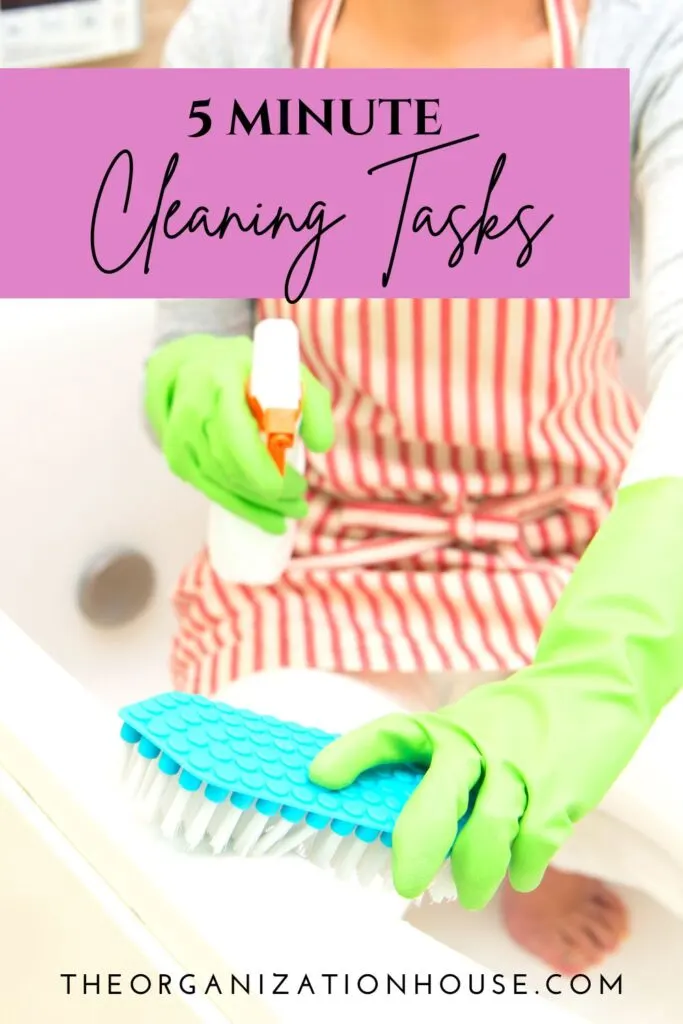 In the Living Room
One of these 5 minute tasks will get you moving through the next commercial break during your favorite show…
Wipe down the baseboards
Vacuum
Flip and fluff the couch cushions
Dust the ceiling fan
Clean the television
Clean House in 5 Minutes
With all the additional minutes you have just now realized that you have, take some of that time to tackle some house chores. Done in a jiff, these 5 minute tasks will give you a sense of accomplishment, and a clean house to boot.
So, what's your favorite 5 minute task that you like to do?
You May Also Like…