Got dog stuff? We do too. Check out these ideas on how to organize dog supplies!
Dogs come into your life and take over your heart and your home. Keeping all their stuff together in neat and organized areas can sometimes be a challenge.
From leashes to bones and toys to treats, we'll help you find a place for all of your pet's pieces so you can spend more time having fun with your furry friend than you do cleaning up after them.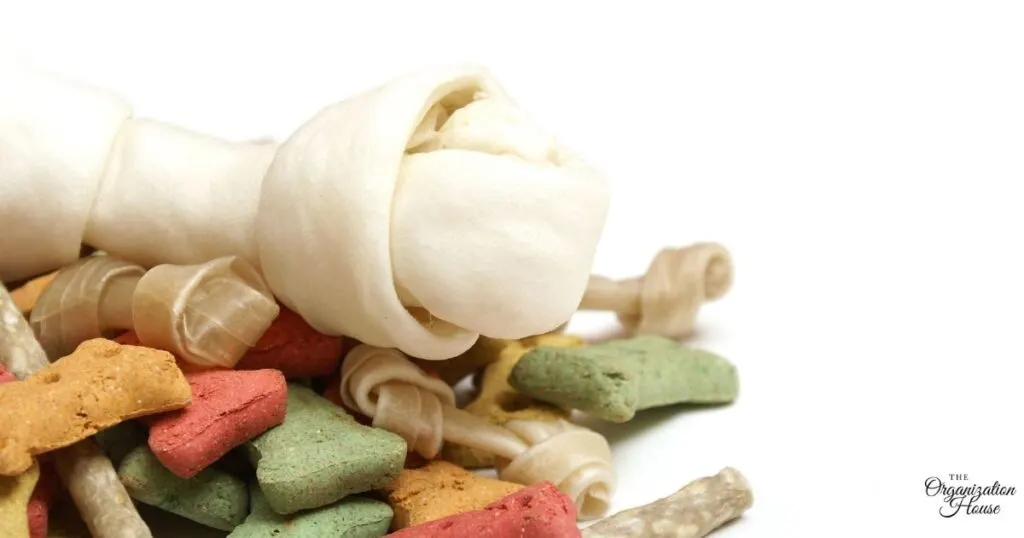 This article contains affiliate links to products that will help you get organized.
With a few small steps, creating a functional and organized space for both you and your dog is possible!
Take a look at a few ways to get your dog's things in order.
Dog Stuff Organization Solutions
Walking Station
Create a dog walking station that has everything you need to take your four-legged child out and about. A great spot for a walking station would be near an entry door, so you can leash up in a snap and head on out.
Keep all the walking essentials, such as their leash, harness, poo bags, and more together with the help of hooks and hanging baskets. This is a good spot to store snacks and treats, as well.
Toy Storage Bins
Store dog toys in an open bin, so your favorite fur-kid can pick and play as they wish. You can even use multiple bins and baskets for different types of toys. Put squeakers and stuffed animals in one bin, and maybe, bones and kong chews in another.
Keep it simple yet systematic! With the help of bins or baskets, your pet's toys can be kept together neatly while being easily accessible at the same time.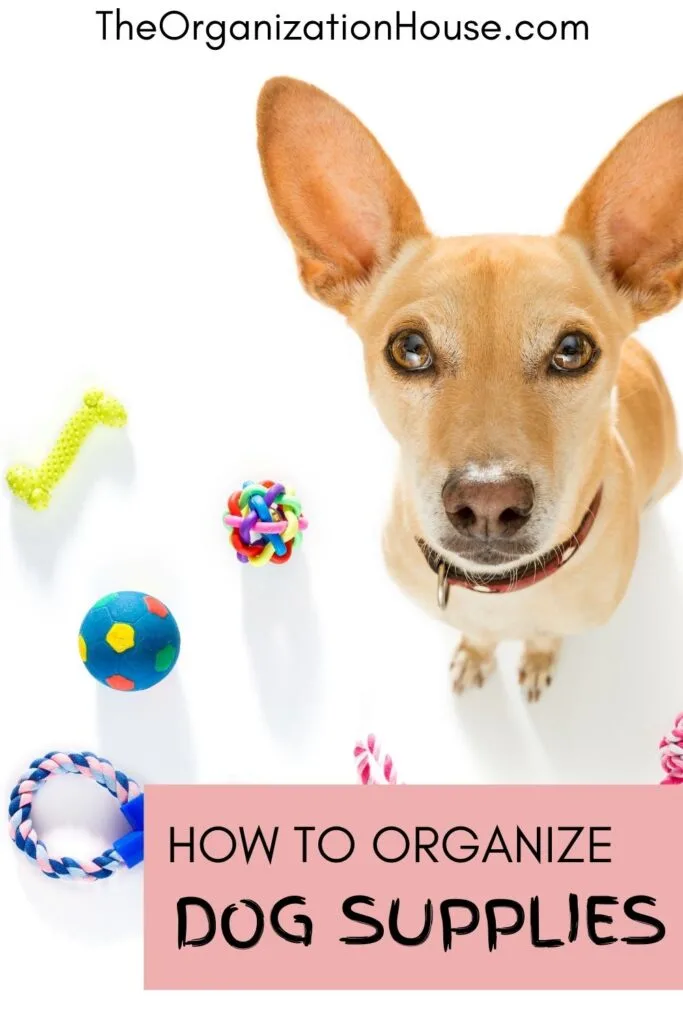 Feeding Area
Make a feeding place for your fur baby. Dedicate a cabinet to keep all of the feeding basics with each other. Store wet and dry food, scoops, dog bowls, vitamins, and other dining necessities behind closed doors and out of the way.
When it's feeding time, serve breakfast, lunch, and dinner in a bowl set nicely on a non-slip mat. These types of mats are amazing at helping bowls to stay put and also at keeping your pup from making a huge mess while getting their grub on.
Grooming Caddy
Organize your dog's grooming supplies in a shower caddy or tote. Grooming items such as shampoo, brushes, dental care necessities, nail clippers, and more can be neatly stored together. When it's time for a grooming session, grab the caddy and get started!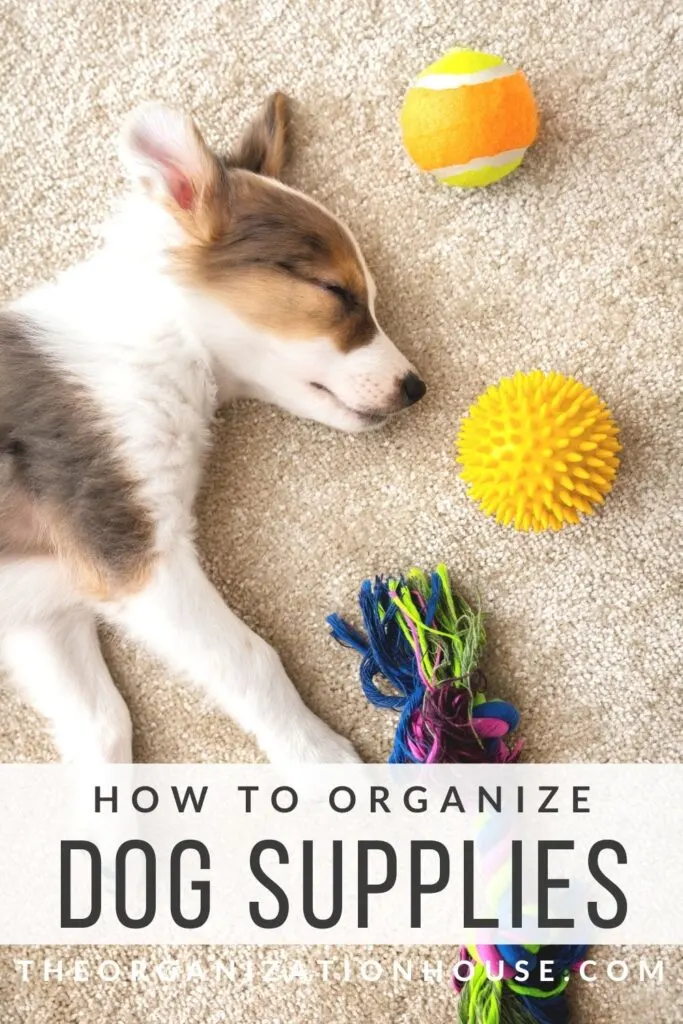 First Aid Kit
Accidents happen, and keeping a pet first aid kit readily available is crucial. Be prepared by having all the boo-boo basics stored in one place.
A pet-friendly first aid kit can contain items like gauze, non-stick bandages, adhesive tape, peroxide, antibiotic spray or ointment, scissors, tweezers, gloves, and other emergency supplies.
Keeping everything in a portable kit or tote means you can quickly take care of your pup if an accident should happen.
Dog File Binder
It's important to keep all pet papers and vet records for your fur child. Organize all your dog's documents neatly in a 3 ring binder. This dog file binder can be used to keep track of all vet information, immunizations, medications, appointments, and more.
Store all of the paperwork with the rest of the family's important documents and you'll always know where it is.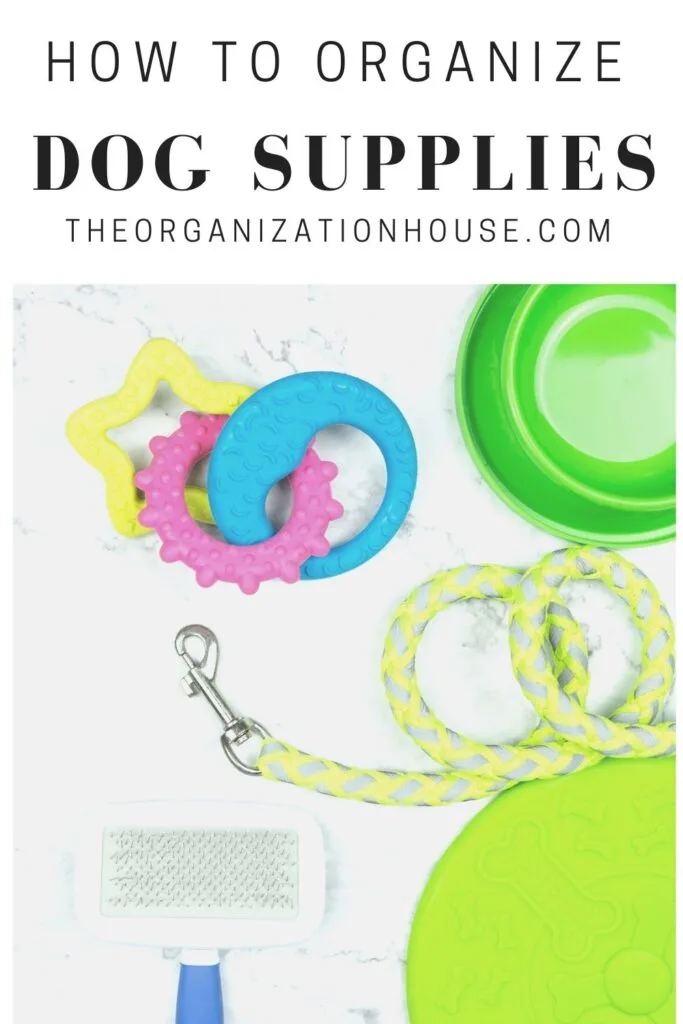 Dog Supply Organization
Finding a place for all your furry friend's essentials is no longer a challenge! With the help of hooks, bins, baskets, cabinets, and caddies, all of your dog's things can be stored together and easily organized.
Hopefully, these super storage solutions have given you the inspiration to gather all of your pet's stuff and organize dog supplies with ease!
You May Also Like…