Are your winter outdoor accessories a mess? Learn how to organize winter hats, gloves, and scarves to keep your house tidy and your accessories easy to find!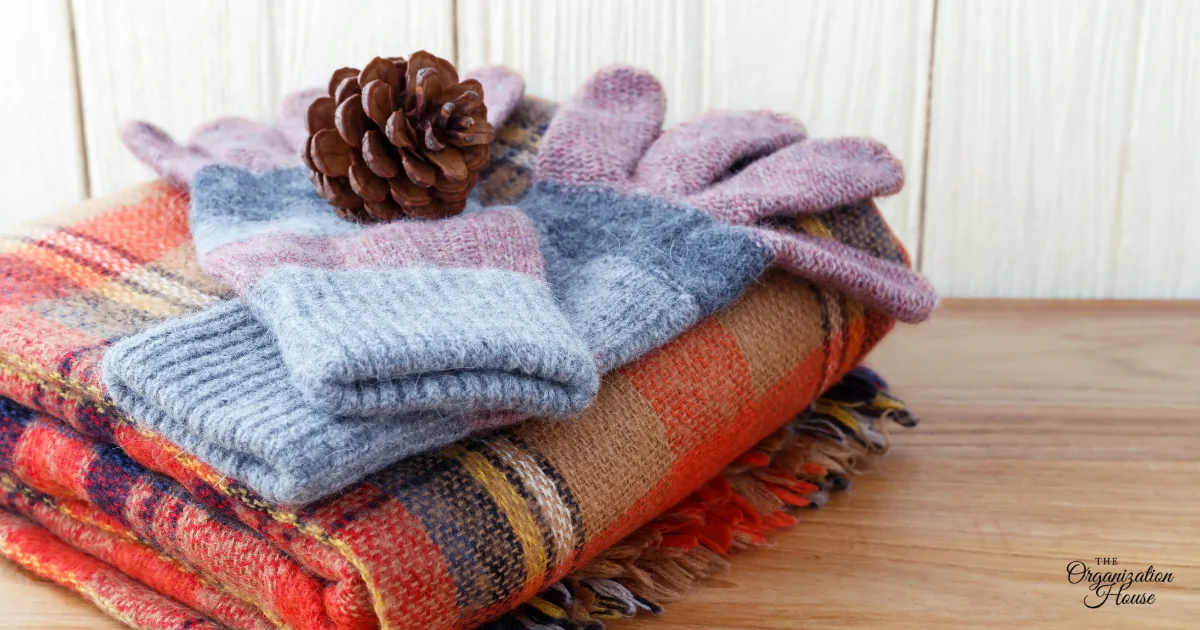 Organizing Winter Gear
Yes, it's wintertime, and with the coldest season of the year, comes all the extra gear you need to stay warm. Everybody's got them! Hats, gloves, and scarves are all great to keep you toasty when you head outside. But, what happens when you get back inside? You guessed it! Everything ends up piled on the floor, right next to the door.
Well, what do you say we explore some options to organize those lovely winter warmers? Let's get started!
This article contains affiliate links to products that will help you get organized.
Storage Ideas for Winter Hats and Gloves
Clothespin Clipboard
This is the perfect way to keep all your winter accessories organized. Now, if you haven't heard of a clothespin clipboard, it's pretty much a wooden board with clothespins attached. You can hang it by the door for easy access, and as each winter item is removed, secure it with the clothespin and done!
Not only will it keep your hats, gloves, and scarves neat and tidy, it is also great for letting them air dry. No more soggy mittens, here! As a bonus, this can be a really fun craft project to make, if you're into that sort of thing!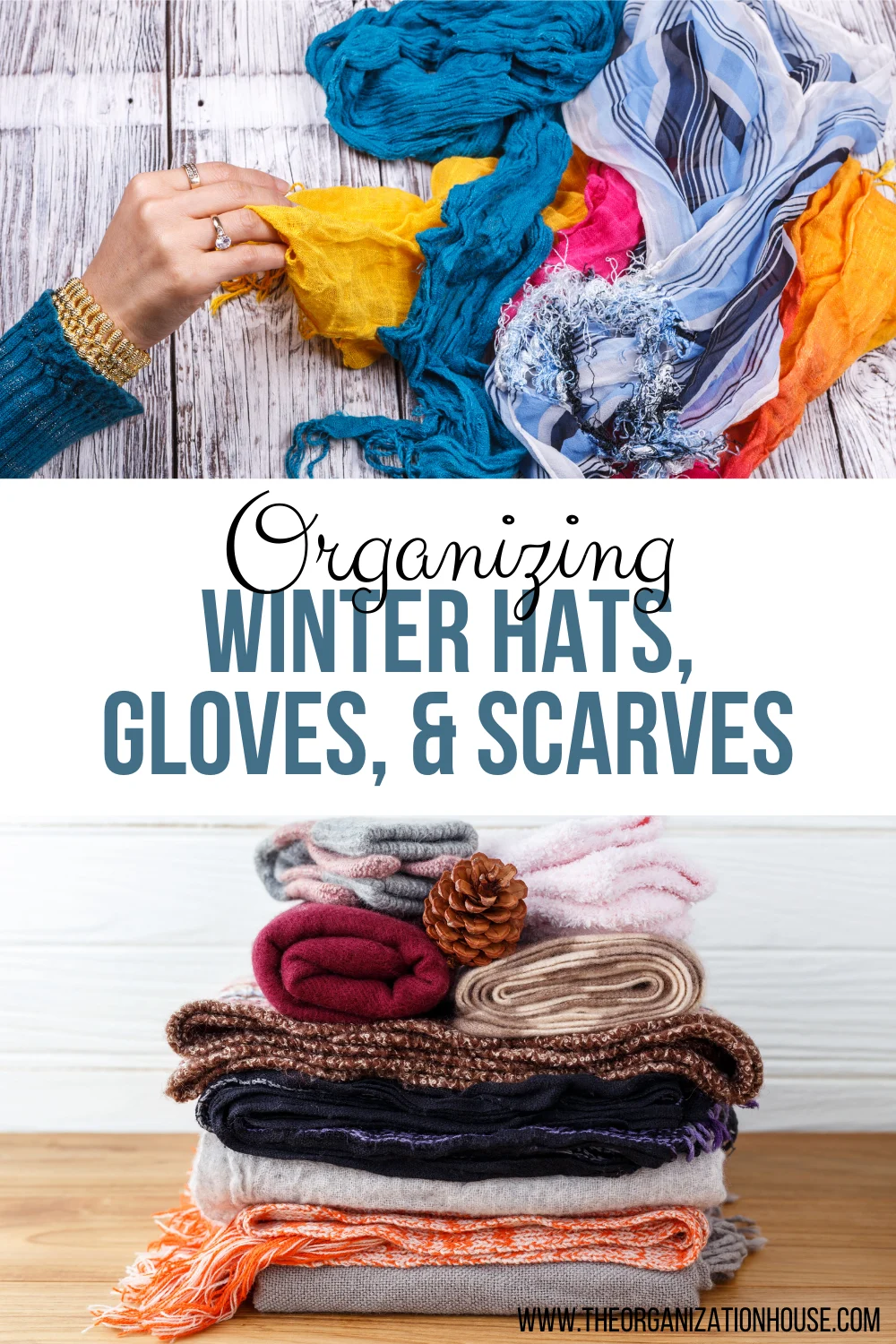 Storage Bins and Baskets
This organization option is pretty self-explanatory. Keeping bins and baskets by the door, in the closet, or wherever works best for you, is a great way to store all your winter accessories in one place.
Bins and baskets are simple, yet effective. Toss your hats, gloves, and scarves in a basket on the way in, and grab them from a bin on the way out. Easy peasy!
What's even better is that at the end of the season; those bins and baskets can be stored out of sight until next winter. Perfect!
Pro Tip: If your winter accessories tend to be wet when you bring them inside, get plastic baskets instead of natural fiber ones so that they don't get moldy!
Storage Hooks and Hangers
Hooks and hangers are another wonderful solution to clear the clutter that winter warmers make. They provide a quick fix to keeping those hats, gloves, and scarves up, off the floor and out of the way. With so many different types of hooks and hangers out there, you are sure to find something that works best for you.
Sturdy hooks and hangers can also be used for all your bigger winter accessories including coats, jackets, and even snowsuits! Seriously, does it get any better?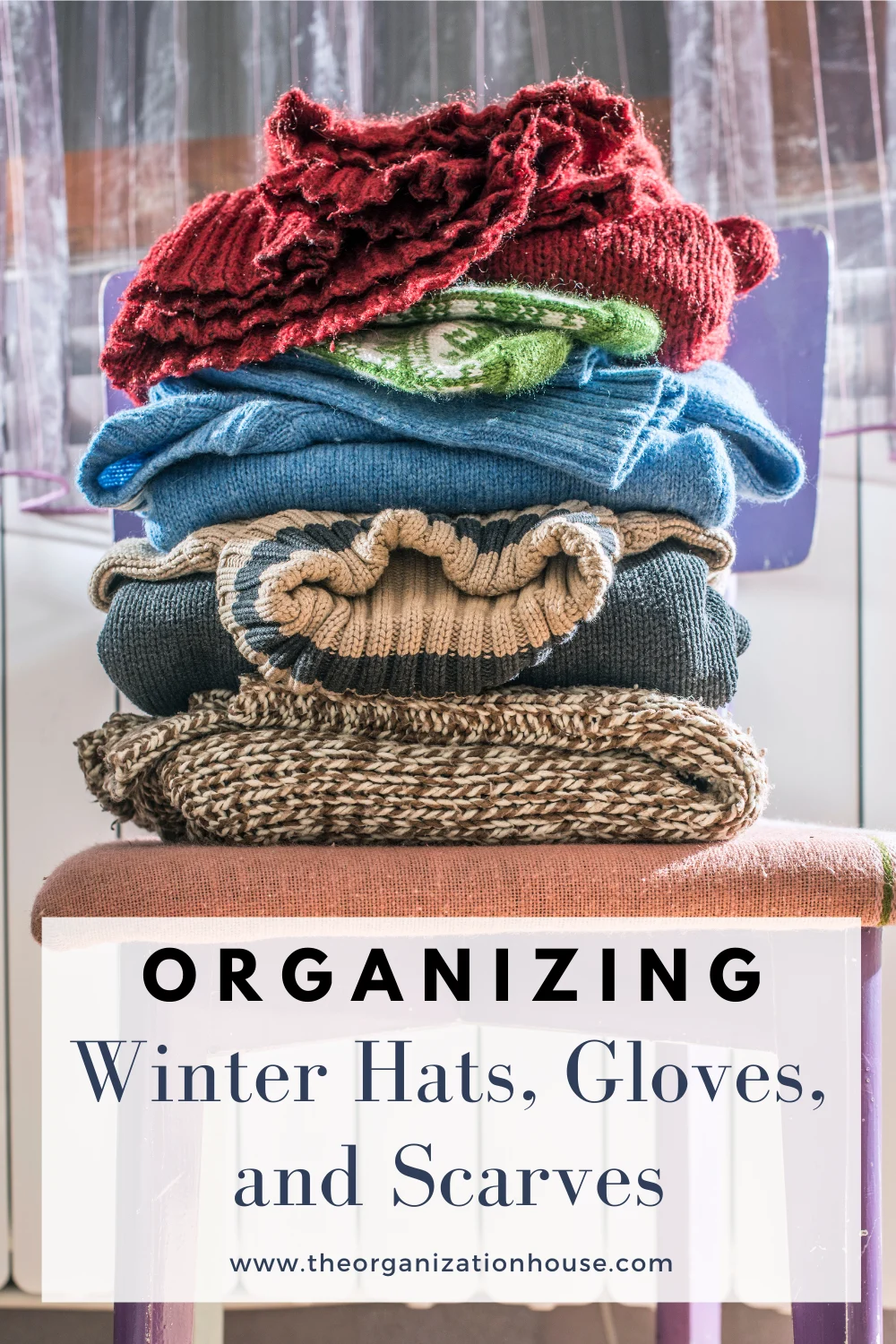 Over the Door Shoe Organizer
You may be thinking, what – a shoe organizer?!? Hear me out. Don't just look at it as shoe compartments, but rather, as 24 little pockets to stuff with all your winter accessories.
You can see it now, can't you? There's a pocket for your hat. Keep your mittens together in another pocket. And you still have more pockets to store your scarf and any other accessories that come your way! Yes! So many pockets give you so many possibilities.
In addition to having all these perfect pouches in one, you can hang this organizer anywhere! It can be hung over the door, on a wall, or in a closet. There are so many options! It really can't get much easier!
Organize Winter Hats, Gloves and Scarves
We hope we have inspired you to take control of your winter warmer chaos with some of these amazing storage ideas.
Organizing your winter hats, gloves, and scarves used to be a challenge, but not anymore! Take advantage of some of these great ways to get your winter accessories in check. What are your favorite storage organization ideas for your winter hats, gloves, and scarves?
You Might Also Like…