Looking for a way to store all that dog food? Check out these fun dog food storage ideas!
Dogs are our best friends, our four-legged babies, and our unconditional companions. To take good care of them, we feed them only the best food. Sometimes, that means large bags of dry food and lots of it.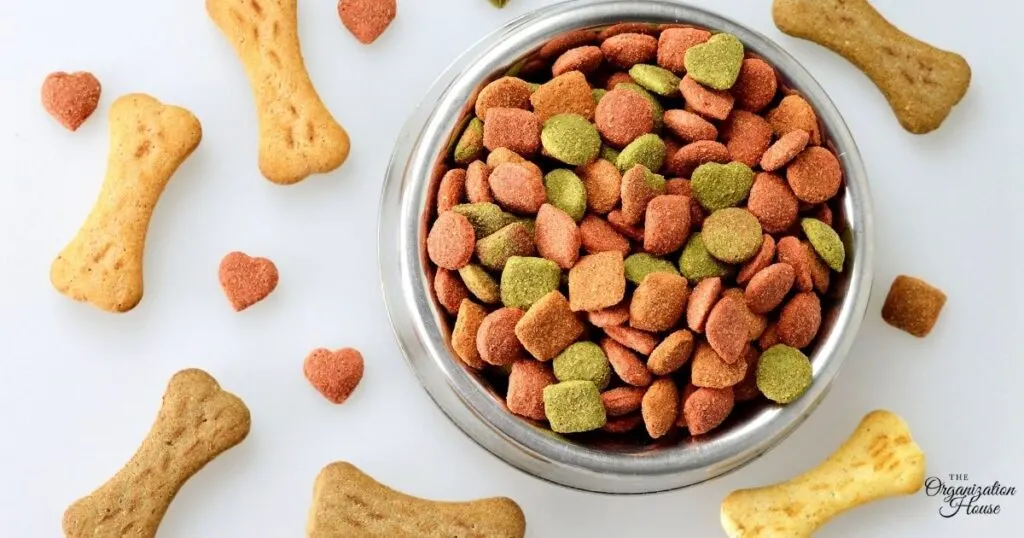 All these food options are great for your pup, but storing them can be a challenge. We have found some pretty good food storage ideas that you might find helpful.
Take a look at some amazing dog food storage options!
This article contains affiliate links to products that will help you get organized.
Storage Bin Ideas for Dog Food
Dog Food Storage Tower
We love a nice dog food tower storage option! Pet Stuff makes a really nice piece that is sure to look good in your kitchen or pantry and do its job well.
It's got two separate bins stacked on top of each other and sits pretty right on the floor. You can fill both bins with food or one with food and the other with feeding essentials, like your pup's food bowl or even cans of wet food.
This dog food storage tower is everything you need it to be to store your furry friend's chow.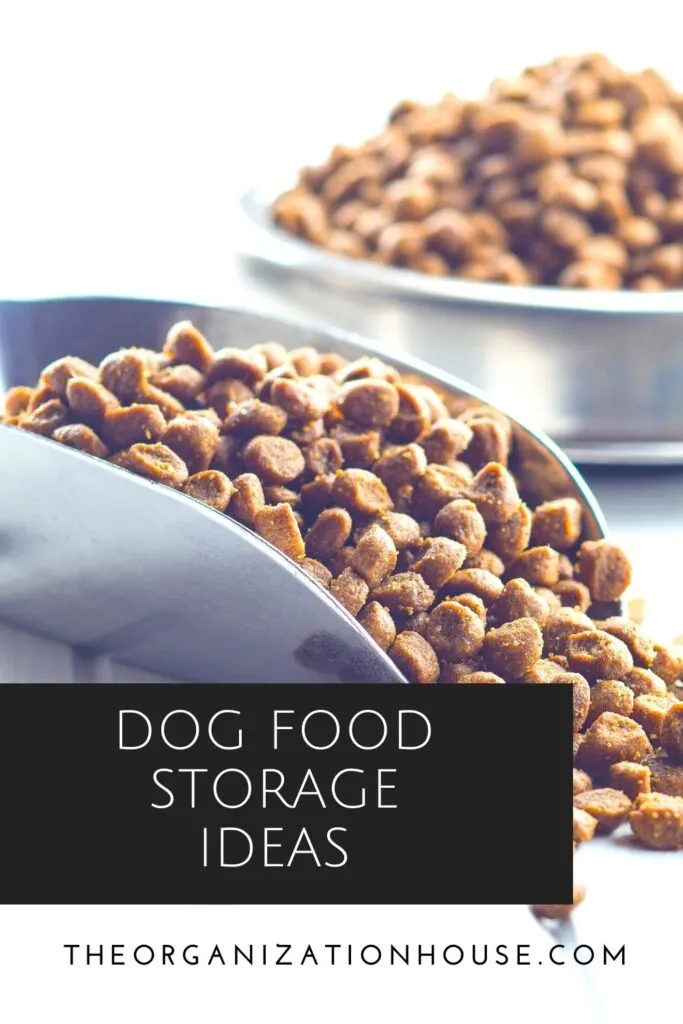 Countertop Containers
Smaller storage bins are perfect to keep up on the counter for easy access. Whether you prefer the farmhouse tin look like ones by Outshine or the open look of a clear container to show off your dog's favorite kibble, countertop containers might be right for you.
They are great at keeping smaller amounts of food and treats readily available for your dog at feeding time.
Pet Feeder Station
If you're looking for an all-in-one dog dining option, look no further than a pet feeder station. This magnificent storage unit is the perfect solution to stock all of your dog's eating essentials. It has a food and water bowl drawer that can be pulled out at chow time.
There's also space to hold dry food, wet food, treats, and more! What makes this piece even more magnificent, is that it has a classic cabinet look. No one will ever know it's stocked with items for your furry friend, except for you and the dog! If you think this type of dog food storage may be for you, we really like the options by New Age Pet.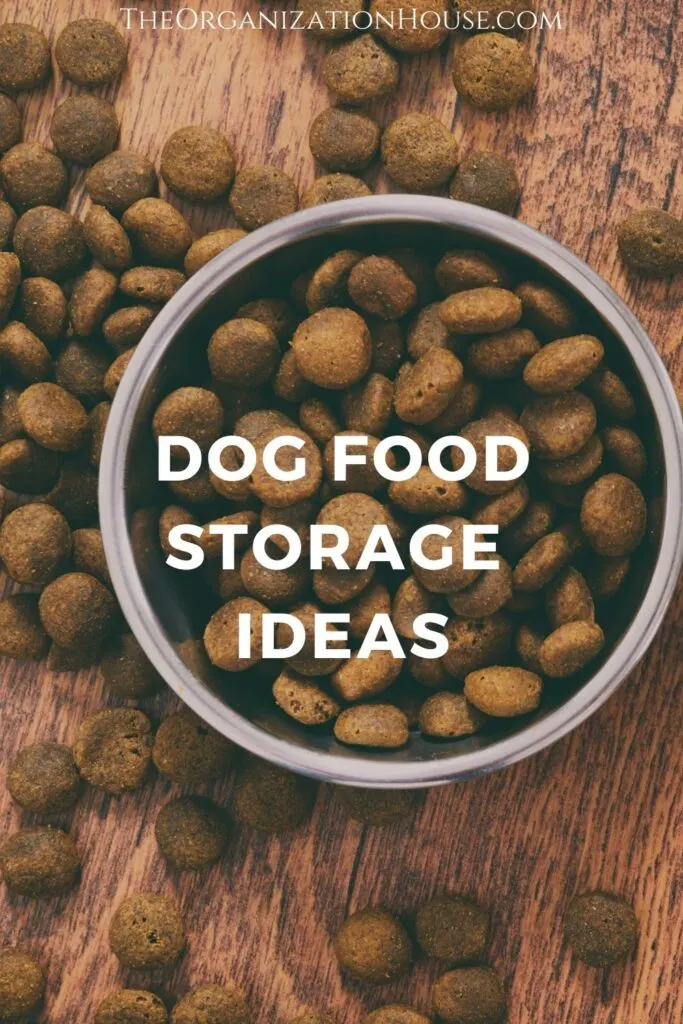 Rolling Dog Food Bin
Iris Container Combo is our favorite rolling dog food storage bin. It has not one, but two separate containers for your pup's kibble and most of them even include a scoop for serving. Awesome!
In our opinion, these are some of the best airtight, snap and seal, mobile storage options for dog food.
Portable Travel Storage Container
If you and your doggy are always on the go, a portable travel storage container is an incredible idea! They will keep your four-legged kid's food fresh while you're out and about, no matter how far you travel.
The ideal traveling food containers feature a handle, easy airtight closures, and also include a water bowl. There are many portable dog food storage options to choose from, so finding one that suits both of your needs is fairly simple.
Check out Overland Gear Week Away for a travel system that has it all!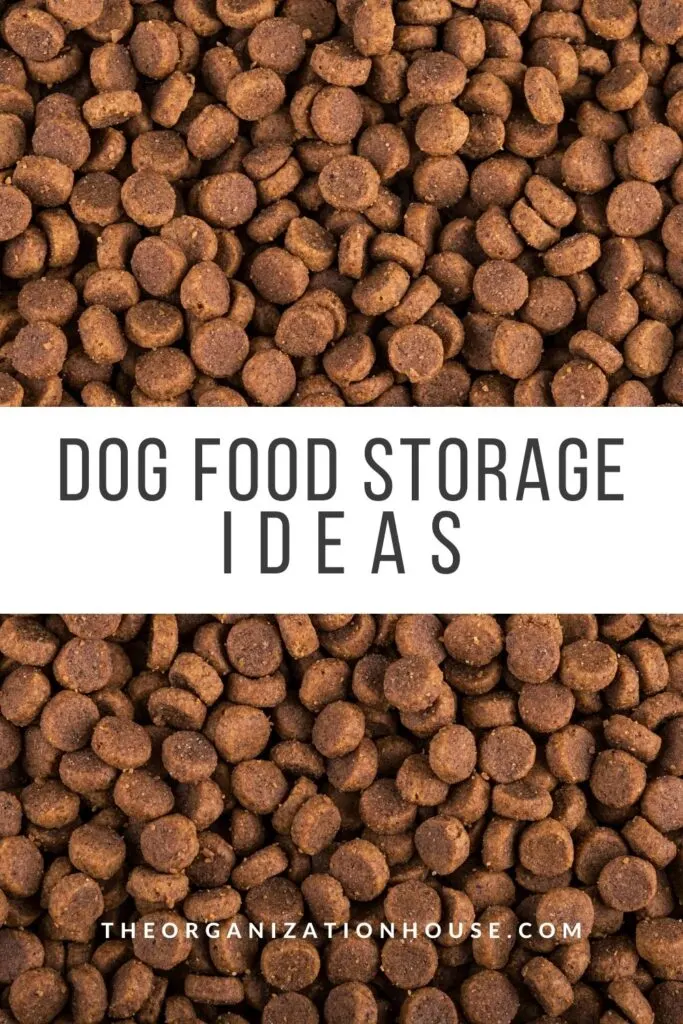 Options for Dog Food Storage
Finding the perfect dog food storage container will depend on you and your pup's needs and likes. The best bins, we think, are the ones that are multi-functional and that suit your style. What are some of your favorite dog food storage ideas?
You May Also Like…