If you are tired of tripping over your child's shoes–or worse, madly searching the house for that missing sneaker–you need a storage solution. Use these simple storage ideas and discover the secret of how to organize kids shoes.
—
Benjamin Franklin understood organization: "A place for everything, everything in its place." This is especially true when helping your kids to organize.
If you have a specific, visible storage solution, then your kids can be more independent and responsible with their things. Let them see the place for their shoes, and practice the habit of storing (and finding) their shoes in that particular place.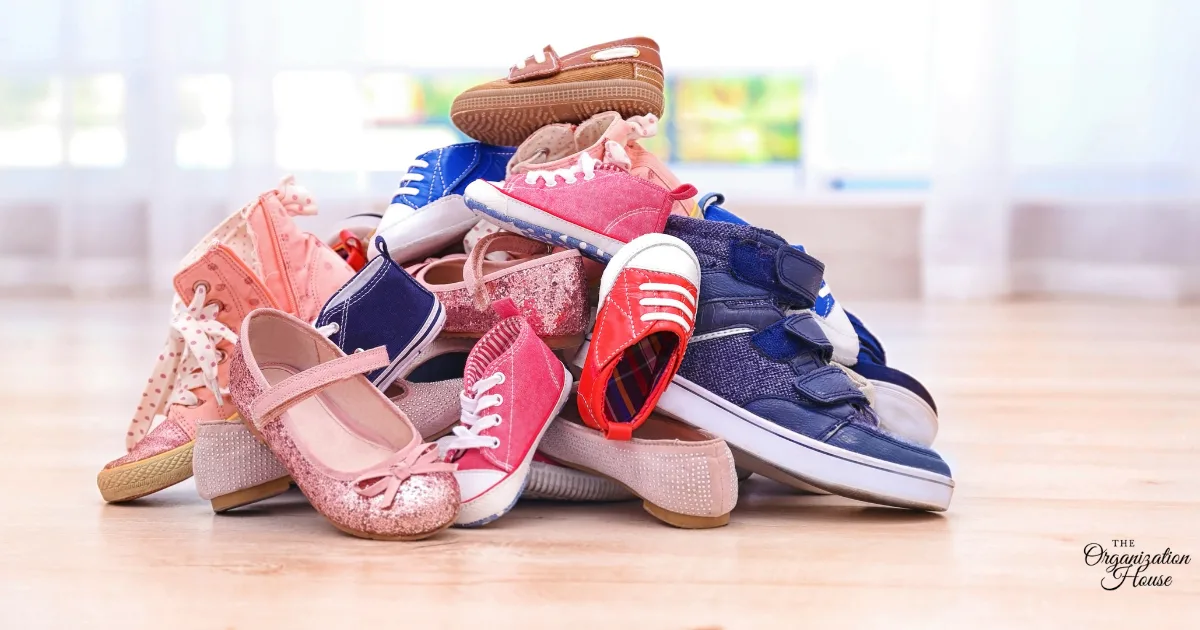 This article contains affiliate links to products that will help you get organized.
Organizing Kids Shoes
Kids Shoe Rack
A shoe rack is one option for how to organize kids shoes. Racks for adult shoes often have bars that are too far apart to hold kids' shoes, so you either need a rack with a shelf or one specifically designed for kids' shoes.
This adorable vertical rack has an animal at the top and holds four pairs of small kids' shoes. It's perfect to give your toddler or preschooler a special (and visible) place for her shoes.
Shoe Organizer
Over the door shoe organizers save precious floor space and keep shoes visible. The downside? You need to be tall enough to read the top of the door.
For that reason, shoe organizers are best for older children who have the height to access all the pockets. This version has clear pockets to help you see what you need at a glance.
If your child can access the bottom half of the shoe slots and not the top, put shoes in the bottom slots only. You can use the top slots to store craft items or out of season scarves, hats, or bathing suits.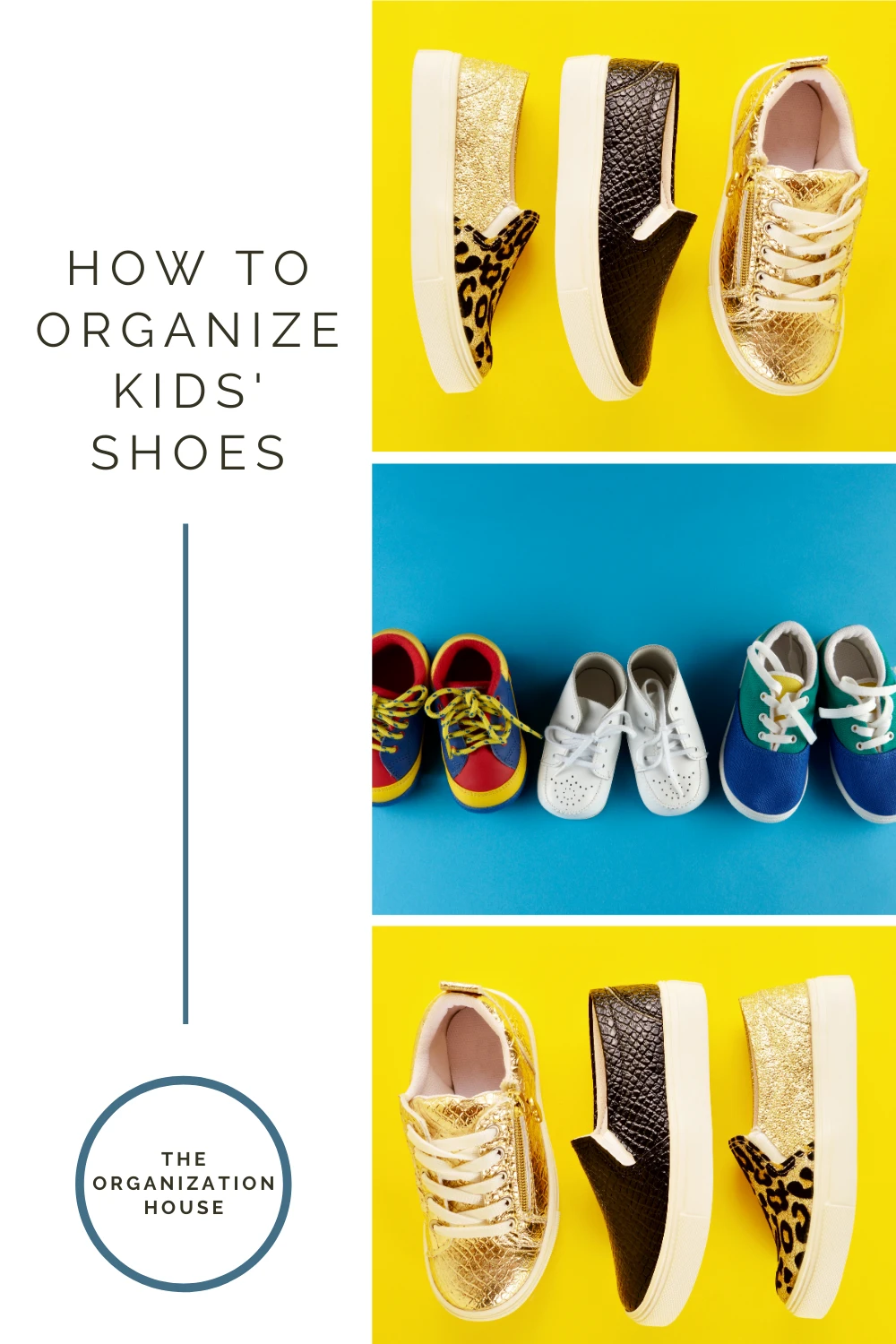 Kids Shoe Boxes
Another option in your quest to find out how to organize kids shoes is shoe boxes. These are not the boxes shoes come in, but rather clear plastic stackable bins perfectly sized for shoes.
This version comes in three sizes (the small would work for kids' shoes) and has a door that swings open so you can easily access the shoes. You can store these shoe boxes in a closet, entryway, or mudroom.
DIY Toddler Shoe Organizer
The smaller the shoe, the more specialized the storage solution. And you can make the solution yourself. If you want to figure out how to organize toddler shoes, you can choose one of these DIY toddler shoe organizers.
Stackable Plastic Bins
Purchase some bright stack-and-nest bins from your local dollar store. You can choose any type you like, but my favorite are the bins with open fronts, so you can reach in and grab what you need. Use some Gorilla glue and secure them in their stacking position.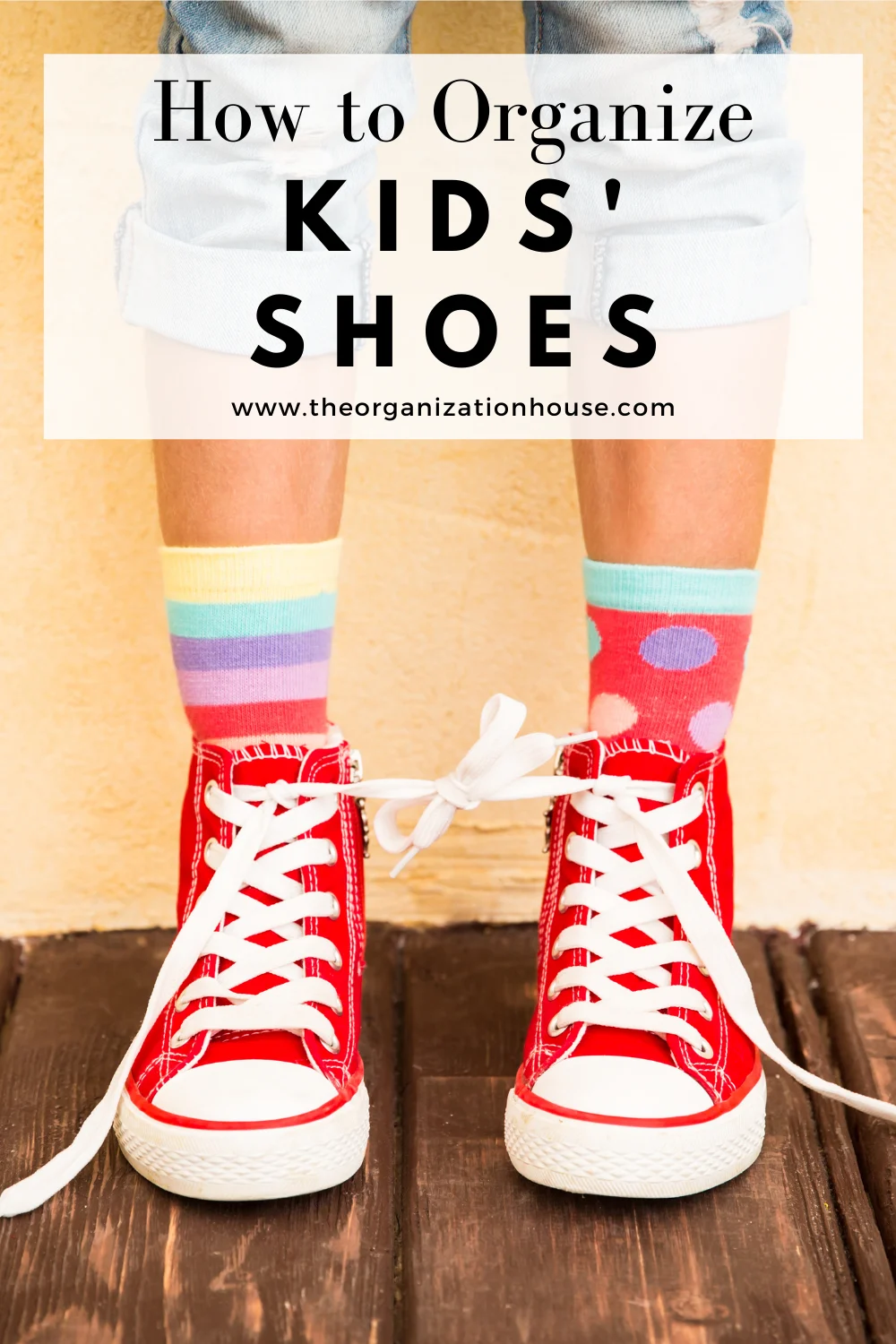 Repurpose a Coat Rack
A peg-style, wall-mounted coat rack is a great way to store shoes up and off the floor. Simply mount it close to the baseboard and hang shoes by their heels (so the soles face outward).
Upcycle a Cardboard Box
Get a medium-sized cardboard box and cut off the open flaps at the top. Wrap everything in brightly colored paper. Then use duct tape to make a grid inside the box with the flaps (you can make cubbies for 6 shoes this way). Just slide out the box from a closet to access the shoes.
Baby Shoe Organizer
Babies will never be able to access their own shoes, and those little booties are tiny enough (and typically clean enough) to be stored in a different way from other shoes.
One idea for how to organize baby shoes is to store them in your baby's dresser. Drawer organizers like this one keep the shoes tidy. You can easily spot the pair you want when you open the drawer.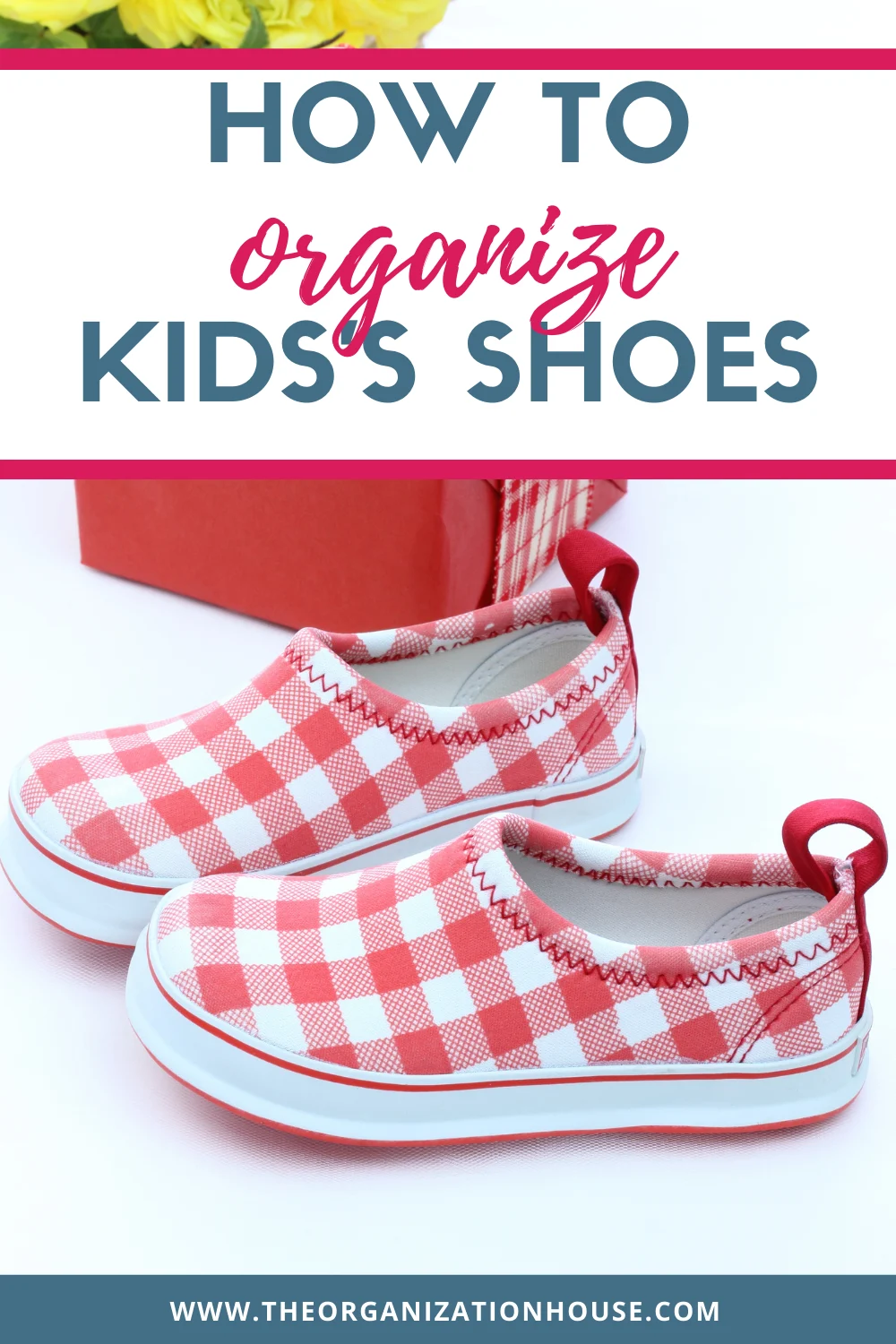 Putting It All Together
By designating a special place for your kids shoes, you will not only free yourself from the clutter, but you will give your child a sense of independence and self-management.
You Might Also Like: