Creative pool toy storage ideas make for a neat and organized backyard oasis!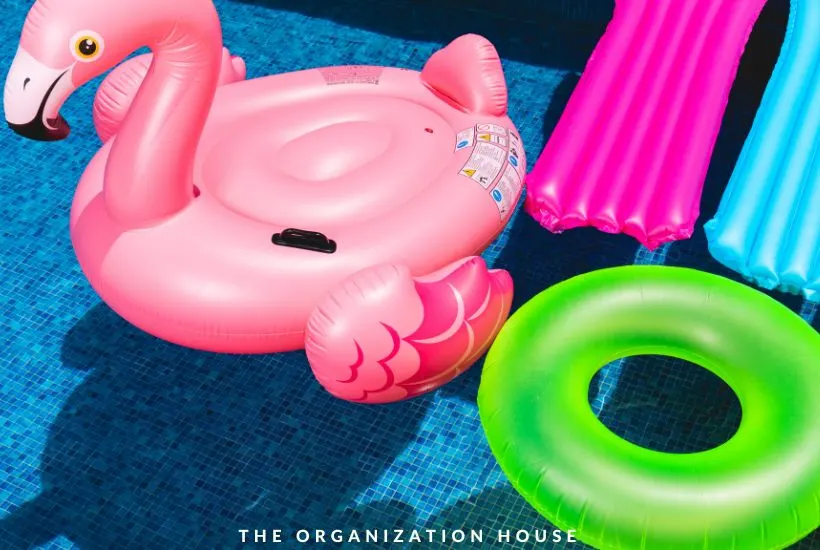 A backyard pool is a fantastic addition to any home.
It provides a refreshing escape and a fun gathering place during hot summer days.
However, ensuring that your pool area remains clutter-free can be a challenge.
From wacky pool noodles to sunning floaties, finding a home for them just got really easy.
Check out this list of pool storage ideas for a tidy and enjoyable poolside sanctuary.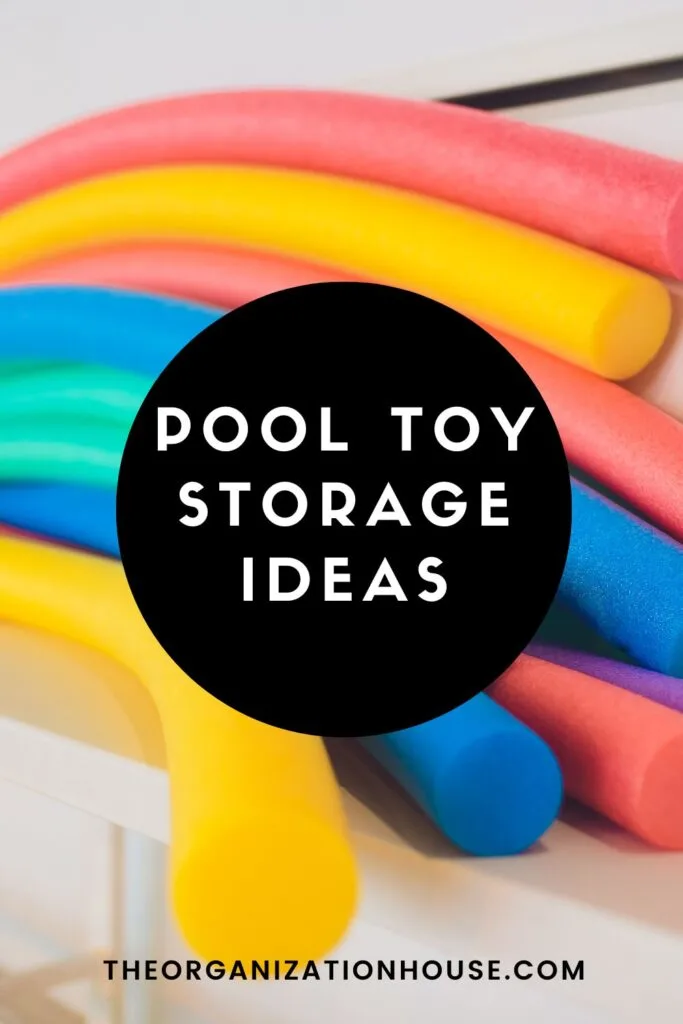 This article contains affiliate links to products that will help you get organized.
Solutions for Pool Toy Storage
Deck Storage Benches
One of the most versatile storage solutions for poolside areas are deck storage benches.
These benches not only provide additional seating but also have built-in storage compartments.
You can store pool toys, cushions, and even small cleaning tools inside these compartments.
Deck storage boxes keep things out of sight while maintaining easy access.
Hanging Mesh Organizers
Hanging mesh organizers are an affordable and convenient solution for storing pool toys.
These organizers feature multiple pockets and can be easily hung on a wall or fence.
The mesh design allows for quick drying, preventing the growth of mold or mildew.
You can also categorize the pockets based on different types of toys.
Or assign each family member their own pocket for personal items.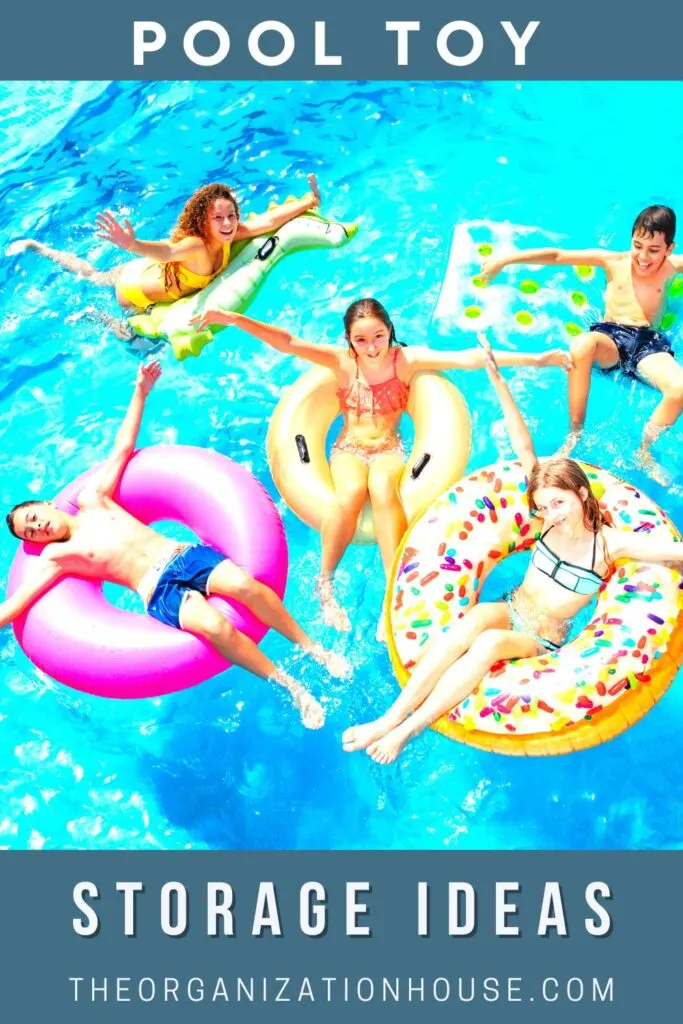 Floating Caddy
A floating caddy is a great option for storing small essentials while keeping them close.
These caddies typically have multiple compartments and can float right alongside you.
You can store sunscreen and small accessories like goggles or water rings in the caddy.
This eliminates the need to get out of the pool and helps to keep the pool area clutter-free.
Storage Sheds
If you have ample space available, consider a storage shed specifically for pool equipment.
These sheds are typically made from durable materials such as weather-resistant resin.
They provide ample space to store larger items like pool nets, games, and more.
Additionally, sheds can house pool maintenance supplies in a secure and organized manner.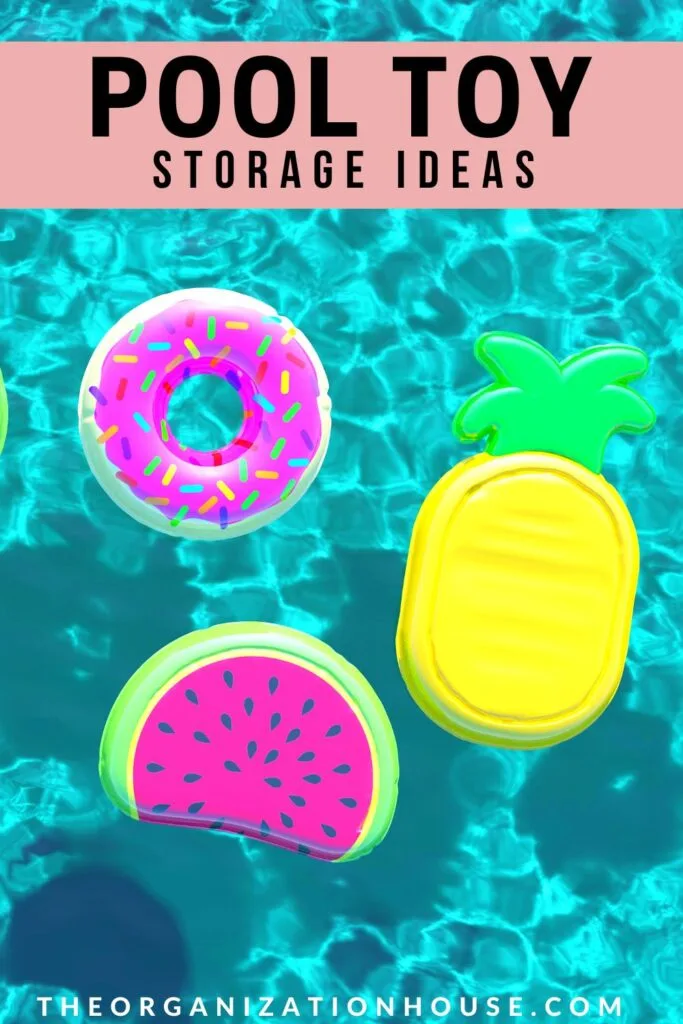 PVC Pipe Pool Toy Rack
A do-it-yourself solution that's both practical and cost-effective is a PVC pipe pool toy rack.
With a few PVC pipes, connectors, and some sturdy netting, you can make a nice toy rack.
Hang and store items like pool noodles, inflatable toys, and floatation devices.
This rack can be easily mounted on a fence or wall.
Not to mention, its open design allows for quick drying to extend the lifespan of the toys.
Rolling Storage Cart
A rolling storage cart provides mobility and flexibility for storing pool essentials.
These carts often have multiple tiers or shelves, allowing you to organize items effectively.
You can store toys, towels, equipment, and other pool accessories on the cart.
The wheels make it easy to move around the pool area, making toys accessible for everyone.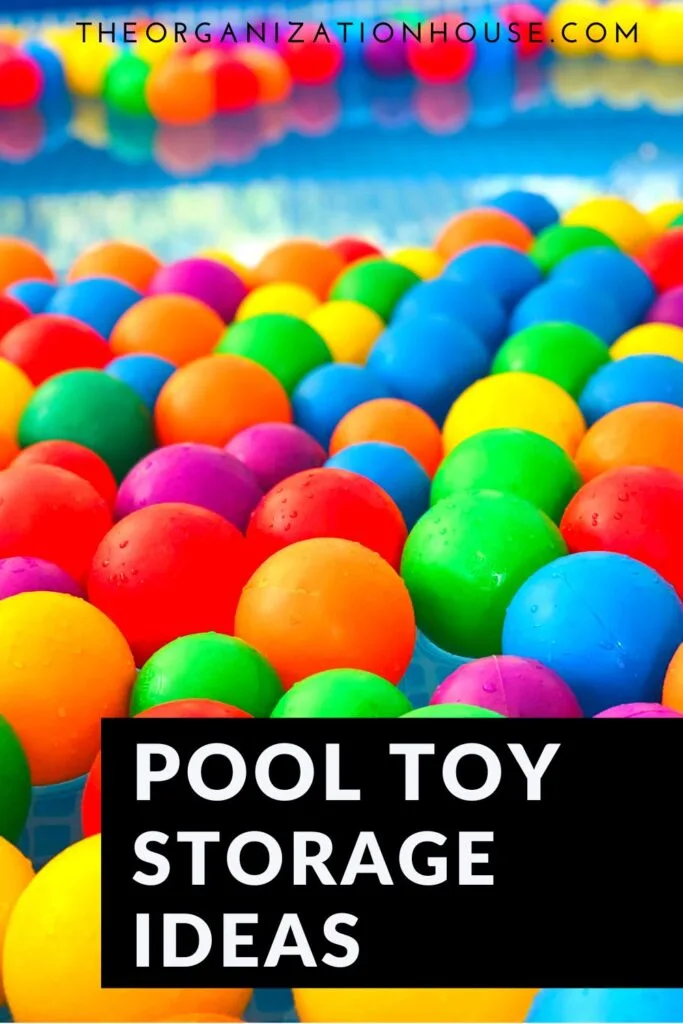 Ideas for Storing Pool Toys
Maintaining a tidy and organized pool area is essential for a pleasant swimming experience.
By utilizing these creative pool storage ideas, you can declutter your poolside space.
At the same, you can keep all of your pool-related items easily accessible.
Whatever you think will work best for your pool area, there are surely options available.
Find the solutions that fit your outdoor space, personal preferences, and budget.
Then, transform your backyard into an organized poolside oasis for all of the summer fun.
---
You May Also Like…