Take a look at these porch organization ideas!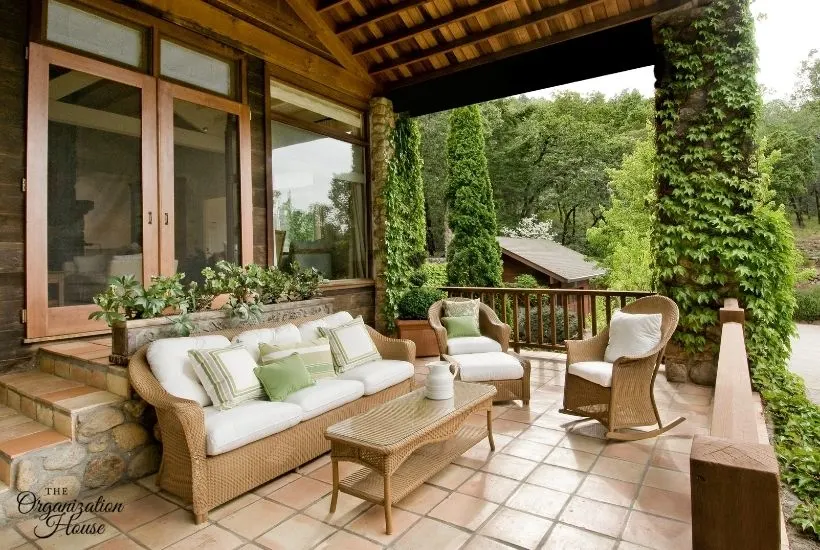 Whether you have a tiny patio, a roomy balcony, or a large wrap-around deck, organizing your porch area can really make a big difference. By decluttering, sorting, and resetting you'll be able to enjoy your porch space in no time. And, just because we know that every space is unique, these great ideas can work for any size porch area!
Check out how easy it is to get your favorite porch space in order.
Organize Your Porch
Clean It Out
If your porch has ended up being a catch-all of random things, take the time to clean it out so you have an empty space to work with. While the area is all clear, go ahead and give it a sweep to remove any debris, dust, or cobwebs that may have accumulated over time.
Sort Through It
Go through everything you just removed from the space and sort it out. Determine what you'd like to put back on the porch, what you'd like to put somewhere else, and what you'd like to get rid of altogether. Remember, you want the porch to be a livable space.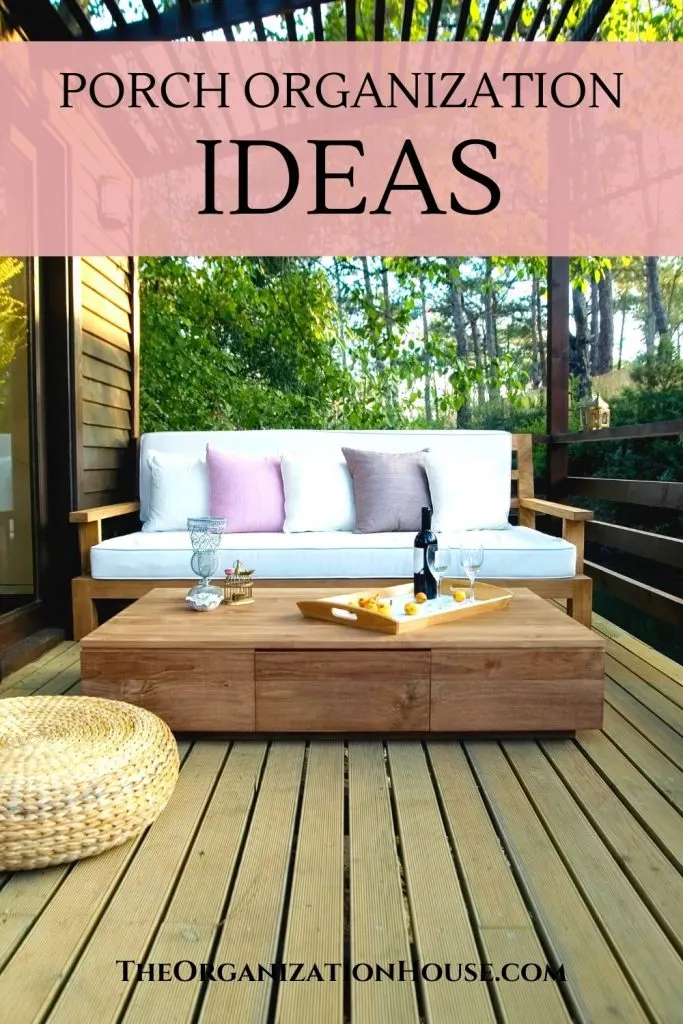 Redesign It
Take the time to think about a redesign. A porch that invites you into it will be set up with an open layout. To make this happen, select furniture and decor that fits nicely into the space. It's very common for people to use pieces that are too big for an area or furniture that is not multifunctional. Always take into consideration the size of your area, the function of the space, and how it can be arranged to best suit your wants and needs.
Furnish It
Now that you have redesigned your porch layout, consider some new furniture options that will keep your space organized.
Fold Up Furniture
Small spaces can make great use of foldable pieces. Consider a fold-up table or a folding chair set for your porch. Folding furniture can be pulled out when you need it and then easily tucked away when you're looking to make the porch a bit roomier.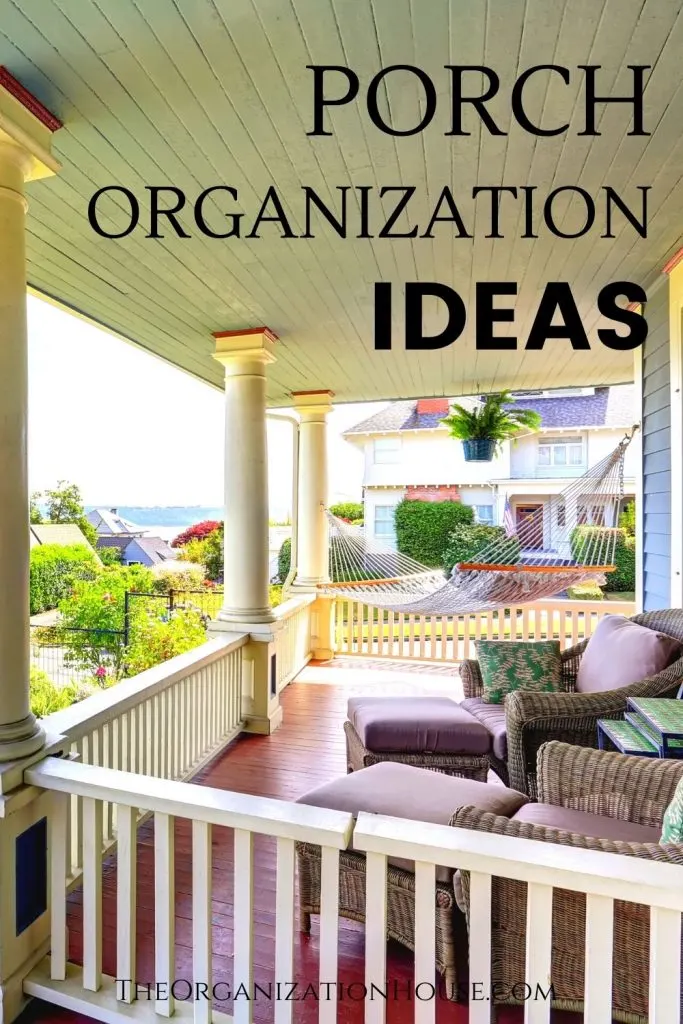 Rolling Carts
Rolling furniture like wheeled bar carts or moving serving stations can work well in any size space. Store them out of the way and when you're ready, simply roll it where you want it. Another benefit of moving carts is that they make cleaning up that much easier, as it just rolls right out the way.
Multi-Functional
The perfect pieces for every porch space are those that are multifunctional. Storage ottomans, benches, and stools are all pieces that work double duty on your porch. Tuck almost anything inside this type of furniture for a sneaky storage solution.
Vertical Storage
Never underestimate going vertical. By taking advantage of furniture that goes up, you can create a more open floor space. Pieces such as tall and slim storage cabinets, vertical deck boxes, or even tall slatted benches can add visual appeal, as well as provide additional storage for a more organized porch space.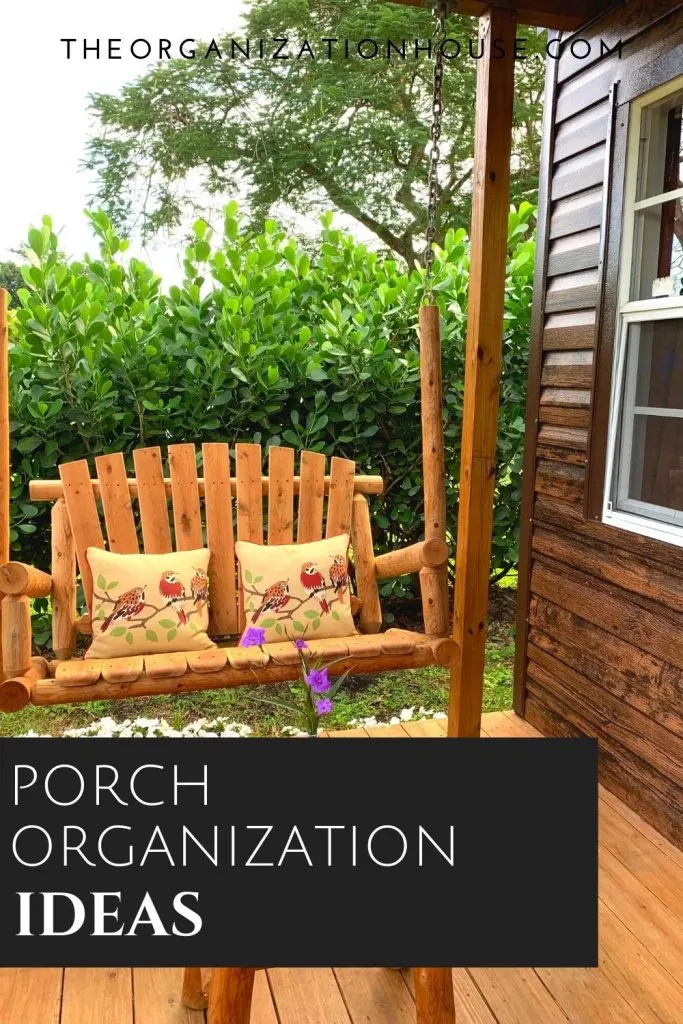 Ideas for Organizing a Porch
From fold-up furniture to double-duty storage pieces, keeping your porch organized and in order can be a breeze! How are you going to organize your porch? Feel free to share with us!
You May Also Like…