Organizing your week can set you up for success and make the days run smoother. Here's how to do it to make the most of your time. Get it together with these awesome tips for organizing your week.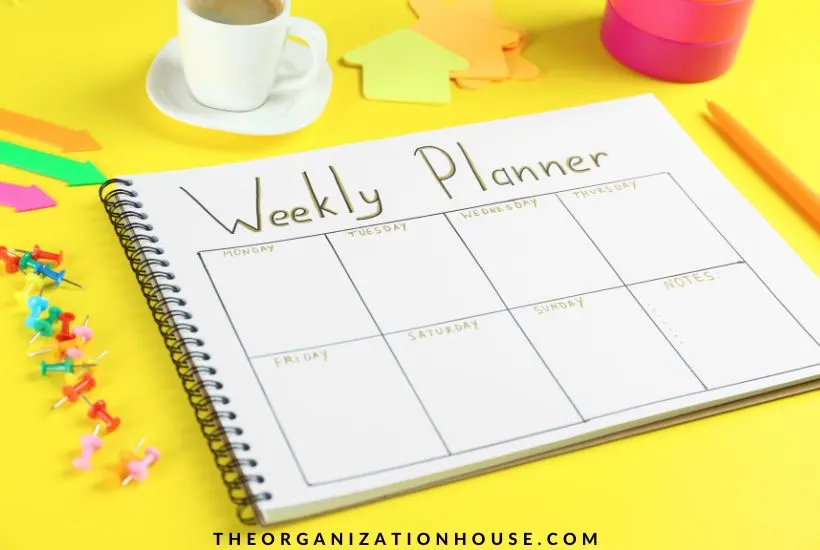 Day to day life can get, well, pretty chaotic. Between family, friends, work, and the daily grind, it's amazing how we all survive. With limited time for what's important to you, why would you want to spend it planning out your next week? Well, because it's actually totally worth it!
The small amount of time it takes to organize your week can, in fact, give you more free time for what matters. Whether it's treating yourself, your family, or your friends, planning out your week can make the impossible, possible.
Sounds good, right? Well then, let's talk about some tips for organizing your week! The following ideas can really help to balance out your work life, home life, and everything in between. So, without further adieu, here are a few simple suggestions to help you take charge of your life one week at a time.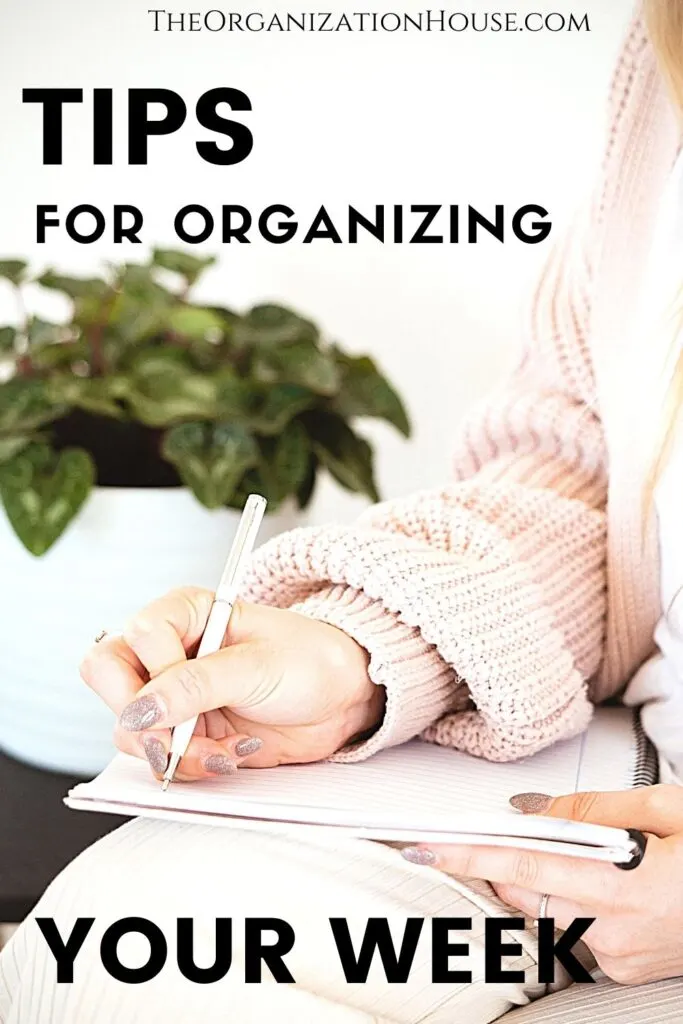 Weekly Organization Ideas
Make A List
Think about the goals you have for the week. Write down the day to day activities, as well as, some other tasks that you'd like to accomplish. Once you have everything written out, take a minute to prioritize the list. Start with what absolutely needs to get done and end with what you'd like to do but isn't of the utmost concern.
Get An Organizer or Planner
Organize your week with a planner. Start filling in the time slots of each day with tasks and goals from your list. If you prefer a written calendar, have fun with it and break out the colored markers, highlighters, and stickers and make your planning pop. If you're more techy, there are a ton of online planner options that you can choose from.
Plan Your Plates
When scheduling for the week, take some time to plan your plates. Meal planning alone has a multitude of benefits. When you incorporate meals into your weekly routine, you can reduce mealtime stress, save time, and save money.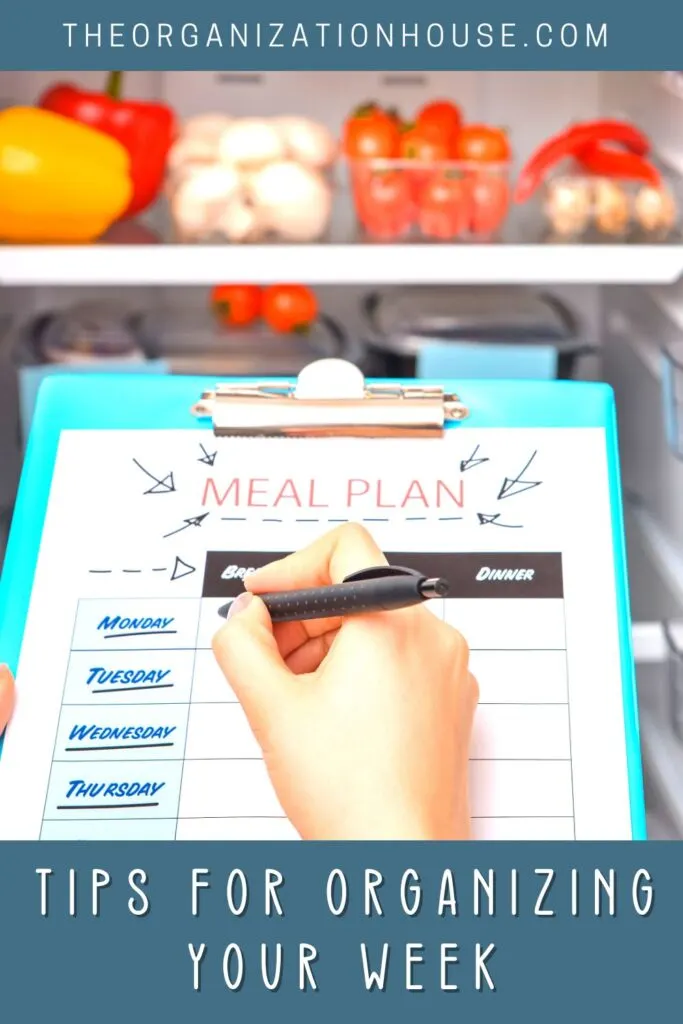 Schedule Daily Cleaning
Instead of dedicating a huge chunk of your day to cleaning the whole house, switch it up to short daily cleanings. Cleaning a little bit each day will help to maintain tidiness, and save time in the long run.
Don't Overthink
Planning the week doesn't have to be stressful. Once your tasks are prioritized, you'll know what you need to get done and how fast. Those items of low priority can always be pushed to the following week, squeezed in if a change takes place, or maybe just scratched completely, depending on what it is.
Stick to the Plan as Best You Can
Taking the time to plan out your week works the best if you stick to the plan. Give your planner a once over the night before or check it out first thing in the morning to remind yourself of what the day has in store for you. Now, with that said, sometimes life will throw you a curveball and the unexpected happens. It's okay. In this case, go with the flow, and get back on track when you can.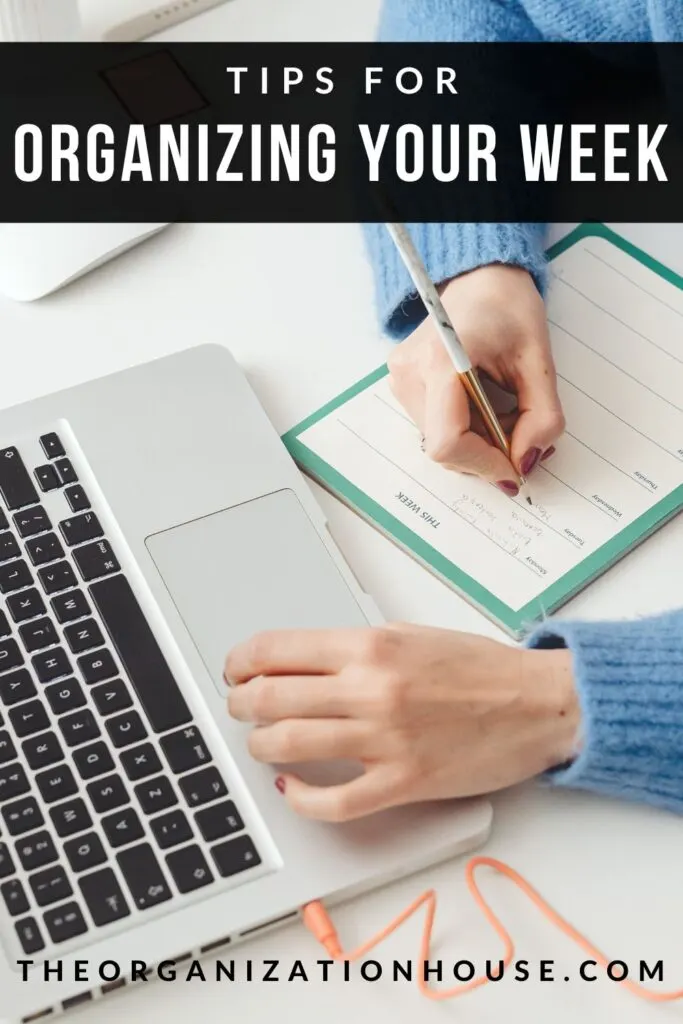 Thank Yourself
Don't be coy! Thank yourself and give yourself a pat on the back because you should be proud! You have just taken the first steps to get your week in order. Once your weekly plan is ready for action, take a minute to reflect. How did planning help you? What did you accomplish? Were you able to make the most of each day?
Suggestions for Weekly Planning
These suggestions for weekly planning can help you get your life on track. Between home, work, and finding time for yourself, planning your week will give you the extra time you need to do what matters most to you.
You May Also Like…